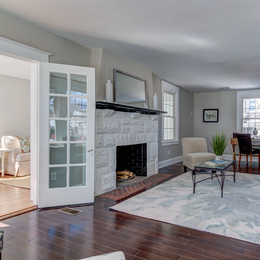 The Best of Both Worlds
If you're hunting for a home that blends modern amenities with historical charm in one of the area's most desirable ZIP codes, Realtor Marie Gordon may have the perfect fit.
There's nothing quite like a newly constructed home: Everything is fresh out of the box, meaning the homeowner won't have to think about replacing anything—the floors, the roof, the appliances, etc.—for years, if not decades, to come.
Then there's the home at 6 Hillside Road, in an established neighborhood in Wayne. For prospective homebuyers scouting for their dream home on the coveted Main Line, Marie Gordon of BHHS Fox & Roach Realtors suggests this existing home in many ways rivals new construction. While the bones of the Colonial-style home were built in 1920, the interior was recently modernized and upgraded, including hardwood floors on the first and second floors, a professional chef's kitchen, and a gorgeously designed master suite.
Gordon, who is the listing agent for the home, says these renovations stem from a situation homeowners in the Northeast know all too well: pipes bursting during winter's deep freeze. Last winter, the home's current owner returned from a brief vacation to find that the ruptured pipes had caused extensive water damage throughout the house. The homeowner used the funds from the resulting insurance claim—as well as some of her own money—to "turn lemons into lemonade," as Gordon calls it, by hiring a skilled builder, Thompson Homes, LLC, to come in and help her reinvent the home.
"The current homeowner knew she wouldn't be here for more than a few years," says Gordon. "My advice to her when she was first looking to do the renovations was to keep the eventual new buyer in mind, and that's exactly she did."
Some highlights of this wholly reimagined 3,100-square-foot home include:
* Four sizable bedrooms and four bathrooms (three full baths and one powder room). The master suite features a spacious walk-in closet and an all-new master bathroom.
* A professional chef's kitchen, complete with 48-inch stainless-steel gas range, white Shaker-style cabinets, veined quartz counters, and an expansive breakfast/banquet area with custom built-in seating and numerous windows to make the most of natural light. The back door leads to a maintenance-free deck.
* First-floor charms that include a stone wood-burning fireplace and a large bay window to let the natural light pour in, as well as a sunroom that could be easily converted into an ideal playroom or home office.
* New carpeting on the third floor, atop existing heart pine floors.
* All-new wiring, plumbing and light fixtures, as well as a new high-efficiency zoned HVAC system, an instant-on tankless water heater, a new roof with 30-year dimensional shingles, and an onsite power generator.
The listing price is $795,000, which Gordon describes as "a very good value."
"So many of the other homes people are considering would need an additional $150,000 to $200,000 to get to where this home already is," she adds. "Besides the all-new interior, the home has the charm of Wayne, in a well-established neighborhood within walking distance of SEPTA's Strafford Station and Strafford Park. It's also in Tredyffrin/Easttown School District, which has some of the most sought-after schools in the Greater Philadelphia Area."
"With everything the current homeowner did to transform this home, both inside and out, it's rare to see these kinds of amenities outside of new construction," she says. "Besides that, it's just one of those houses that you can tell has been well loved."
About Marie Gordon
In the top one percent of BHHS Fox & Roach Realtors, Marie Gordon has spent the past 14 years marketing clients' homes in some of the Philadelphia suburbs' most desirable neighborhoods. While resources such as HGTV have had a big impact on buyer expectations, Gordon's ability to visualize the market's demands and professional contacts make her fully prepared to help sellers and executors prepare their properties to meet or exceed those expectations.
Marie Gordon
Berkshire Hathaway HomeServices
Fox & Roach Realtors
216 E. Lancaster Ave.
Wayne, Pa.
(610) 688-4310 | (610) 513-0049
Marie.Gordon@FoxRoach.com
GordonMoyher.com