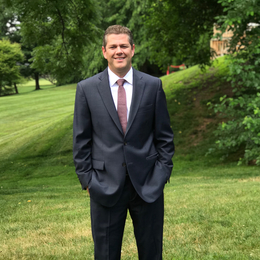 Easing the Burden
Through his legal expertise in estate planning and related matters, Anthony S. Rachuba IV of Rachuba Law Offices P.C. offers peace of mind to clients and their families.
"Live every day like it could be your last." This popular carpe diem-like phrase has special meaning to Anthony S. Rachuba IV, an attorney who spends his days helping individuals from all walks of life to plan for the future and preserve their legacy.
"Essentially, I'm helping people prepare for the unexpected," says Rachuba, whose law firm, Rachuba Law Offices P.C., has office locations in Doylestown and Center Valley. "Everyone has concerns over whether their wishes will be carried out after their death, and whether the people they love will be cared for even when they're no longer around. That's my primary area of focus."
Rachuba has been practicing law in the areas of estate/trust planning and administration since 2001, and has expanded his expertise to include legal matters pertaining to elder law and business law. Prior to opening his own firm last year, he spent several years honing his skills with an established firm rooted in the Lehigh Valley.
"Estate planning should be on everybody's mind," he adds. "The misconception is that estate planning is something only 'rich' people need to do. Yes, 'rich' people may have to worry about how taxes will affect their estate upon their death, but reducing or eliminating taxes is hardly the only reason an estate plan should be done."
Taxes have become less of a concern, as the law now allows for a greater amount of assets to be passed tax-free at death, according to Rachuba. He says some non-tax examples of estate planning include "creating trusts for beneficiaries to prevent the beneficiaries from wasting their inheritance, or creating a trust for a beneficiary with a disability to avoid a reduction or elimination of the government benefits the disabled beneficiary currently receives."
He suggests every individual should have an estate plan that includes at least three essential documents: a will, which outlines a plan to distribute one's assets, designates an executor, and determines the guardian of one's young children, if applicable, in the event of one's death; a durable power of attorney, which establishes an agent in case one becomes incapacitated or can no longer effectively manage one's affairs; and an advance healthcare directive (also known as a living will), which outlines the medical interventions one does or does not want performed to sustain life, as well as who has the right to make medical decisions if one can no longer make them for himself or herself. By forgoing these documents, individuals are taking a huge and unnecessary risk.
"These documents enable you to express your final wishes as far as your health and the distribution of your estate are concerned," says Rachuba, a Bucks County native who was raised in Newtown and now lives in Doylestown. "You're relying on statutes to determine how your estate will be distributed and who will be distributing it. The person who is appointed by the court to serve as the representative of your estate may not be the person you would have chosen, and it could lead to family fighting, additional legal fees, delays or problems getting the estate open in the first place."
Rachuba says an estate plan is not a "do it and then put it aside and forget about it" exercise. He recommends reviewing these documents at least once every five years, or sooner if there are significant changes, either financially or personally, and to account for any "significant events," such as a divorce, remarriage or the birth of a child. In addition, he recommends updating these if and when an individual's designated executor or beneficiaries experience noteworthy life changes.
"Say a guardian or executor passes away or is no longer fit to act as such, or a beneficiary has passed away or is now older and there are concerns that the beneficiary will spend all of his or her inheritance," he says. "In addition, oftentimes when a couple first gets married and has children, they have wills and powers of attorney prepared, and then many years later their assets have increased significantly and their children are now adults. These are good reasons to review their estate plan."
Rachuba decided on a career in law while studying at Mount St. Mary's University in Emmitsburg, Md. He went on to Villanova University's Charles Widger School of Law, where he earned his Juris Doctor and, later, his Master of Laws in taxation (LL.M.). He says he made up his mind to focus on estate/trust planning and administration while serving a two-year judicial clerkship for an orphans' court judge in the Montgomery County Court of Common Pleas.
"I was always good with numbers, but I also liked the fact that this area of the law applied to everybody," he says. "As opposed to other areas of the law which people may not ever need, estate planning is something that everyone needs, from a multimillionaire on the Main Line to a person with minimal assets who lives in a small row home in Philadelphia. I knew I would have the opportunity to help people from all walks of life, and that really appealed to me."

Rachuba Law Offices P.C.
(267) 895-1771
RachubaLaw.com


196 W. Ashland Street, Suite 110
Doylestown, Pa.

3477 Corporate Parkway, Suite 135
Center Valley, Pa.