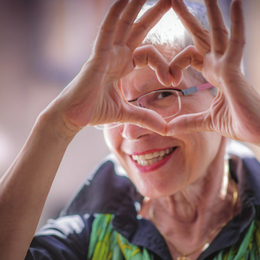 The Adventure Continues
For an increasing number of seniors in the Greater Philadelphia Area, the retirement years are for excitement and discovery, not settling down.
Rita Bocher, Ph.D., takes courses in climatology, tutors six-year-old twins, and works as a docent at one of the world's finest art museums. She also finds time to trot the globe, with recent trips having taken her to Iceland and Costa Rica, Bhutan and Iran.
Lillian Cassel, Ph.D., works full time as a professor of computer science at Villanova University. Off the clock, she likes to tend to a garden of vegetables and flowers, and play bridge with friends. Her husband, William Cassel, spends his time in the sawdust, repairing furniture and making pieces of his own in a woodshop.
And then there's Joseph Paradine, D.D.S., a man with a fierce competitive streak. A former sailor, Paradine still likes to race model sailboats, and he's often in training as an on-again/off-again competitor in track-and-field events such as the pole vault and the long jump.
All four individuals share a common bond: Each of them is old enough to live in a continuing care retirement community (CCRC). In fact, each of them does.
We didn't include their specific ages, and for good reason: As they and other seniors throughout the Greater Philadelphia Area are proving, growing older doesn't mean getting old. Whether they live at a CCRC or find enrichment elsewhere, locally based seniors are increasingly using their so-called golden years not to settle down and take it easy but to stretch their skill sets, expand their minds, and embrace new experiences.
Near and Far
"I let things flow over me and see what happens," says Rita Bocher, Ph.D. "Some people are precise. I happen not to be one of them."
Born in South Philadelphia and having lived much of her adult life in Wynnewood, Bocher has devoted her life to seeing as much of the world as she can. In fact, she's lost track of the countries she's visited—"we used to keep a map with pins in it," she says, "and we nearly ran out of pins"—and she says each one has been fascinating in its own right.
"I just find a different place I want to see," she says. "I like to travel because it's about seeing something new, seeing something I've never even thought about."
Experiences that have stuck with her: the plane's descent into Bhutan, through a break in the Himalayas; being in Jordan and seeing the ruins of Petra by horseback; teaching English as a second language in Italy; exploring a volcano in Costa Rica.
When she's not traveling, she's either planning her next trip, expanding her mind by taking classes at Villanova University, or working as a docent at the Philadelphia Museum of Art.
"I've been a docent at the museum when times in my life were good and when times were bad," she says. "I've always loved being surrounded by so much beauty. We've grown old together. I might have to retire, because some of the folks there now are young enough to be my grandchildren."
She's also still finding her way at Rosemont, a Presby's Inspired Life Community, where she moved in November. She's been a widow for more than a decade, and she thought a community such as the one she found in Rosemont would enrich her social life.
"There's so much going on here," she says. "Just today there was an interesting lecture on reiki, which I had never even heard of before."
Even if she does retire from the museum, she'll have plenty to keep her busy. She has yet to plan her next trip, for example. The short list: Abu Dhabi and Dubai in the United Arab Emirates.
'Plenty of Use'
When the Cassells were looking to downsize from their family home, they knew they wanted to embrace the opportunities only one of the area's finer CCRCs could afford.
"There are lots of different places around here to retire, and each one has its own personality," says Lillian Cassel. "We found that we kept coming back to Waverly; something about it just spoke to us. And we were right; it's a friendly and welcoming place."
By Waverly, she means Waverly Heights, a CCRC based in Gladwyne. She and her husband, William, moved into their living space at Waverly approximately two years ago. They're very happy there, though she admits she doesn't have much time to indulge in everything that the community has to offer. She still works full time, after all, as a professor of computer science—she's also the department chair—at Villanova.
"The field is always changing, so there's always something new to learn," she says. "I also get to be around young, interesting, and well-educated people, and I'm talking about faculty and students. I have my weekends here, and when I am here I'm growing things in the greenhouse or the garden, playing bridge, or doing Aquacize in the pool. I get plenty of use out of this wonderful place."
William, meanwhile, likes to spend his time in the woodshop, using his hands to make things such as artisan cutting boards, as well as repairing residents' furniture that's in need of some TLC. He's also active on Waverly's movies and music committees, which essentially steer much of the in-house entertainment for his fellow residents.
"Woodworking is a relaxing thing to do, and I like the creation of it," he says. "I had a woodshop at our home in Villanova, and my history with woodworking goes back to junior high. Having the woodshop here was one of the deciding criteria for moving to Waverly—at least for me, it was."
The Cassels also enjoy the various lectures, concerts, and social gatherings available to residents, especially the communal dinners they share with their neighbors. And as Lillian says, there's always something new to explore.
"When people are considering moving to a place like this, a lot of people think about the downsizing, and that does take some thought," she adds. "We were thinking: Well, we'll just find the biggest place we can. What we discovered once we got here was that, while we do have our private space, we have the whole rest of the campus that's part of our living space, too.
"There's a library, the woodshop, the greenhouse, places to curl up and read a book in an easy chair," she continues. "We have more living space than we've ever had in our lives. A small part of that is our private space, and the rest is shared."
Ups and Downs
For Joseph Paradine, D.D.S., doing the pole vault has been much like riding a bike. He "did a little pole vaulting" in high school and college, but he got the urge to do it again decades after his last vault. At the time, he was still a practicing dentist on the Main Line, and a patient had told him about USA Masters Track & Field, designed for competitors of a certain age in a variety of sporting events.
"[The patient] said, 'You're in pretty good shape; you should give it a go,'" Paradine recalls. "So I showed up at the meet, found a pole I could borrow, and I did it. I hadn't done it for 60 years before that. I couldn't walk for two weeks afterward."
After the event he checked the online results and found that he had done better than he thought. With some training, he figured he could be in medal contention for his age group—not just regionally but also nationally.
"You have to go to the nationals," he says. "That's where you find out how good you are."
He started sprinting to increase his runway speed, and he continued to improve. Having already taken home the bronze and silver medals in Masters competition, he won his first gold medal at the 2013 USA Masters Indoor Track and Field Championships in Landover, Md.
"You have to be fearless," Paradine says. "You have to be totally committed to hurling yourself down the runway so you can kick up and go from horizontal to vertical. It's a delicate balance. You're trying to get the highest you can go, but you have to stay in control, because if you fall in the box, that's stainless steel, and that's how you get hurt."
Having retired from his dental practice, he and his wife, Barbara, now live at White Horse Village in Newtown Square. Most days, they go to the gym together.
"I came here to play," he says. "We used to have a big house in Swarthmore; I don't miss it at all. I used to be a sailor, but last year I was out in a Sunfish [sailboat], and I couldn't right the boat. I don't want to be dependent on anyone, so now I just race 40-inch boats. It's very competitive. I also fly model airplanes, but that's just for fun."
Paradine's competitive streak has not eased one bit. He often pits his skills against other White Horse residents, in activities such as table tennis, darts, and golf. As for his track-and-field exploits, he's currently on hiatus from competing in events such as the pole vault, high jump, and long jump. But he says his retirement may be temporary.
"I've retired a few times," he says. "I think in the fall, maybe I'll jump again. … I have aches and pains, but everything still works. Like anything, you do it while you can. When you can't, you do something else."
Doing Good, Living Well
The Greater Philadelphia Area is home to an abundance of highly rated CCRCs and independent living communities for active seniors, including those listed below. Each is devoted to helping its residents lead rich, full lives for the duration of their retirement years.
Acts Retirement Life Communities
Multiple area locations
ActsRetirement.org
The Attleboro Community
Langhorne
AttleboroCommunity.com
Dunwoody Village
Newtown Square
Dunwoody.org
Friends Home & Village
Newtown
FHVpa.org
Masonic Village at Lafayette Hill
Lafayette Hill
MasonicVillages.org
Pickering Manor
Newtown
PickeringManor.org
Pine Run Retirement Community
Doylestown
PineRun.org
Presby's Inspired Life
Multiple area locations
PresbysInspiredLife.org
Waverly Heights
Gladwyne
WaverlyHeightsLtd.org
White Horse Village
Newtown Square
WhiteHorseVillage.org