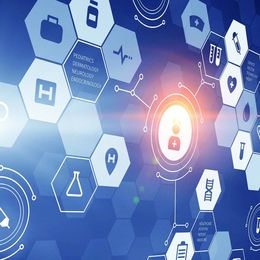 Reinventing the Remedy
Revolutionary medical technology and cutting-edge procedures have helped to redefine the ways in which local medical institutions diagnose, treat, and cure their patients.
The experience of seeing a family member suffer from breast cancer, and ultimately succumb to the disease, had a profound effect on a young girl named Jennifer. From that point forward, she felt an intense desire to try to ease the pain and helplessness others feel in their fight against the disease.
That girl would grow up to become Jennifer Simmons, M.D., chief of breast surgery and the director of the breast program at Einstein Medical Center Montgomery in East Norriton. With each new patient, she has the opportunity to provide life-changing—and, in some cases, life-saving—treatment in the face of breast cancer, which claims the lives of more than 40,000 women per year, according to the American Cancer Society.
"Considering factors like the BRCA mutation, there are populations of women who should have a mastectomy to treat their cancer, but I'm a strong proponent of [breast] conservation," says Dr. Simmons. "In the usual breast-cancer population, women who go on to have a mastectomy will always remember that they had breast cancer. Even with reconstruction, that mastectomy will define them for the rest of their lives."
Among the tools Dr. Simmons uses to conserve as much breast tissue as possible during a lumpectomy is something called MarginProbe. The device uses radio-frequency electrical fields to probe the tissue and identify any cancer that may be remaining on the tissue removed from the breast. It has helped Dr. Simmons increase her ability to remove all of the affected tissue, while maximizing the patient's cosmetic results. As a result, she has seen a dramatic reduction in the number of "take-backs," or patients who have to come back for a second surgery, meaning greater assurance for patients who are understandably on edge.
"When you have a patient who wants to preserve their breasts, their hope, obviously, is that they won't need follow-up surgery," she says. "So when you have to take someone back for clearer margins, it can be emotionally devastating. There's a lot of emotional buildup and psychological preparation that precedes a surgery. I want to get them through that, without affecting what they look like and how they feel about themselves."
Although Dr. Simmons says the technology is not full proof—women with dense breast tissue may be an exception, for example—the MarginProbe has helped her reduce her take-back rate from approximately 25 to 30 percent to as little as 12 percent.
"If I'm eliminating up to 20 percent of my take-backs, that's a big difference, and that requires a big commitment," she says. "[The hospital administration] has been wonderful; they saw the patient side of it. What ended up happening: My caseload hasn't dropped, and now I can take care of more women. Ultimately, it's better for the patient, and better for the program."
No More Pain
For everything from life-threatening cancers to life-altering chronic pain, patients in need of treatment can now benefit from game-changing technologies available at hospitals and medical centers throughout the Greater Philadelphia Area. One of those individuals is Elizabeth DeJesus. Her life had been disrupted by chronic, debilitating back pain caused by arthritis in her lower back, among other things. Her pain got so bad that she couldn't sleep, she missed days of work, and she could no longer enjoy some of the activities she loved, such as driving her motorcycle.
"I felt like I was 80 or 90 years old," says DeJesus, a 52-year-old administrative secretary who lives and works in Bethlehem. She didn't want invasive spine surgery, if she could help it, and she refused to numb her senses with powerful narcotics. Then she heard about a promising form of neuromodulation available at a hospital in the Greater Philadelphia Area: high-frequency spinal cord stimulation.
With traditional spinal cord stimulation, electrical impulses delivered at a low frequency have the potential to alter pain signals traveling to the brain, though it sometimes causes a prickling or tingling sensation known as paresthesia. Then there's the Nevro HF10. This small, implantable device operates at a significantly higher frequency, thereby offering paresthesia-free relief from chronic back pain, according to Ashwini D. Sharan, M.D., professor of neurosurgery and neurology at the Vickie and Jack Farber Institute for Neuroscience at Jefferson's Sidney Kimmel Medical College in Philadelphia.
"For something like stenosis or a tumor pressing on the spine, that should be surgically corrected," says Dr. Sharan, who grew up with an interest in computer science, which evolved into a passion for integrating advanced technology into medicine. "But not everything can be fixed through surgery.
"Most people are more used to thinking that we can insert rods and screws into the body to fix things, but we're resistant to things like wires and pacemakers," he continues. "Some patients react by saying, 'I'm not going to have a wire in my back.' So you have to walk them through the idea."
DeJesus, on the other hand, didn't require any convincing. To her, the technology sounded too good to be true: relief from her pain, without having to undergo surgery, and without having to take narcotics. She contacted Dr. Sharan and began a trial of the device. She says she felt immediate relief, going from "100 percent pain to zero pain."
That happened in March of this year. The following month, Dr. Sharan implanted the permanent device in DeJesus's back. The device has a battery pack that requires daily recharging. Other than that, the device has virtually no negative impact on her life. On the plus side, she's now free of the pain that had dogged her for so long. In fact, she feels well enough to get back on her motorcycle—a 2018 Can-Am Spyder—and take regular trips with her husband, who rides a Harley.
"It's been a godsend," she says of the device. "Before this, I couldn't drive for very long without the pain getting too much for me to bear. Recently we drove to Wesley Chapel, [Fla.]—14 hours straight—and I felt fine. … I'm a firm believer that this is the future for people who suffer from back pain."
Medical Marvels
These two technological marvels belong to the fabric of innovative medical treatments available to patients throughout the Greater Philadelphia Area. The age of biometric tattoos for transmitting vital signs and robotic assistants in the OR may not be far off. In the meantime, the following medical centers and hospitals are embracing treatments, procedures, and designations one might consider nothing short of revolutionary.
* The Abramson Cancer Center of the University of Pennsylvania is leading the charge in the fight against cancer with groundbreaking research on therapies designed to help patients battle various kinds of cancer. Recently, for example, the U.S. Food and Drug Administration expanded approval for a personalized cellular therapy developed at Penn for the treatment of adult patients with relapsed or refractory large B-cell lymphoma after two or more lines of systemic therapy. The approval was granted to Novartis for the chimeric antigen receptor (CAR) T-cell therapy Kymriah, making it the second indication for the nation's first personalized cellular therapy for cancer. In addition, the FDA has approved a Penn-affiliated nonsurgical treatment for the rare neuroendocrine cancers pheochromocytoma and paraganglioma. The approval was based on a multicenter trial, led by researchers in the Abramson Cancer Center, and was granted to Progenics Pharmaceuticals for AZEDRA. In the Penn-led trial, 68 patients received at least one therapeutic dose of AZEDRA. More than 90 percent of evaluable patients who received at least one dose achieved a partial response or stable disease.
* With the complete modernization of the Bryn Mawr Hospital campus, Main Line Health has future generations in mind. Besides a new medical office building, which has already been completed, the modernization project includes the construction of a new seven-story, 256,000-square-foot Patient Pavilion, expected to reach completion in early 2019. The new pavilion will include all-private patient rooms, two new medical/surgical telemetry units, and a new intensive care unit, as well as new ORs in a state-of-the-art surgical suite, a 25-bed maternity unit, a new labor and delivery unit, and a neonatal ICU. In addition, Main Line Health has broken ground on Main Line Health King of Prussia, which will be the home of the new Women's Specialty Center, in collaboration with Axia Women's Health. Slated to open in the fall of 2019, the $32 million, 94,000-square-foot facility will focus on the preventive, diagnostic, and treatment needs of women.
* For the third time, Capital Health Regional Medical Center in Trenton, N.J., has earned Advanced Certification for Comprehensive Stroke Centers from The Joint Commission and the American Heart Association/American Stroke Association. To be eligible for this certification, hospitals must demonstrate compliance with stroke-related standards expected of primary stroke centers, and meet additional requirements, including volume of complex stroke and cerebrovascular patients, quality of care and outcome, advanced imaging capabilities, 24/7 availability of specialized treatments, and providing staff with the unique education and experience to care for complex stroke patients.
* Children's Hospital of Philadelphia continues to make bold advancements in the treatment of pediatric cancer. The FDA has approved a personalized cellular therapy pioneered by CHOP, as well as the University of Pennsylvania and the pharmaceutical firm Novartis, for the treatment of children and adolescents up to 25 years of age with B-cell precursor acute lymphoblastic leukemia that is refractory or in second or later relapse. The treatment, called CAR T-cell therapy, harnesses a patient's own immune system to kill and hunt down leukemia. CHOP led global clinical trials of the new therapy in pediatric patients. In larger trials, CHOP has seen overall remission rates of higher than 80 percent, which is a remarkable improvement upon previous treatment success rates.
* Crozer-Keystone Health System and the physicians of Global Neurosciences Institute have teamed up to bring a dedicated neurologic emergency department to Crozer-Chester Medical Center in Upland. As a part of the newly created Crozer-Keystone Neurosciences Institute, this new service will expand Crozer-Keystone's capabilities to treat neurologic emergencies such as stroke, aneurysm, seizure, and traumatic brain injury, while a section of the department is set aside exclusively to treat patients with neurologic disorders. The department, which is led by Karen Greenberg, D.O., has a devoted staff that includes a specially trained emergency medicine physician who works alongside nurses, medics, and technicians who have also received advanced training. "It's a completely different model of care that focuses on speed and urgency," says Dr. Greenberg. "When we get notice from the field that a stroke patient is on their way to our [department], we meet them at the ambulance bay to do a rapid assessment. It's literally zero minutes waiting time."
* At Einstein Medical Center Montgomery in East Norriton, a team of board-certified cardiothoracic surgeons offers the full gamut of cardiac surgical services—everything from coronary artery bypass to minimally invasive transcatheter aortic valve replacement, or TAVR for short.Einstein Montgomery offers surgical options designed to be less invasive, both in terms of the surgery itself and in terms of the disruption to the patient's life."For a routine TAVR, the patient tends to go home in two days," says Alexandra Tuluca, M.D., FACS, the associate chief of cardiac surgery at Einstein Montgomery. "In most cases, if we're doing minimally invasive surgery—meaning not just TAVR but also minimally invasive sternal-sparing aortic valve replacement—the patient can return to their quality of life faster."
* The Jefferson Advanced Spine Center has opened at Methodist Hospital in Philadelphia, where specialists from The Rothman Institute at Jefferson and the Vickie and Jack Farber Institute for Neuroscience are able to deliver minimally invasive spine surgery in a safe, convenient, and evidence-based manner. The center is equipped with a pioneering robotic navigation system available for open and minimally invasive spinal surgery or implantation, thereby offering the potential to provide better imaging of the patient's spine and also increase surgeons' accuracy.
* Officials from Reading Hospital, which is part of Tower Health Medical Group, say theirs is the first hospital in the region to treat carotid artery disease and prevent future strokes using a new minimally invasive procedure called transcarotid artery revascularization (TCAR). TCAR is a clinically proven, minimally invasive, and safe approach for high-risk surgical patients who havecarotid artery disease, which, if left untreated, can lead to stroke. During the TCAR procedure, the blood flow is temporarily reversed so that any bits of plaque that may break off during surgery are diverted away from the brain, thereby preventing a stroke. A stent is then placed inside the artery for stabilization to minimize the risk of a future stroke. "It's already becoming an increasing part of how we treat the disease here," says Kathleen Lamb, M.D., a vascular surgeon at Reading Hospital. "Compared with open surgery, the recovery tends to be faster as well, so patients can get back to living their lives more quickly. It's been a revolutionary step forward in how we treat the disease."
* Reproductive Medicine Associates of New Jersey, which has fertility clinics throughout the Garden State, offers comprehensive fertility treatment in a comfortable, state-of-the-art setting. RMANJ offers patients an array of treatment options and choices in care, including a successful in vitro fertilization (IVF) program, with sophisticated screening technologies such as SelectCCS during the embryo-selection process to improve the efficacy of an IVF cycle. In addition, complementary technologies such as single embryo transfer (SET) have helped RMANJ refine the IVF experience. Previously, physicians would have placed multiple embryos to improve a woman's chances of becoming pregnant, which at the same time increased the likelihood of complications. With SET, an RMANJ physician can place a single viable embryo, vetted through SelectCCS, to increase the likelihood of a full-term pregnancy with fewer complications.
* At St. Mary Medical Center in Langhorne, an increasing number of heart patients are benefiting from transcatheter aortic valve replacement (TAVR). With this procedure, doctors repair a defective aortic heart valve without surgery. Instead, they guide a catheter through a blood vessel and use it to put a new heart valve in place. Initially, TAVR provided a new option for many older adults with aortic stenosis (a stuck heart valve) for whom open-heart surgery was considered too risky. Since then, the procedure has been expanded to younger patients whose health puts them at a greater surgical risk. Another inventive technology now available at St. Mary: the Watchman, a device used to prevent strokes in people with an irregular heartbeat, called atrial fibrillation (AF), who can't take blood thinners because of their bleeding risk. The Watchman device closes off the left atrium, a part of the heart where clots tend to form in people with AF. This helps to prevent strokes and also allows candidates to safely go off their blood thinners.