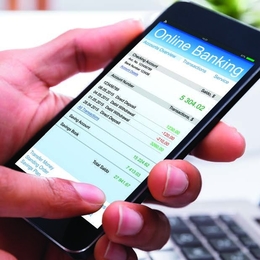 Personal Touch
With the pushbutton ease of mobile apps and online banking, some doomsayers have predicted the fall of traditional brick-and-mortar banking. Not so fast, banks reply.
It's 1:38 a.m. on a Wednesday, and the mental alarm bells blare. You bolt upright in bed, aghast at the stark realization that you forgot to pay the mortgage, or didn't send in a car payment, or otherwise neglected to give a critical bill its proper due.
A decade ago, you might have scrambled out of bed to scribble a check, rushed out to the mailbox with a stamped envelope in hand, and hoped the check cleared fast enough to avoid a stiff penalty. In 2018, well into the age of online banking, the act of paying bills has become a cinch—even automatic. In the aforementioned late-night scenario, even if a rogue bill did somehow slip past, you would simply reach across the nightstand and retrieve your cellphone. Push a few buttons and voilà, problem solved.
In terms of personal and business banking, Americans now have the capability to do just about everything online or, if needed, maybe talk out the particulars with a representative by way of an old-fashioned phone call. In other words, the urgent need to wander into a physical branch and speak face to face with a real, live person has become a thing of the past, right? Wrong.
Representatives of locally rooted banking institutions say bank branches—or "stores," as some banks call them—play an increasingly vital role in customer interaction, not only for matters of convenience and connection, but also in terms of self-promotion.
Philadelphia Federal Credit Union (PFCU) sees each of its approximately 12 branch locations as a launch pad of sorts, as a place where it can help customers manage their money and establish good habits that will serve them throughout their lives. Better put, PFCU has created a model built on "financial literacy as a lifelong process," according to Karen Eavis, the credit union's communications specialist.
"We want to make people's financial goals more accessible, and we do that in a variety of ways," she says. "We offer free financial education and counseling, with an accredited financial counselor who teaches people about how money works. We have free, customized educational seminars. We teach students how to maintain good credit and establish budgets, and also teach adults how to work with their children to establish good financial habits. Most importantly, we help seniors by showing them how to protect themselves from identity theft."
Many customers—or "members," in the parlance of credit unions—join PFCU or another credit union because of the not-for-profit appeal, according to Eavis, the notion that "we're not here for our profit; we're here for yours." She says the dividends return to members in the form of financial education, member-appreciation events, and investments and involvement in local communities (PFCU is the title sponsor for the Kensington Derby and Arts Festival, for example), as well as other forms of "giving back."
"Technology has changed the banking institution quite a bit, but we still believe in the one basic business principle that it's all about the customer," says Matt Moresco, regional vice president and team leader in suburban Philadelphia for Republic Bank. "We may not see as many stores or other banking institutions on every busy corner … but we still feel it's an important marketing tool."
One example: the convenience of coin counting, a complimentary service available at kiosks in Republic locations. The bank has chosen to offer this service to anyone who steps through the door, whether or not the individual does his or her banking at Republic.
Whether the interaction is in person or digital, Moresco believes all customers want one thing from a banking partner: responsiveness.
"On the lending side, I'm dealing with locally based, privately held businesses, and they're looking for quick decisions," he says. "So when they come to Republic Bank with a financing request, they know they'll be dealing with local people, all in our office here at Two Liberty [Place, located in Philadelphia]. Do they want a yes [on a loan request]? Of course, but at the end of the day, we understand that all they really want are quick answers. That's their expectation when dealing with a smaller, local bank, and that's what we try to give them."
People Helping People
Diane R. Brown has 30 years of experience in the banking industry. As executive vice president and chief administrative officer of Penn Community Bank, she often puts her experience—and her imagination—to use in helping to develop a long-term strategy for serving the bank's customers well into the future.
"It's been an evolution," says Brown. "The pace of things is picking up, which makes it more of a challenge. I think we'll continue this evolution of providing services where and when people want them, but there will always be an important place for human interaction. That consultation people want can't be delivered through 'bots,' but I think things like artificial intelligence will provide opportunities to predict things a little more differently than we do today."
As part of its forward-looking strategy, Penn Community Bank is in the midst of a strategic project to assess the size and layout of the ideal retail location. Face-to-face interactions have evolved to focus less on transactions and more on consultations, so the bank is closely evaluating how to refine the customer interface to reflect this shift. Besides assessing its overall physical footprint—24 branch locations in Bucks and Montgomery counties—Penn Community Bank strives to understand what's most important to customers, no matter where, when, and how they choose to do their banking.
"None of us has a crystal ball," she adds. "That's why we're always working with customers through focus groups and other ways to make sure we understand what their needs are. In the process, it helps to shape the products and services we're offering."
One example: In response to requests for more control over debit-card usage, Penn Community Bank offers a mobile app called CardValet, which enables a user to turn a debit card off and on—in the event that, say, a card is misplaced—and also receive alerts whenever the card is used.
"We have online banking and a full suite of mobile apps for people who want the convenience of using their phones, but they also have the branch available if they need more help," Brown adds. "No matter how they come to us, we want them to have the support of knowledgeable, capable, technically proficient people. That's at the heart of everything we're doing here."
Credit Due
The Greater Philadelphia Area boasts a number of respected credit unions and community banks with deep local roots, including many that maintain their headquarters in the Philadelphia suburbs. The following institutions have widened their respective footprints in the area, in terms of either the number of branch locations or simply the products and services to help their customers achieve their goals, financially speaking.
Ambler Savings Bank
AmblerSavingsBank.com
Beneficial Bank
TheBeneficial.com
DNB First
DNBFirst.com
The First National Bank & Trust Co. of Newtown
FNBN.com
First Priority Bank
FPbk.com
First Resource Bank
FirstResourceBank.com
Hatboro Federal Savings
Hatboro
HatboroFed.com
Huntingdon Valley Bank
HVBancorp.com
Malvern Bank
MyMalvernBank.com
Meridian Bank
MeridianBanker.com
Monument Bank
MonumentBankPA.com
Penn Community Bank
PennCommunityBank.com
Philadelphia Federal Credit Union
PFCU.com
Quakertown National Bank
QNBBank.com
Republic Bank
MyRepublicBank.com
Tompkins VIST Bank
VISTbank.com
Univest Bank and Trust Co.
Univest.net
WSFS Bank
WSFSBank.com
Photograph courtesy of PFCU