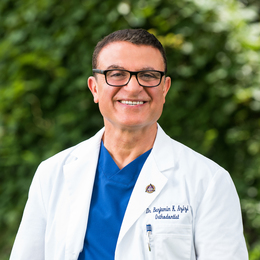 Meet Dr. Benjamin K. Azizi
An icon in the field of orthodontics who has trained accomplished orthodontists from around the world, Dr. Azizi perfects the smiles of local patients through his practice, Advanced Orthodontic Care.
Most patients consider the act of going to the orthodontist's office a hassle, an obligation, something to endure. But it's the complete opposite for patients who spend time in the care of Benjamin K. Azizi, D.M.D., and his staff. Then again, Dr. Azizi isn't like most orthodontists.
"Children love coming to the office," says Dr. Azizi, the founder of Advanced Orthodontic Care, which has offices in Ambler and Glenside. "Our primary concern is to align our patients' teeth so they can have perfect smiles, but we also educate them and encourage them to have a great and successful future. Because of the personalities and the friendliness of our staff, our patients say they feel like they're coming to the house of a relative or a friend to get braces or Invisalign."
In fact, he likes to engage his patients in in-depth discussions about music, sports, and his particular area of interest: movies. "I'm something of a film buff," he admits. A few of his favorites include contemporary films such as Avatar, Saving Private Ryan, Schindler's List, and Titanic, as well as Rio Bravo, a 1959 Western starring John Wayne, Dean Martin, and Ricky Nelson.
Dr. Azizi likes that his patients regard him as "a cool orthodontist." In fact, some even feel comfortable enough to refer to him as, simply, "Dr. A." And he's not the only one patients like to interact with; they also enjoy bantering with other staff members, such as Michelle, a longtime orthodontic assistant, and Roya, the office manager (and also Dr. Azizi's wife).
While the welcoming and laid-back environment is essential to the practice's success, it's the exceptional orthodontic care that draws the highest praise. The practice's two websites brim with glowing patient reviews and testimonials remarking on how Dr. Azizi's care has changed their lives. One example features a recent high school graduate who was awarded "best smile" by her senior class.
Dr. Azizi has earned numerous awards and acknowledgments throughout his career. He has treated celebrities, athletes, and other high-profile luminaries. Readers of respected media outlets such as Montgomery Media and Suburban Life have ranked him among the area's top orthodontists. Perhaps the most telling appraisal of his skill is the fact that his patient population includes the children of many general dentists—professionals who recognize an expert when they see one.
"I like to do non-extraction treatment, and I always consider the patient's whole craniofacial complex, not just their dentition," he says. "I use very light force to move the teeth. By applying a lighter amount of force to move the crown and the root, you're minimizing the chance of relapse, and the patient doesn't experience any pain or soreness as a result."
Dr. Azizi offers an abundance of treatment options, ranging from traditional braces and colored braces to low-profile clear braces with clear wire. He's also a preferred provider of Invisalign for patients of all ages. In addition, he offers advanced technology that accelerates orthodontic treatment using Invisalign or braces, in cases where patients face tight deadlines—an upcoming wedding, heading off going to college, or preparing for an important presentation, for example. Despite the shorter treatment time, Dr. Azizi assures patients that the movement of the dentition is progressive, persistent, and healthy.
"We're a technologically advanced practice," he adds. "We're completely paperless and utilize the latest technology for the treatment and evaluation of our patients. I've also adopted the latest orthodontic tools, like SmartForce attachments for Invisalign and titanium wire that was first used by NASA in the Space Shuttle because of its strength and its durability."
More than Just a Beautiful Smile
Besides perfecting patients' smiles, Dr. Azizi also addresses related issues such as dysfunction of the temporomandibular joint, also known as TMJ. Those who suffer from disorders of the TMJ may experience migraine-type headaches and general discomfort of the head and neck—and, if left untreated, the condition could result in severe headaches. Dr. Azizi can help to lessen or eliminate TMJ discomfort using customized splints, with supplemental orthodontic treatment to adjust the alignment of the teeth.
Amazing Smiles for All Ages
"People often ask: 'What's the best age to come in for orthodontic treatment?'" he says. "The best age is seven, because the first permanent molar has broken through and the bite is established. If a child has other habits that may be affecting their bite—thumb sucking, for example—we can address those issues, too. And while orthodontic patients have traditionally been children, I have some patients who are in their 70s. Age doesn't limit treatment as long as the gum and bone surrounding the teeth are healthy."
Always Teaching
Dr. Azizi has had a positive effect on the lives of more than just his patients. He spent 20 years as a professor and director of orthodontics at Temple University's Kornberg School of Dentistry, and in that time he trained some of the most skilled orthodontists in the Greater Philadelphia Area, across the country, and around the world. By his estimation, he has helped thousands of orthodontists perfect their technique in various aspects of their practice, not only in terms of how to move teeth but also how to connect with patients and put them at ease.
"I've also enjoyed teaching," says Dr. Azizi, who has a master's in education from the University of Pennsylvania, where he also went to orthodontic school. "I always liked to be a friend to my students, and I feel the same way about my patients. I still enjoy educating my patients. For the ones who are cooperative in their treatment, I always explain to them that being compliant should show them that they're going to go forward and be successful later in life, because it shows dedication. I always try to build up my patients' confidence for a brighter future."
Even after a patient has his or her braces removed or completes Invisalign treatment, Dr. Azizi doesn't say goodbye. He continues to monitor their dental health with regular appointments to make sure they have not had a relapse. In addition, he monitors for situations that could affect the patient's occlusion (bite)—the eruption of wisdom teeth, for example—or otherwise impair the straightness and beauty of the smile.
"Orthodontics can have a great effect on a person's life, whether it's from improved self-esteem or cosmetics or the functional benefits to the person's smile," he says. "Improving your smile is one of the best investments people can make in their lives. Besides having straighter teeth, orthodontics can relieve headaches, address periodontic problems, build confidence, and boost the immune system as a result of smiling more. There are so many positive effects.
"Our goal is to help people want to smile more and lead happier lives," he continues. "That's what we get to do every day, and we love being part of that experience."
Advanced Orthodontic Care of Ambler
500 Tennis Ave.
Ambler, Pa.
(215) 646-9514
AziziOrthodonticsAmbler.com
Advanced Orthodontic Care of Abington
242. N. Keswick Ave.
Glenside, Pa.
(215) 576-6414
AziziOrthodonticsAbington.com
Photography by Jeff Anderson