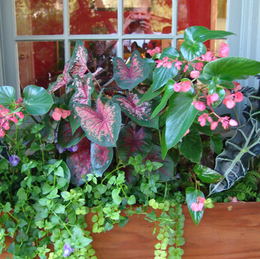 In Full Bloom
From rooftop gardens in Philadelphia to backyards in Bucks County, Liz Haegele and her team at Fine Garden Creations design, build, and maintain outdoor oases homeowners adore.
The simple act of digging in the dirt at a community garden changed everything for Liz Haegele.
In 2003, Haegele graduated from Drexel University with a bachelor's degree in business administration and management information systems. She then entered the work force, but working for an insurance company in Center City—stale air, windowless conference rooms, hours spent behind a desk—helped her realize, quite quickly, that she wanted to do something else with her life.
Once Haegele got involved with a community garden nearby, the experience "opened up my eyes to a lot of things," she recalls: that she wanted to spend her workdays outdoors; that she loved having her hands in the soil, working with flowers, shrubs, and other plants; and that she wanted to be her own boss. One of the individuals Haegele met through the community garden encouraged her to pursue a career in horticulture—the art of cultivating and managing gardens.
That nudge was the only one she needed.
Haegele promptly left her insurance job and went north, to New York, where she won an internship at the Brooklyn Botanic Garden and effectively embarked on a new career. After earning her certificate in horticulture, she returned to the Greater Philadelphia Area to build upon her knowledge base and hone her skills with organizations devoted to the promotion and preservation of all things horticulture—namely, Longwood Gardens, the Scott Arboretum of Swarthmore College, and the Pennsylvania Horticultural Society.
In 2012, she became the manager of horticulture for Fine Garden Creations, a premier full-service landscaping company based in Swarthmore that provides residential and public gardening services to clients throughout the Greater Philadelphia Area and beyond. Three years later, when the firm's original owner moved out of state, Haegele stepped in and purchased the business. Considering Fine Garden Creations' decades-long reputation as a garden specialist, Haegele saw it as a perfect fit.
"Horticulture is a unique skill set; a lot of landscape contractors just don't know it," says Haegele, who in 2011 received a Master of Environmental Studies degree from the University of Pennsylvania. "When people want their garden to stand out and be the focus of their property, they contact us. People love us for the designs and workmanship that go into the lush and full landscapes that we create."
While Fine Garden Creations is perhaps best known for its work throughout the Main Line and in high-profile public spaces in Center City—a spectacular makeover of the formal gardens of iconic Rittenhouse Square, for example—the firm has performed work for clients as far afield as Manhattan and Avalon, N.J. In addition, the company has expanded its reach into Washington Crossing and other parts of idyllic Bucks County. Regardless of the location, however, Haegele's team collaborates with each client to create a distinctive, custom-designed space that serves as an "escape" of sorts.
"People are working more than ever, and they're away from their homes and their families more than ever," she says. "So when they come home, they want to see this beautiful oasis, with all kinds of flowering plants and architectural features like patios, ponds, and fire pits—a sanctuary where they want to spend time and relieve their stress. That's exactly what we're trying to do for people."
'We Love Plants'
An experienced and highly skilled staff enables Fine Garden Creations to reshape virtually any landscape, whether it's a rooftop garden in Center City or a six-acre estate in Chester County. Besides Haegele, the firm's staff includes general manager George Petropoulos, who has more than 20 years of horticulture experience, as well as designers Jonathan DeLone and Eric Gay, horticulturist Elizabeth Reed, installation foremen Robert Reynolds and Marcelino Salvador, and separate teams dedicated to installation and maintenance, respectively.
"People will stop in front of our customers' houses and say, 'Wow, look at that garden,'" Haegele adds. "A lot of landscapers focus on things like outdoor kitchens and hardscaping. We do all of that stuff, too, and we have relationships with engineers, architects and other professionals for when those services are needed, but horticulture is our focus. We talk about plants, we live plants, and we love plants."
As a result, Fine Garden Creations has an almost overwhelming number of glowing reviews on the popular home-improvement website Houzz; clients rave about the firm's "gorgeous, inspiring results," "flawless installation" and "creative and thoughtful design." In fact, the sheer number of five-star reviews helped make Fine Garden Creations a two-time winner—2017 and 2018—of the Best of Houzz Award in the "service" category.
"This company has been working with customers in the Philadelphia area for more than 25 years," Haegele adds. "We love to maintain those properties so we can help shape them as they evolve over time. Some of our long-time customers have added things like water features, patios, perennial borders, and vegetable beds over the course of 10 or 15 years to really 'blow out' the landscape. We've worked hard to build that kind of trust. There's never any question of, 'Will you be able to take care of this?' because they know us, and they know what we're capable of."
Fine Garden Creations
Swarthmore, Pa.
(610) 338-0630
FineGardenCreations.com