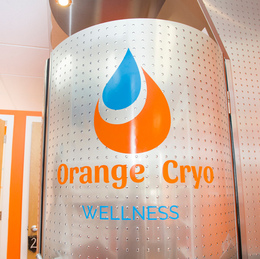 Cold Remedy
For everything from overuse injuries to serious health conditions, physicians such as Dr. William Tsoubanos embrace Orange Cryo Wellness to stimulate patients' ability to heal.
When one dedicates a life to healing the afflicted, as Dr. William Tsoubanos has for 36 years as a well-known chiropractor in Conshohocken, the mind remains open to possibilities.
What if it were possible to provide relief to patients beset with varying degrees of pain from injured or overused muscles due to physical activity? What if there was a treatment to help those suffering from more serious conditions—multiple sclerosis, rheumatoid arthritis, and Lyme disease—simply by reducing inflammation? And what if relief were attainable simply by undergoing a series of painless, affordable sessions that last only three minutes apiece?
In 2016, Dr. Tsoubanos learned that such a health-promoting technology actually exists. It's called cryotherapy, a decades-old treatment that exposes the human body to subzero temperatures as a way to provide near-instantaneous relief for an expansive list of health conditions.
When Dr. Tsoubanos first tested the treatment for himself, he was amazed at how it provided soothing relief for his aching muscles. He was so incredibly impressed with its efficacy that he saw the need to share the experience with as many people as possible. Two years ago he purchased his first Orange Cryo Wellness cryotherapy franchise, in Conshohocken, from local businessman Robin Gupta. In 2017, Dr. Tsoubanos purchased another location in Avalon, N.J., followed by yet another in Margate, N.J., earlier this year.
"Getting involved with cryotherapy made perfect sense to me," says Dr. Tsoubanos, whose patients know him, simply, as Dr. Bill. "It's a natural alternative to drugs or invasive treatments. It's a perfect adjunct for what I'm doing. People who've come to me to use it say it has helped them tremendously."
Rebooting the Body
Cryotherapy exposes the body to temperatures colder than negative 200 degrees Fahrenheit. At Orange Cryo Wellness, a client enters the cryosauna, or tube in which patients stand wearing only socks, Crocs, their underwear, and a robe. Once sealed in the tank, and with only their head exposed, the client disrobes and puts on special gloves. Nitrogen gas is used to lower the client's skin surface temperature by 30 to 50 degrees during a three-minute session. The skin reacts to the cold and sends messages to the brain that stimulate the body to go into survival mode by sending blood from the extremities to the core, where the blood is enriched with oxygen, hormones, and nutrients.
As the body re-warms, this nutrient-rich blood is pushed out to the extremities. Enriched blood expels toxins from subcutaneous layers, initiates cell renewal process, triggers replacement of damaged cells, and eliminates dead cells from peripheral tissues. Put more simply, cryotherapy rejuvenates of the body at the cellular level.
"Cryotherapy adds a dimension of healing you can't get from other therapies," Dr. Tsoubanos says. "People get relief from body aches, and get improved mental acuity. And most people don't have any difficulty with the cold. It's an easy process, and there's always an operator with you. I still go once a week, my wife and kids get in it, and my son-in-law, who's a golfer, uses it regularly. It helps the body with recovery; it's like rebooting a computer. You come out feeling a sense of euphoria."
'It Can Help Anyone'
Gupta learned about cryotherapy and its myriad health benefits at a seminar in Chicago in 2015, hosted by noted motivational speaker and life coach Tony Robbins. Gupta was so impressed with what he learned about the health and wellness treatment, he founded his own franchise in the Northern Liberties neighborhood of Philadelphia in 2016.
"Cryotherapy is the most effective technology in the world for reducing inflammation in the body," Gupta says. "Inflammation causes everything in the body to go wrong, and it causes lots of disorders. Lots of professional athletes, like [NBA All-Star] Steph Curry, use it to recover. But it can help anyone."
Cryotherapy was developed in the 1970s in Japan to help alleviate pain caused by rheumatoid arthritis, and the benefits from exposure to extreme cold have long been known in Nordic and Eastern countries for rejuvenation and as an apparent fountain of youth. What has taken America so long to catch up?
"I don't know, but it works," says Dr. Tsoubanos, who lists professional athletes, including members of the Philadelphia 76ers, as cryotherapy clients. "Some people have said cryotherapy is nothing but a passing fad. I heard the same things said about chiropractic care years ago. People who say those things aren't informed. I know that if you can help someone naturally, help make them feel better without drugs and other things, there's not much to question. The results are profound. I tell my patients it's absolutely worth a try."
Breaking down the wall of skepticism is often a great challenge whenever any new form of treatment promising some sort of health benefit is introduced to the public.
"The biggest challenge has been making the public aware of what cryo is and what it does to help people," Gupta says. "But that awareness is growing, so the challenge gets easier. We now have orthopedic surgeons sending patients to us before surgery to reduce their inflammation. We had one client in Conshohocken who'd been in a few car accidents in her life. The doctors couldn't help her. She was an artist, but couldn't paint anymore after the accidents because of the pain. She came to us. Now she does cryo three or four days a week and has her quality of life back."
Gupta has several examples of people whose lives have been changed by cryotherapy. He sees these testimonials as "fuel," and as proof that people can experience relief without injecting or infusing their bodies with toxins.
Dr. Tsoubanos has spent a lifetime healing the afflicted. Now, with cryotherapy, he's able to play a part in providing healing of a much different sort. He has experienced its positives effects on the body, and he's heard the same glowing reports from his patients.
"This wasn't about another business opportunity for me," he says. "This was an opportunity to create something to help people get well naturally."
Orange Cryo Wellness
Call (267) 519-0028 or visit OrangeCryo.com for more information, including locations.
Photography by Alison Dunlap