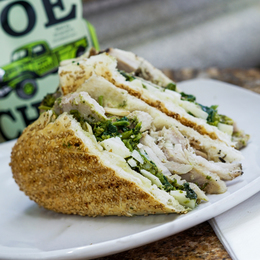 Pronto!
As the latest addition to Doylestown's flourishing Main Street, Pronto Italian Market & Catering shakes up Bucks County's culinary scene with restaurant-quality prepared food at market prices.
Whether you're in a car or on the sidewalk, you're bound to notice a sparkling new addition to the lineup of established storefronts along the main drag of Doylestown's bustling borough. The sign on the door reads "Pronto Italian Market & Catering," and once customers step inside, they're likely to find a culinary experience of a much different sort.
Located at the corner of Main and Court streets, Pronto has made a home in the building once occupied by a long-time staple of D-town's culinary scene, Café Alessio. In fact, the family of restaurateurs who brought Pronto to life created not only Café Alessio but also Alessio's Seafood Grill in Warrington. Pronto—which means "ready" in Italian—is the living embodiment of the term disruptor; the market aims to be a completely unique entity, filling needs that had previously gone unaddressed.
"My dad, Joe Mannino, came up with the idea for Pronto about five years ago," says Giuseppe Mannino, who, with his father, does all of the food preparation and cooking at Pronto. "Doylestown is saturated with restaurants, and we wanted to create something that set us apart. There aren't many places where you can get restaurant-quality food at market prices that's made fresh and ready to go.
Everything in here is made fresh daily, right down to the sauces, the soups, and the dough for our pizza."
In other words, Pronto has cornered the market, so to speak, on lovingly prepared fare of the highest quality designed to maximize value and convenience for each customer who walks through the door.
A Feast for the Senses
The Manninos designed Pronto to offer a feast for the senses, from the market's elemental wood-and-stone design to the aromas of freshly prepared food wafting from the kitchen. Some notable highlights:
* A 24-foot-long line of prepared foods to go (including gluten-free items), ranging from meatballs and stuffed long hots to pulled-pork mac-and-cheese bites and shrimp-stuffed mushrooms, as well as assorted refrigerated cases featuring prepared dinners to go and accompaniments such as fresh-baked bread.
* A craft sandwich counter, where customers can order signature items such the cheesesteak, the chipotle grilled-chicken panini, and "The Porker," a favorite featuring thinly sliced pork, sharp provolone and broccoli rabe. The counter also features a carving station, where Giuseppe hand-carves freshly prepared fresh meats several times a week.
* A pizza counter, where customers can pick up a pre-made pizza or get one made to order right from the oven.
* A beverage station in the middle of Pronto, featuring hot coffee and iced tea, as well as an assortment of bottled beverages.
"We let customers be the boss; they can buy different food items by the pound or order a la carte," Giuseppe adds. "Every day there's something different, so if you come in on a Monday versus a Wednesday, you're going to find a whole new menu, because we're essentially making what we want when we want. We're changing it up as much as possible to keep giving people new reasons to come in."
Asking Giuseppe to choose a favorite item is like asking a parent to choose a favorite child. But when pressed, the 26-year-old self-taught chef says he'd have to opt for one of Pronto's signature pizzas.
"It's the first thing I learned how to make, so I have a soft spot for our pizza," he says. "Plus, pizza just makes people happy. Ours is special because we make our own mozzarella on site and we use only fresh, double-zero flour that's been imported from Italy. Other pizzas tend to be heavier and higher in gluten, but the flour we use produces a much airier end result, with a crust that is crispy and light."
A Family Affair
After several months of intensive renovations, Pronto opened its doors earlier this summer. The remodel was "a family affair," just like with every other aspect of the business; members of the Mannino family gutted the interior, put in the countertops, and performed just about every other aspect of the market, which had to be reimagined from a high-volume restaurant.
While Pronto does not offer table service, it does have a comfortable seating area downstairs, complete with wall-mounted TVs and a charging station. Also, in kinder weather, Pronto offers outdoor seating so customers can pick up their provisions and eat outside. It's also a BYOB, so the Manninos encourage customers to have a seat and enjoy a bottle of their favorite wine along with their food.
"We've been open for only a short amount of time, so we're growing purely through word of mouth, but we're already getting some rave reviews," Giuseppe adds. "My family has been running restaurants in this area since I was a little kid, and we're the ones who are coming up with the menu every day, and we're the ones who are cooking the food.
"We have complete control over the menu and the quality. So whether someone is getting a made-to-order sandwich, picking up something to take back home, or having something catered, we're confident every meal will be a memorable one. And we're confident they'll be back."
Pronto Italian Market & Catering
24 N. Main Street
Doylestown, Pa.
(215) 340-1101
ProntoItalianSpecialties.com
Photography by Jody Robinson