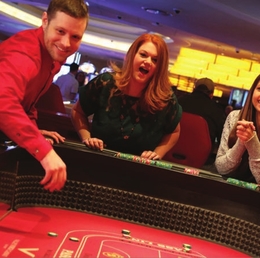 Sure Bet
With first-class gaming, dining, nightlife and a host of other amenities, Valley Forge Casino Resort offers visitors a one-of-a-kind opportunity.
Residents of the Greater Philadelphia Area are fortunate to have access to a plethora of attractions within a few hours' commute. Besides downtown Philadelphia and all its cultural and culinary charms, desirable destinations such as New York City, Washington, D.C., and the Jersey Shore are all just a short car trip or train ride away.

But why waste time on a long, expensive trip to another town when excitement of every sort—entertainment, dining, gaming and much more—awaits visitors who head to King of Prussia and step through the ornate doors of Valley Forge Casino Resort?
"We like to say 'The House is Yours' because we believe in making our guests feel at home," says Lani Baird, executive director of sales for VFCR. "We do this through our excellent customer service and by creating memorable experiences. It is the small, personalized touches that really count."
Michael Gartner, vice president of strategic development and operations, agrees that "guest relations" are the crowning jewel of the VFCR experience. He says the resort staff gets to know its customers personally, to the point where they know not only guests' names but also their individual needs.

"When you're here," he says, "you'll feel like a part of our family."

Good Times Ahead
The personal touch is only one aspect of the experience customers discover at this resort-style destination. In fact, VFCR serves as the area's only resort destination offering everything under one roof—two hotels, premier restaurants such as Revolution Chop House and Valley Tavern, gaming, nightlife, private event space and much more, according to Gina Mancino, VFCR's vice president of marketing.

In addition, the resort is adjacent to the King of Prussia Mall, Valley Forge National Historical Park and the newly erected King of Prussia Town Center. Even so, some customers come solely for the resort—meaning once they get there, they stay there. And now that the casino no longer has an entrance fee, those who come in search of excitement on the gaming floor can now get straight to the good times, without the added expense.

"Our casino floor is a boutique-sized gaming floor, and that gives us the opportunity to truly get to know our guests as individuals and provide an exceptional guest service experience each and every time," she adds. "One of our core values is to treat our guests like family and make people feel at home. This is important to the Valley Forge Casino Resort team as our goal is to ensure that all of our guests feel at home, enjoy their experience and keep coming back to see us."


Dining in Style
VFCR has updated the dinner menu of Revolution Chop House, which serves up Old World and New World favorites, including premium steakhouse cuts, alongside a host of classic Italian delights. In addition, Revolution Chophouse recently added another dining option: Sunday brunch, held every Sunday, from 9:30 a.m. to 2:30 p.m. Any guest who has ever enjoyed a meal at Revolution knows the kind of quality and decadence to expect. For anyone who hasn't yet had the pleasure, here's a taste of the signature dishes offered: short-rib benedict with slow-braised ribs; a Southwestern omelet with poblano peppers and chorizo; and shrimp and grits with andouille sausage.
Valley Tavern has updated its dinner menu, too. This festive gathering spot offers a far-reaching menu of hearty pub fare, such as a wide assortment of burgers, salads, and tavern-style favorites such as blackened salmon and slow-roasted prime rib. Of course, with a name like Valley Tavern, the food menu is complemented by an assortment of craft and domestic beers, including locally made brews.
For guests who prefer more casual dining options, VFCR is adding to its food court with a 24-hour Dunkin' Donuts. This latest addition gives guests yet another quick-bite offering, alongside existing food-court options such as the American Grill (burgers, cheesesteaks, hot dogs, and more), Asianoodle (sushi, stir fry, and rice bowls), and the Italian Market (hoagies, pizza, and stromboli, among other menu items).

Bright Nights, Get Glitzy
Individuals will find an abundance of A-plus entertainment at VFCR. Whether someone wants to dance until dawn, laugh along with top comedic talent, or rock out to the music of professional entertainers, it's all here.

"We have comedy every Friday at The Vault, as well as dueling pianos on Saturdays," Mancino notes. "We are also excited to have many great tribute bands to finish out the year."

For example, Blue Oyster Cult will play at VFCR on Oct. 27, and Lights Out: A Tribute to Frankie Vallie & The Four Seasons will appear on stage on Nov. 17.
Gartner adds that guest-appreciation nights also work their way into the VFCR nightlife scene. On Saturdays, for example, the resort hosts bands starting at 8 p.m.

The Total Package
As the Greater Philadelphia Area's only full-amenity gaming resort, VFCR is truly one of a kind—and now local and out-of-town visitors have even more incentive to pay a visit with VFCR's "Gas and Getaway" offering.

"This package includes overnight accommodations in one of our spacious guest rooms and a $25 Visa gift card," Baird explains. "Guests can use the gift card at any of our restaurants or retail shops on site or while visiting area attractions, such as the world-renowned King of Prussia Mall or Valley Forge National Historical Park, which are just minutes from our resort."

Like Mancino, Baird has dedicated her career to providing guests with the pinnacle of comfort and happiness. This same spirit is at the heart of the VFCR experience, she says, and it fills every member of the VFCR hospitality team.

"We have so much to offer," she says. "It's not just the endless amenities that our guests can enjoy, but I am surrounded by employees who genuinely love what they do and enjoy interacting with our guests. When you are in the company of so many people who take such pride in what they do, you can't help but love to work here.

"I believe this is why our guests love to come here, too," she continues. "They feel at home."

Valley Forge Casino Resort
1160 First Ave.
King of Prussia
(610) 354-8118
VFCasino.com