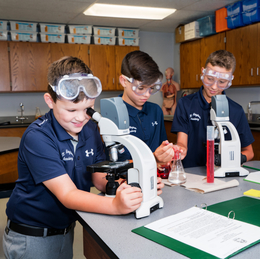 STREAM of Life
With a new initiative called STREAM, St. Aloysius Academy in Bryn Mawr helps students better understand the world through science, technology, religion, engineering, art, and math.
In nature, a stream flows into another and another, until the waters add to the depth and richness of a lake, a river, or even a body as vast as the ocean. So it goes at schools such as St. Aloysius Academy in Bryn Mawr, where a bold new program helps students learn that they have the power to make a difference in the world, both as individuals and as a community.
At St. Aloysius Academy, students now experience the world through a program known as STREAM—an acronym for Science, Technology, Religion, Engineering, Art, and Math. This powerful current carries students from information mined from textbooks into a broader lexicon that features lessons on the vast goodness of life.
The initiative's roots stretch back to 2017, when Amy Cahir, a science teacher for grades six through eight, began collaborating with colleagues to spearhead an initiative to bring STEM and STEAM skills to the forefront of education for St. Aloysius students. At the same time, they knew they wanted to maintain a strong focus on the Catholic traditions set forth by the school's founders, the Sisters, Servants of the Immaculate Heart of Mary.
Elizabeth Gailey, a science teacher to St. Aloysius students from kindergarten through grade five, was an integral member of the team that brought STREAM to the school. She describes STREAM education as "a multidisciplinary approach that naturally reaches students of all learning styles."
The STREAM program has since grown to enhance students' education throughout the school year.
In addition, students and staff commit five full days each year to project work through STREAM Academy, integrating a passion for science with a commitment to Catholic values—charity, integrity, and community—through various projects. Led by faculty members, groups of 15 to 18 students of diverse ages worked together to develop projects such as mock criminal investigations, studies of the human heart rate, and lessons on the architecture and construction of a labyrinth, incorporating lessons from all STREAM disciplines.
"As a teacher, what I really want to do is spark a love of learning," Cahir says. "From learning about [Isaac] Newton to how light goes through the earth's atmosphere, I want my students to love science and use that love to help solve problems that face the world."
One project featured examination of the life and work of Leonardo da Vinci. Students investigated his art, literature, and science, and even worked to draft their own versions of da Vinci's famed Vitruvian Man. For some of the youngest students, bees took center stage. Boys from kindergarten through second grade designed honeycombs, studied insect anatomy, and engaged in imaginative play as they acted out behaviors of these small winged wonders.
"The boys enjoy having a chance to get outside of their regular classes and do something different," Cahir says. "The students enjoy technology, investigating, and hands-on work. They like to have something new outside of their 'everyday' curriculum."
Gailey emphasizes that once the desire to learn is kindled, it creates not only joy, but also vast opportunity.
"We serve our students best when we give them the opportunity to consider that a problem can be solved in a variety of ways and from more than one perspective," Gailey says. "STREAM teaches students to think critically, to solve problems, and to communicate their ideas clearly. These skills are invaluable in any career."
Another project exemplifying this intersection of STREAM disciplines centers on the importance of clean water across the globe.
The students approached this issue from angles both scientific and faith-based. Students delved into the facts and figures relating to water scarcity in certain parts of the world, as well as sought to understand why fresh water is invaluable to communities worldwide. They carried five-gallon buckets of water around the campus to get an idea of what it is like to walk miles to potable water. Students tested the differences in water quality between bottled water and tap water and on-campus creek water, and looked into initiatives working to bring clean water to communities that lack it. These lessons helped the students to better understand the tenets of charity, humanity, and respect for the environment.
Gailey says students are more likely to feel engaged when they realize that "everyone will be given the opportunity to make a meaningful contribution." She says it also helps when learning is fun.
"When a child is having fun, he is automatically more engaged," Cahir adds. "Children love to be creative, and to express themselves. This makes education meaningful, but it also helps the boys retain the skills they learn."
And while the boys are gaining skills related to math and the sciences, they also learn invaluable lessons regarding the importance of helping one's fellow man. In other words, the young men of St. Aloysius Academy learn how to function as responsible stewards of the world around them, and how to use their knowledge to shape the world into a better place.

401 S. Bryn Mawr Ave.
Bryn Mawr, Pa.
StAloysiusAcademy.org
(610) 525-1670