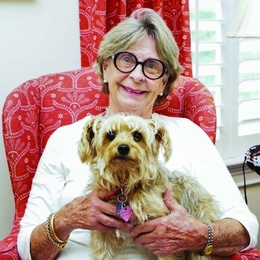 Feels Like Home
Among the many options for continuing care retirement communities, Dunwoody Village offers residents a vibrant, comfortable, and carefree lifestyle.
Considering a move to a continuing care retirement community (CCRC) may be among the most significant decisions an individual will ever make. In the Greater Philadelphia Area, the decision is compounded by the fact that the area has an abundance of fine CCRCs. In other words, finding the "right" CCRC to call home requires a fair amount of research, diligence, and planning.
Though she's not nearly ready to move in, Elaine Kaiser already has her eye on Dunwoody Village, which she describes as "vibrant, enriching, and filled with possibilities." She would know, as she's been working as the village's Director of Marketing for the past 28 years.
"The key to a successful transition is planning ahead," she says. "Start planning early enough so that when you arrive here, or at another community, you can get involved and have a good time. You want to move in early enough to enjoy it."
Located on 83 acres of pristine land in Newtown Square, Dunwoody Village is home to 420 residents, ranging in age from 60 to 101. The diversity of housing choices includes apartments, Country Houses in a variety of layouts, and villa-style Penrose Carriage Homes, each of which has a two-car garage, fireplace, great room, and plenty of space.
Of course, desirable communities such as Dunwoody Village offer services and amenities that rival those of high-end hotels. At Dunwoody, the lifestyle includes fine dining from talented chefs; a floral studio; a farmer's market and an herb garden; an 18-hole putting green; a wildlife refuge; and a community of engaged residents who enjoy getting involved.
Finding the right community is in some ways similar to choosing a college. Like colleges, many have wait lists of several months or even several years, according to Kaiser.
"It makes sense to visit several communities, and to bring your list of questions and concerns," she says. "The selection process boils down to doing what feels right for you. So, once you choose a community, get on the waiting list so you have all of the options you want when it feels right to make the big move.
Lucy and John Irwin moved to Dunwoody Village nearly three years ago, and they quickly fell in love with the lifestyle. Instead of home repairs, landscaping, and other headaches that came from owning a home, they now focus on forging new friendships, enjoying the onsite amenities and special events, and simply enjoying life.
Lucy Irwin says she treasures the opportunity to live among so many people who continue to lead active, interesting lives. Her fellow residents include authors, professionals, and academics, including a Villanova professor who started the university's Irish studies program. Another resident, a neurosurgeon, shares his stories with his neighbors about operating in the jungles of Vietnam.
"The fun part of living here is getting to meet so many fascinating people that we didn't know before," says Irwin, who is chairwoman of the Dunwoody Village Annual Holiday Bazaar, a popular community event. Also, she and some friends are actively involved in the Dunwoody Wildlife Refuge Committee. In fact, Irwin recently helped place 10 bluebird houses around the campus grounds. The grounds are perfect for hiking, nature walks, or observing from a comfortable bench.
Of course, many residents choose a CCRC because of the high-quality health care, when and if needed. Dunwoody's state-of-the-art Care Center is Five-Star Quality Rated by the Centers for Medicare & Medicaid Services. In addition, Main Line Health System recently named Dunwoody "a preferred provider" for skilled nursing and short-term rehabilitation.
The dedicated staff is completely focused on keeping Dunwoody residents healthy and independent through creative wellness initiatives. Furthermore, Dunwoody's expansive grounds include plenty of opportunities for exercise by way of a dog park and a full-service wellness center. It's also in close proximity to houses of worship, shopping, and public transportation for easy access to off-site amenities so residents can stay active and engaged.
Gail Batchelder moved to Dunwoody two years ago from a community on a golf course in Chester County, where she lived for many years. After her husband, Robert, became ill, she put her name on several waiting lists for retirement communities. Due to Robert's medical needs, access to excellent care was a priority. She also sought a CCRC with a prime location that was surrounded by natural beauty. When space became available at Dunwoody, she very much liked what she saw.
"Dunwoody Village is a little paradise in the middle of a metropolis," Batchelder says, while looking at the lush landscaping from her perfectly decorated Carriage Home. "I can be sitting on my porch and enjoy the expanse of the blue skies and the wildlife; it is truly wonderful. I know that I made the right choice coming here."
Dunwoody Village
3500 West Chester Pike
Newtown Square, Pa.
(610) 359-4400
Dunwoody.org
Photography by Jody Robinson