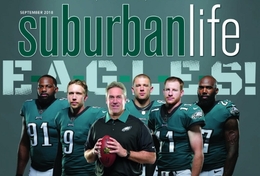 Flying High
After last year's storybook season, Eagles players—and their fans—want nothing more than for that magical feeling to continue.
Some fans cried when they saw Nick Foles during the offseason. Zach Ertz had people walk up and simply thank him. Jason Kelce got requests to be the best man at several weddings.

Winning the first Super Bowl in franchise history means these Philadelphia Eagles will be forever revered by a loyal, passionate fan base that was starving for a championship. Foles, Ertz, Kelce and many of their teammates had plenty of unique experiences since their 41-33 victory over the New England Patriots ended a 57-year title drought. Wherever they went people showed their appreciation in different ways.

"The whole city cried," says Foles, the backup quarterback who turned into an instant legend after replacing the injured Carson Wentz in Week 14 and leading the Eagles to victory while earning Super Bowl MVP honors. "It was so emotional. That's what makes it so special to us. To be a part of winning and bringing it back home to where it hasn't been, it's so special."

Ertz jokes that even he's moved to tears when he sees Foles enter a room.

"Who doesn't cry? It's Nick," says Ertz, who caught the go-ahead touchdown pass in the fourth quarter against New England. "A lot of people are extremely grateful for what we did. People come up to me on the street and say, 'Thank you,' which is awkward at times. I don't know how to really [respond to that]. I guess you're welcome."

Kelce became a folk hero following his epic speech on the Art Museum steps the day of the championship parade. Before he reached the podium at the Benjamin Franklin Parkway, Kelce rode around Broad Street on a policeman's bicycle, chuggedbeers with fans and had a strange encounter with a teammate who told him a fan spilled a loved one's ashes in his hands.

"Somebody poured their grandfather's ashes in [my teammate's] hands and he didn't know what to do," the All-Pro center recalls. "I was like, 'I don't know what to do, either.'"

Despite his memorable appearance in front of the microphone, Kelce turned down several speaking opportunities in the offseason. He tried to keep a low profile but even going out for breakfast became too difficult because people constantly approached him.

"For the first seven years, that's all anybody ever talked about when they came up and talked to you as an Eagle. They were like: 'Just get us one (Super Bowl title). We've been waiting forever,'" Kelce says. "We finally did it."

Foles' strangest encounter with a fan came at a book signing after he released his memoir: Believe It: My Journey of Success, Failure, and Overcoming the Odds. A man revealed a new tattoo on his back featuring Foles holding the Vince Lombardi Trophy standing on the steps at the Art Museum. Other fans also got pictures of Foles tattooed on their body.

"The tattoo things are pretty crazy," Foles admits. "They are there forever."

The celebration after the Eagles beat the Patriots was wild and the memory will be etched in everyone's minds forever. While the hangover has lingered for many fans who are still reveling in the victory, players and management have already moved on. To a man, they are determined to hoist the Vince Lombardi Trophy again. Only eight teams have repeated during the Super Bowl era and the Patriots did it last in 2003-04.

"We want to get a second one," executive vice president of football operations Howie Roseman says. "We started working on it even before the parade."

Coach Doug Pederson told his players to make winning "the new norm." The words are now written on a wall inside the team's practice facility around a picture of players carrying the championship trophy. Pederson cautioned his players against complacency and reminded them opponents will be coming hard after them.

"We're going to get everybody's best each week and that's what we want. I think anybody that plays on Sunday wants to play the best," Pederson says. "So now we've got the targets on our backs and we're going to embrace that and get ready and we are going to try to defend. But at the same time, we're going to take it one week at a time and build the season just like we did last year."

Wentz and other players who missed the playoffs because they were injured are certain their teammates won't be content with resting on last year's success. Nine-time Pro Bowl left tackle Jason Peters, return specialist Darren Sproles, playmaking linebacker Jordan Hicks and special teams captain Chris Maragos also were forced to watch the team's magical run from the sidelines with the franchise quaterback.

"With the guys that didn't get a chance to play in that game, there's an extra sense of motivation, an extra sense of not letting everybody be complacent," Wentz says. "On the flip side of that, I know the leaders that we have, I know the guys in that locker room, the character of that locker room, and I don't expect it to be an issue regardless. I think any time we have the veteran leadership that we have, that's not really a concern of mine or really the rest of the guys because nobody's going to ever settle for anything around here. But I don't think it hurts that we have the other guys like myself with a little chip on their shoulder, a little extra motivation to get back out there."

That desire permeates the locker room. "We're extremely hungry for sustained success in this city," Ertz says. "We've tasted it one time and that's something that you never want to give up. We're hungry to repeat. It's not going to be easy by any means. But we're very hungry as a football team."

How Far will the Eagles Soar?
Notable names tell us how they feel the team will fare this season.

"I both expect and hope to see a very good football team. I think they are clearly the best team in the NFC East and can't see anyone in the NFC being better than they are. But every season stands alone. You have to be healthy in the key areas to have the best possible shot. I think they are an excellent football team, but you need the perfect storm for everything to go right. It's tough to predict a Super Bowl repeat for any team in the NFL, but are they capable of it, yes they are."
– Merrill Reese, Eagles radio play-by-play announcer

"They are world champions until someone else plays in that game. I believe that they will play again at that same level. That doesn't mean they'll be in the Super Bowl, but it gives them a better chance than anyone else. What I've always recognized in the NFL is that teams either get better or worse, they seldomremain the same. I feel the Eagles will get better. How they handle it and howfortunate they are injury wise will determine the success of the season. I personally believe they'll be in the range of a 13-3 record."
– Dick Vermeil, former Eagles head coach (1976-1982)

"The Eagles have a better team this season—by a significant margin—than the team that won the Super Bowl last year. They are deeper, more experienced and have several second-year players (Derek Barnett, Sidney Jones, Corey Clement) who are about to become big stars. My regular-season prediction of 14-2 may actually be a bit conservative.Behind Nick Foles (the first few games) and Carson Wentz (after that), the Birds are going to sweep the NFC East, earnthe top seed in the NFC and have an easier run to the Super Bowl this time around. Get ready for another parade in early February 2019."
– Angelo Cataldi, morning show host, 94WIP

"I fully expect the Eagles to repeat as NFC East champions. It won't be easy because the other three teams in the division all have improved and the NFC as a whole is very strong, much stronger than the AFC. But the Eagles are deep and talented and with Carson Wentz, Jordan Hicks, Jason Peters and Darren Sproles coming back, they are even better than they were when they won the Super Bowl in February. I don't want to predict what will happen in the postseason because it is just too far off, but I'm fully confident the Eagles will be in the playoffs again. If they have home field again, they will be hard to beat."
– Ray Didinger, NFL Hall of Fame writer

"The Eagles season rests upon the shoulders (and knee) of Carson Wentz. If he stays healthy, I predict the Birds will be back-to-back champions."
– Lesley Van Arsdall, sports anchor, CBS3

"I think the Eagles will be the first team to repeat asNFC East champions since they did it back in 2003-2004. But the road to another title is going to be difficult. Last year's locker room was incredibly special,so if they can recreate that magic, I think they've got this. We'll see a healthy Carson Wentz put up another MVP-caliber year and the Eagles will go 12-4 in the regular season."
– Kristen Rodgers, sports anchor, Fox 29

"I love the Birds' chance this year because every team that wins a Super Bowl starts the same quarterback the following season. Denver had [John] Elway and [Peyton] Manning retire after winning, so thatdoesn't quite count. That will not be the case for the Eagles. It was killing Wentz standing on that Minnesota sideline and just wait until he gets his chance. The same goes for Jason Peters and some others, but last I looked, quarterback is still the most important position on the field."
– Big Daddy Graham, overnight host, 94WIP

"I think the Eagles have the perfect mix to repeat as Super Bowl champs. Only the Patriots and Broncos have done it over the last 20 years. It is so tough. But the Eagles have key players like Carson Wentz, Jason Peters, Jordan Hicks, Darren Sproles, and special teams captain Chris Maragos who weren't on the field for the run. They are really motivated to take back their positions and win a Super Bowl with them on the field. The Eagles lost only a few starters and that was their decision. They upgraded the pass rush with Michael Bennett and will add in Sidney Jones at corner. Some guys are fighting for contracts like Jay Ajayi. The Eagles have a tough schedule but if Carson can return to MVP type form, his intensity and work ethic will lead this team deep in the playoffs."
– John Clark, sports anchor, NBC10, NBC Sports Philadelphia

"I think the Eagles have more depth this season than last year's Super Bowl champions. I think they arean 11-win team. The Eagles win the NFC East—even though there has not been a repeat winner for 13 years—and with home field in the playoffs they have a chance to get back to the Super Bowl. This is a very good football team."
– Howard Eskin, Eagles sideline reporter and radio host for 94WIP

"The NFC is so strong and just one injury can change the balance of power but I'm going to say Philadelphia goes back to the Super Bowl. The chemistry there is what makes the difference. They won't be complacent."
– Louis Riddick, NFL Front Office Insider, ESPN

"The defending Super Bowl Champion Philadelphia Eagles have a giant target on their back, every team in the NFL wants to knock off the champs. If that's not a big enough challenge, the Eagles' schedule is much harder. I believe the Eagles are hungry to repeat, largely in part because some of their biggest names did not play in the Super Bowl. Carson Wentz, Jason Peters and Darren Sproles are extremely motivated and I believe this close-knit team will feed off their desire to play in the big game again and return to greatness in 2018. The Eagles will go 11-5 and return to the Super Bowl."
– Jeff Skversky, sports anchor,6ABC

The New England Patriots are the last team to repeat as Super Bowl champions back in 2004 and 2005. This season, the Eagles will match that feat. They'll beat Tom Brady once again and give the Pats the dubious distinction of becoming the first back-to-back Super Bowl losers since the Buffalo Bills in '94.
– Don Bell, sports anchor, CBS3

"The Eagles are defending Super Bowl Champions— they're never losing again."
– Colleen Wolfe, host Thursday Night Football and Good Morning Football Weekend, NFL Network

"The roster is even stronger than at the beginning of last season's and certainly better than the injury-littered one that won the Super Bowl. It's a tough schedule and they are the hunted ones now, but I see 13-3 with a return trip to the Super Bowl and, yes, a repeat."
– Bob Cooney, morning show host, 97.5 The Fanatic

"It won't be easy, because they are no longer 'under the radar' but the Eagles improved in many key areas. And the wounded Birds—Peters, Sproles, Hicks, Maragos, etc.—are back. Repeat baby!"
– Ducis Rodgers, sports anchor, 6ABC

"I used to worry about key guys going down, thus diminishing our chances to win it all. After last season and the philosophy of 'next man up,' I say we go back-to-back baby! Our team, in all three phases of the game, has shown the desire and resiliency to step up and make things happen. The Eagles will go 12-4 during the regular season, then it's on to Hotlanta for Super Bowl LIII."
– Ukee Washington, anchor, CBS3

"I really like this team. Outside adversity doesn't touch the core leadership inside the locker room and that will continue. They won the Super Bowl without Wentz, Hicks, Peters and Sproles. All will be back to help. Losing the tough running style of [LeGarrette] Blount in the postseason will hurt them. The division will be stronger but the biggest concern will be the entire NFC. It's as deep as I can ever remember. The Eagles showed that home field plays a role for them in the playoffs. I predict a 12-4 season and a return to Super Bowl LII where Carson gets his chance to lead the team on the biggest stage. I can't wait."
– Kevin Negandhi, anchor, ESPN Sportscenter

"The Eagles front office had a great offseason when it comes to replenishing the talent on this team. They are in a great position to repeat as champions. Lots of talented players return from injury—starting with Carson Wentz—that didn't play in the Super Bowl. It's difficult to win back to back Super Bowls, but they are in position to be the first repeat winners since the Patriots in '03 and '04. I'm predicting they will pull it off by beating the [Pittsburgh] Steelers."
– Ike Reese, afternoon host, 94WIP; former Eagles linebacker

"The Eagles will win 12 games and repeat as Super Bowl champions for five reasons: talent, youth, depth, culture and leadership. The Super Bowl MVP is a backup (talent), their average age is 25-26 (youth), they won the title without key players (depth) who are now all healthy; they were impervious to injuries and unaffected by the national anthem issue (culture). Finally, Howie Roseman and Doug Pederson are signed through 2022 and Malcolm Jenkins and Carson Wentz are dependable on the field and in the clubhouse (leadership). The Eagles will be dominant for a while."
– Vai Sikahema, news anchor, NBC10

"When I see the Eagles this year, watching them in training camp and throughout the offseason, the only question mark is the quarterbacks right now. I think they have all of the depth that you need. I think the offensive line is going to be better than it was a year ago; Jason Peters looks good. Right now, I think they have their starters all set and they're just trying to work on depth. But this is a team that is built for the long haul. They're a good locker room, they practice hard and that quarterback Carson Wentz, he's hungry. He wasn't there in the postseason. He wants to get there and he wants to get a Super Bowl championship himself."
– Brian Baldinger, analyst, NFL Network

"I really believe if the Birds stay healthy, they will definitely be in the playoff hunt at the end of the season and even have a chance to repeat. But, they need to keep their key players on the field. Whatever happens, I'll be with them!"
– Mike Trout, Los Angeles Angels outfielder, Millville resident, Eagles season ticket holder

Birds-Eye View
Getting to Know the Super Bowl Champions

ALSHON JEFFERY, WIDE RECEIVER
Describe Eagles fans in three words or less. Awesome
Which teammate has the best sense of humor? Lane Johnson
How many times have you rewatched the Super Bowl? None
If you could have dinner with any person past or present, who would it be? My grandma
Who is your favorite athlete? Michael Jordan

NELSON AGHOLOR, WIDE RECEIVER
If you weren't playing football, where would you be? Doing whatever I need to do to be successful What's your favorite book? Oh, the Places You'll Go by Dr. Seuss. It's a book that changed my whole life around when I was younger
What is your biggest fear? Death. The whole concept of it
What is your guilty pleasure TV show? I watch a lot of TV so it's whatever I'm watching with my girlfriend
Who is your favorite athlete? Michael Jordan, LeBron James, Larry Fitzgerald, LaDainian Tomlinson

BRANDON BROOKS, PRO BOWL RIGHT GUARD
Describe Eagles fans in three words or less. Passionate, engrained
Which teammate has the best sense of humor? Lane Johnson
How many times have you rewatched the Super Bowl? Once but not the TV copy
If you could have dinner with any person past or present, who would it be? Martin Luther King Jr.
What is your favorite book? The Alchemist by Paulo Coelho

CHRIS LONG, DEFENSIVE END
Describe Eagles fans in three words or less. Very patient
Which teammate has the best sense of humor? Lane Johnson
What is your favorite book? The Giving Tree by Shel Silverstein
If you could have dinner with any person past or present, who would it be? Waylon Jennings
Who is your favorite athlete? Barry Sanders

JASON KELCE, ALL-PRO CENTER
Describe Eagles fans in three words or less. Passionate
Which teammate has the best sense of humor? Lane Johnson
Who would play you in a movie about last season? Zach Galifianakis
How many times have you rewatched the Super Bowl? None
Who is your favorite athlete? Michael Jordan

LANE JOHNSON, ALL-PRO RIGHT TACKLE
Describe Eagles fans in three words or less. Passionate. Authentic. Gritty.
Which teammate has the best sense of humor? Chris Long
How many times have you rewatched the Super Bowl? Zero myself, only in the film room
What is your favorite book? Relentless by Tim S. Grover
If you could have dinner with any person past or present, who would it be? "Stone Cold" Steve Austin

FLETCHER COX, PRO BOWL DEFENSIVE TACKLE
Describe Eagles fans in three words or less. Passionate. Loyal. Relentless.
Which teammate has the best sense of humor? Chris Long
How many times have you rewatched the Super Bowl? Once with my family
If you could have dinner with any person past or present, who would it be? My brother
Who is your favorite athlete? LeBron James
Published (and copyrighted) in Suburban Life Magazine, September 2018.
.
.
.