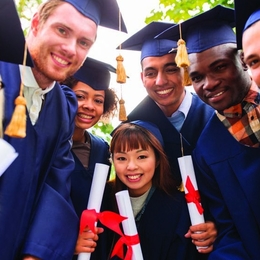 World Class
Besides rigorous academic curricula, leadership opportunities, and exposure to cutting-edge technology, private high schools offer immersive experiences designed to prepare students for life beyond the classroom.
Some students know early on what they want to do with their lives: a doctor or a lawyer; a nurse or an accountant; a journalist or an entrepreneur. Most students, however, come to the realization only through the lenses of time and experience. That's one reason Gregory J. Geruson, president of Holy Ghost Preparatory School, dreamed up LEAP.
Short for Leadership Externship Advantage Program, LEAP enables a Holy Ghost Prep junior to meet face to face with a leader in a field in which he has a strong interest. Whether a student thinks he wants to spend his career in an operating room or on a construction site, in a courtroom or in a boardroom, LEAP participants learn firsthand—from a Holy Ghost alumnus, no less—about the specific challenges and opportunities that may lie ahead.
"It's an opportunity to get hands-on experience, and it enables students to be more connected to our alumni as mentors and resources," says Geruson. "It's another voice for students to hear and to talk to, aside from their parents and school administrators, as they think about college. This alumnus has already gone through the same things they're now going through, and it's invaluable."
It also gets students out of the classroom and into the real world. In some instances, LEAP has led to summer internships. But Geruson sees one of the program's greatest benefits as helping students understand the value of building a network. For example, Holy Ghost alumni who have participated in the program—surgeons such as Robert Skalicky, D.O., of Bucks County Plastic Surgery and Dermatology, and businessmen such as Bob Watters of Ernst & Young—may serve as ongoing resources for their LEAP mentees.
"So much of a student's experience in high school is classroom learning—theory," he says. "Students relish any opportunities to be hands on in any way, and LEAP is a perfect example of that hands-on experience. We think they can learn as much through those kinds of experiences as they do in a classroom."
'A Clear Message'
A high school's job is to prepare students for the next phase of their lives. Rigorous academic programs that ready students for the next level—college, in other words—are considered givens at private high schools throughout the Greater Philadelphia Area. As illustrated by Holy Ghost's LEAP, many of these schools have expanded their curricula to include immersive opportunities that offer real-world experience designed to serve them well in college and into the future.
At The Crefeld School, located in Philadelphia's Chestnut Hill neighborhood, students undergo a gauntlet of preparedness projects in a process known as Graduation by Exhibition. Through this process, juniors and seniors must complete and show mastery of 16 exhibitions apart from and in addition to their standard coursework. These include traditionally academic undertakings such as research papers and literary analyses, as well as leadership projects, personal reflections, and acts of community service and creative expression.
"It sends a clear message to students that we value your ability to express yourself creatively and knowing yourself as much as we do your ability to write research papers and analyze literary works," says George Zeleznik, Ed.D., Crefeld's head of school. "It's an intentionally different approach to college preparation. … It's about more than education to prepare for post-secondary education; it's about life itself. It's about living their schooling as it's happening, and then going off with those skills."
Zeleznik says colleges tend to "love" Crefeld students because these individuals are motivated self-advocates who are programmed to thrive.
"We survey our alumni, and they speak very positively of the process in preparing them for post-secondary education," he adds. "Yes, they know how to write papers, but they also know how they learn best, they know how to speak publicly, they get to be out in the community and in the world, and they have all this experience handling multiple projects at once."
Taking the Lead
Teaching real-world skills is a hallmark of education at Villa Joseph Marie High School, too. This college-preparatory school for young women is known for its rigorous academic programs, but it also teaches important life skills through experiences such as "Real World Day." With instruction from outside instructors and qualified in-house staff, seniors learn how to, say, change a tire, complete one's income taxes, and patch a hole in a wall, as well as defend oneself against an attacker.
"After the first Real World Day, the very next day a student had her car battery die in the parking lot, and she came in asking, 'Do you have jumper cables I can use?'" says Lauren Carr, principal of Villa Joseph Marie High School, which is based in Holland, Bucks County. "She was able to do it herself because she just learned those skills on campus. We may be an academically driven college-preparatory school, but we also want our girls to be prepared when they go out into the world."
Part of this preparation comes through inspiring students—to create things, to become leaders, and to find their voice. For example, Villa Joseph Marie High School encourages students to get involved in clubs and other activities that support their interests. If the school does not have a club that suits a student's particular interests, she is encouraged to start it on her own.
"Every student here is a female, so every leadership position ends up being taken by a female, so they learn there are no barriers," Carr says. "We also encourage them to come up with new ideas and opportunities for themselves."
Starting this year, for example, the school will be hosting a 5K run created by a determined student. It will be held the first weekend in May, with proceeds going to the humanitarian organization Catholic Relief Services.
"Students know that if they want to come up with an event like this, we will help and support them, but we want them to know they will run it," Carr says. "They take the lead with everything."
Early Start
At Abington Friends School (AFS) in Montgomery County, which serves children from age three through grade 12, lessons in risk and self-reliance start at an early age. These lessons also extend beyond the walls of the classroom. Case in point: outdoor learning environments such as the Redbud Nature Playground, designed for AFS's youngest students, and the Headwaters Discovery Playground, designed for students from elementary school through middle school. As part of an initiative known as AFS OUTSIDE (Outdoor Scholarship, Initiative, Discovery, and Exploration), the playgrounds are considered as essential to a student's development as AFS's indoor classrooms.
"Schooling is now a resource-rich world, and we want the walls to be thinner," says Rich Nourie, head of school at AFS. "Being out in the world resonates deeply with Quaker education, and we've found that opportunities to put kids out in the world and be experiential are essential for critical thinking and so many other skills."
In other words, AFS believes experience is the best teacher.
"The Headwaters Discovery Playground has boulders, a tree house, a canopy walk—it's been called one of the top outdoor learning spaces in the world," Nourie adds. "A traditional playground tells you what to do and how to use it; this playground provides a natural experience where students can create all kinds of games. It also ties into the idea of risk. We want our kids to be safe, and they are safe, but kids naturally take manageable risks, and this playground helps them do that. They might get stung by a bee, but getting stung by a bee is not such a bad thing."
"We have a deep commitment to getting students out into nature," adds Rosanne Mistretta, director of the school's Center for Experiential Learning. "In order for them to want to protect the natural world, they first have to love it. In order for them to love it, they first have to have an experience with it."
Takeaways from those early days on the playground then inform students as they age into upper school, where they engage in hands-on experiences and extended learning off campus. Last year, for example, AFS students traveled to the likes of Costa Rica, Tasmania, and Maine's Hurricane Island. Experiences such as these immerse students in meaningful cultural activities, and introduce them to ideas and issues that are unique to different parts of the world. In addition, they help students acquire life skills such as "navigating uncertainty," as Mistretta calls it.
"Getting out of the classroom is so important," says Nourie. "One of the things we have observed about this generation is the level of anxiety and self-consciousness they experience. We think getting them out into the world is a great antidote to that. It teaches them to manage their vulnerability."
Other unique experiences include cohort learning, through which students in small groups get together to learn from professionals who are established in their chosen field. Through MedEx, for example, sophomores and juniors apply to work with doctors over the course of a year—learning about the mechanics of the human body, reading MRI reports, discussing medical ethics, etc.—to see if they may be interested in a career in medicine. With BizEx, on the other hand, students explore business principles such as product design, marketing plans, and financial literacy with seasoned entrepreneurs.
"We take a lot of field trips, too, and we also bring to campus 40 to 50 presenters every year, including artists in residence," Nourie says. "It's another way for the walls to get thinner."
Teaching Preparedness
The Greater Philadelphia has an abundance of exceptional private and public high schools. The following private schools offer academic, athletic, and leadership programs designed to prepare students for performing at the university level, as well as help them thrive once they have completed their formal education.
BUCKS COUNTY
Archbishop Wood High School
Conwell-Egan Catholic High School
Holy Ghost Preparatory School
Villa Joseph Marie High School
CHESTER COUNTY
Bishop Shanahan High School
Delaware Valley Friends School
Malvern Preparatory School
Villa Maria Academy High School
DELAWARE COUNTY
Academy of Notre Dame de Namur
Archbishop John Carroll High School
Bonner Prendergast Catholic High School
Delaware County Christian School
Sacred Heart Academy of Bryn Mawr
Valley Forge Military Academy & College
MONTGOMERY COUNTY
Abington Friends School
AbingtonFriends.net
Academy of the New Church

Bishop McDevitt High School
Friends' Central School
FriendsCentral.org
Gwynedd Mercy Academy High School
The Haverford School
Haverford.org
Jack M. Barrack Hebrew Academy
JBHA.org
La Salle College High School
LSCHS.org
Mount Saint Joseph Academy
St. Basil Academy
StBasilAcademy.org
West-Mont Christian Academy
PHILADELPHIA
Nazareth Academy High School
Roman Catholic High School
St. Joseph's Preparatory School
West Catholic Preparatory High School
NEW JERSEY
The Hun School of Princeton
Stuart Country Day School of the Sacred Heart
Published (and copyrighted) in Suburban Life Magazine, September 2018.