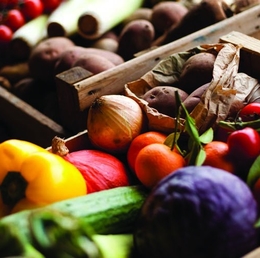 Clean, Living
A survivor traces her recovery from breast cancer to organic foods and a closer connection to the natural world.
Sloane Six studied science in college, but her natural knack for business led her down the path of entrepreneurship and business consulting. She now runs an organic farm in a rural part of Montgomery County, her days spent digging in the dirt and tending to cows, pigs, and other animals.
"I never lived on a farm, and I never had a childhood dream to have a farm of my own," she says. "It was my breast cancer that drove me to learn how to farm."
Ten years have passed since her diagnosis turned her life upside down. Back then, after having experienced "abnormal pain" in her right breast, Six went in for a mammogram as a precautionary measure. Although the test results produced "nothing to be concerned about," as she was told, Six wasn't satisfied. Subsequent testing led to the discovery of two malignant growths in her chest wall.
After multiple surgeries, bouts of radiation therapy, and the yearlong hell that followed, Six emerged from the experience wounded, weakened, and looking for answers. She credits the oncology team at Penn Medicine for saving her life, but no one could seem to tell her how to recover and prevent the disease from coming back.
"I always thought I made good choices," she says. "I ran marathons. I never smoked. All I had in terms of alcohol was some wine with dinner. I didn't think what had happened could still happen if I lived the way I did, and to the extent that it did was horrifying. I thought: It's got to be the environment."
As part of her ensuing research, she reached out to people in the field of alternative medicine. Ultimately, she arrived at a conclusion: Cleaner food, free of pesticides, antibiotics, and hormones used throughout the traditional food supply, would help her regain her health and reduce the possibility of a recurrence. She learned as much as she could about things such as animal husbandry, soil science, and crop rotation.
Fast-forward to 2018: As owner of Quarry Hill Farm in Harleysville, Six works as a full-time farmer with her 15-year-old son, Skylar, growing organic produce and proteins for herself, for her family, and for anyone else who sees value in foods that have been produced naturally.
The farm focuses primarily on raising animals that produce proteins such as meat and eggs, with Six and her team tending to pastures bustling with Jersey cows and Berkshire hogs, as well as fowl such as ducks and guinea hens; the farm sells as many as 1,200 dozen eggs per year. They also tend to the fruits and vegetables growing in the fields and orchards, which turn up the likes of tomatoes, peppers, and potatoes, as well as pumpkins, cherries, and beets. Onsite beehives not only pollinate the orchards but also produce honey for sale.
"Now 98 percent of what I have on my plate is from the farm," she says. "This started out as something very personal to me, but it has spread out to the community. There's a direct connection between the environment and our food supply; what goes into the environment goes into our bodies. Some people come here because they have compromised immune systems and need to eat healthier foods, so we get to see the impact of what we do. It makes what we do worthwhile, because if you counted up the hours that go into the food we're growing and raising here, it would blow your mind."
'This Was Not Right'
Pallav K. Mehta, M.D., sees a lot of merit in the kind of lifestyle Six has adopted, especially for individuals recovering from cancer. As assistant professor of medicine and director of integrative oncology at MD Anderson Cancer Center at Cooper in Camden, N.J., Dr. Mehta has seen firsthand the struggles patients go through in trying to reclaim their health after cancer diagnosis and treatment.
"I realized early on, particularly in the breast cancer population, that we had a lot to offer during treatment, and as difficult as the treatment was, patients tended to feel safe in our cocoon," he says. "Then, when the radiation ended and the chemo was done, there was a falling-off-the-cliff phenomenon. There was no real guidance on what to do in terms of how to live their life. They would ask: 'What should I do? What should I eat?' Our answer was: 'Eat healthy and exercise,' but that was the extent of it. I decided this was not right."
Initially trained as a medical oncologist, Dr. Mehta went about becoming board certified in integrative medicine—a branch of medicine that focuses on the whole person, and makes use of all appropriate therapeutic approaches, including lifestyle and diet. In the five years since, he says, his approach has had a significant impact on patients' lives.
"I have completely bought into conventional medicine, but I often talk with patients about natural strategies," he says. "Integrative medicine can be a volatile term, because you have some alternative practitioners who are doing dangerous things, but I've found that some physicians are surprisingly ill prepared to advise patients on what to do as they're recovering from treatment."
For cancer patients seeking guidance, he recommends connecting with organizations such as Living Beyond Breast Cancer, a Bala Cynwyd-based nonprofit devoted to connecting people affected by breast cancer with information and a community of support. (Dr. Mehta serves on the board of directors for Living Beyond Breast Cancer.) He also prescribes evidence-supported strategies for a healthy diet (including certain nutritional supplements), physical activity, and stress modification. He covers much of this territory in After Cancer Care: The Definitive Self-Care Guide to Getting and Staying Well for Patients after Cancer, a book he co-authored with fellow physicians Gerald M. Lemole, M.D., and Dwight L. McKee, M.D.
On the nutrition front, he points to evidence showing plant-based diets' ability to improve immune function, reduce symptoms, and potentially lead to better outcomes. He believes organic foods free of growth hormones, antibiotics, and pesticides have tremendous value, and he suggests limiting the consumption of mammal-based proteins such as beef and pork, which in laboratory studies has shown to contribute to carcinogenesis.
For guidance on produce, Dr. Pallav refers patients to the Environmental Working Group's "Dirty Dozen," meaning the 12 fruits and vegetables with the highest loads of pesticide residues, and "Clean Fifteen," meaning the 15 that have few, if any, residues detected.
"These are important lists to look at," he says. "Going organic can be expensive, so these lists can produce the highest yield. Not everything needs to be organic. With things like chicken and beef, organic is important, because I've seen research that suggests something like 70 percent of the antibiotics in this country are used in feed for beef and chicken. That's important especially for breast cancer patients who have had chemotherapy and may already be potentially immune suppressed."
Lastly, Dr. Mehta recommends limiting the consumption of alcohol. "In my population," he says, "three to four servings a week seems to be in the safe threshold."
Everything Changes
As for Sloane Six, she has reached the 10-year mark of being cancer free. She goes in for her checkup once a year, as opposed to once every three months for the first three years after her initial diagnosis. While the conventional treatment helped her fight the cancer, she believes the farm helped her heal in more ways than one.
"The farm kept my focus, and it has helped to be able to share my experience in a deeply moving way," she says. "Being in nature, being near the animals, being on the farm, it was healing for me. The animals keep you moving, because they need food and water, and they don't care if it's a holiday or a weekend."
If Six has any advice for other women, it's this: Prioritize your health, and listen to your body if it's telling you something might be wrong.
"My experience put my mortality right in my face," she says. "I didn't know it at the time but my whole life changed, or would change. For starters, I didn't know I'd be a full-time farmer. … My whole perspective on life and values would change. I don't think there's an area of my life that hasn't changed because of my breast cancer."
Published (and copyrighted) in Suburban Life Magazine, September 2018.
.
.
.