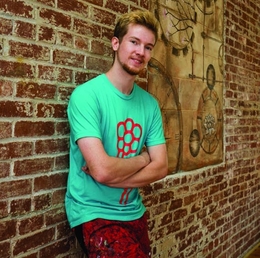 Budding Talent
Artist Tim Gibson expands his mural-based "Ten Thousand Flowers Project" beyond the walls of its Perkasie birthplace.
A drive through the borough of idyllic Perkasie yields some memorable sights: quiet streets lined with American flags; quaint antique shops, restaurants, an art gallery or two; and brightly colored flowers—99 of them, to be precise—adorning the walls of buildings. Each flower bears the fingerprints of Tim Gibson, the 23-year-old artist and Perkasie native who spearheaded an ambitious mural-painting project he hopes to take far beyond the borders of Bucks County.
"It all started about a year ago after I met a woman named Linda Reid," says Gibson, who has been painting for nearly a decade. "Linda is the events coordinator for the borough. They wanted to put a mural on a back wall, and Linda reached out to me about getting involved. … I had the idea of making a mural of simple, bold flowers you could see from a block away. I also thought it would be good if anybody could get involved in painting it."
Thus, the Ten Thousand Flowers Project (TenThousandFlowersProject.com) was born. The idea: to beautify bare walls with his art—10,000 of his whimsically drawn flowers, to be precise—with him creating the basic framework for each mural and enlisting local volunteers to follow his lead.
A retaining wall near the Perkasie Borough Municipal Building served as the project's first site, or "Part One," as Gibson calls it. He considers each site to be part of one ongoing mural; if one location ends with half a flower, the next location will continue with the other half.
Gibson and a group of volunteers recently completed the first flower mural outside of Perkasie, at Shanteel Yoga Sanctuary in nearby Sellersville. Soon enough, though, he expects to see his flowers grow far beyond the Greater Philadelphia Area.
"The plan is to take it to other towns," he says. "I'll spend fall and winter and spring reaching out to people up and down the East Coast, and maybe hit 20 to 30 towns next summer, with a goal of doing 100 flowers per town, but that could be spread across five murals."
Gibson has always been something of a wanderer. Growing up, he traveled with his family to 47 U.S. states by way of a motor home in support of his father's work as an author and speaker. His family has since moored itself in Perkasie, where they run Boing Gymnastics Center.
"I think that experience, of traveling with my family, is where my sense of wanting to roam came from," says Gibson. "I don't really remember any of it. I have a vague memory of looking up at the redwoods [in California]."
Gibson's flowers differ from most of his other artistic works, some of which are on display in Perkasie's Chimayo Gallery. Gibson describes his paintings as "surreal and dark with a little sense of humor, not just morbidly dark." A friend characterizes Gibson's paintings as "like Dr. Seuss on drugs."
"My style comes from basically not wanting to do what other people have already done," he says. "I could draw a bowl of fruit, but why would I want to do that? We already know what it looks like."
While Gibson is relatively early into his Ten Thousand Flowers Project, he already knows where flower No. 10,000 will go. There's a spot reserved on that retaining wall in Perkasie, where Gibson's project first sprouted.
Published (and copyrighted) in Suburban Life Magazine, September 2018.
.
.
.