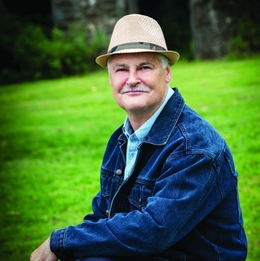 Anything Goes
When it comes to storytelling, Irish-born novelist Damian McNicholl believes in "no restrictions."
With literary giants such as Joyce, Wilde, and Yeats to its credit, Ireland is known for its storytellers just as much as it is for its luck. Damian McNicholl represents a new generation of Irish-born writers with a strong literary voice. So far, he has written two novels that have been published in the United States, A Son Called Gabriel and The Moment of Truth. A third, Twisted Agendas, was published only in the United Kingdom.
Although he's a son of Ireland, McNicholl now calls Bucks County home. In his 30s, he left Ireland for New York, where he put his legal background to good use. He first came to the Greater Philadelphia Area on something of a day trip, and the experience was a homecoming of sorts.
"My grandfather was born in Philadelphia, but he was taken back [to Ireland] as a boy, though he never returned," McNicholl says. "I took a trip to Bucks County on a weekend and found it to be similar to Ireland, in a way. I fell in love with it."
McNicholl will participate in the first-ever Bucks County Book Festival (BucksBookFest.org), scheduled for Oct. 13 and 14 in Doylestown. As a featured author, he will not only meet with readers and sell his books, but also participate in a panel discussion with two other locally rooted fiction writers.
When we spoke with McNicholl, he explained how he transitioned from writing legal briefs to penning fiction. He also shared his thoughts on writing about controversial subject matters, the novel's resurgence, and the importance of connecting with local writers.
You started your career as a lawyer. How and why did you start writing fiction?
I've always loved to tell stories, beginning with me entertaining my siblings as a kid. Eventually we all join the rat race. I found I needed to go to law school, and all of my creative energies went into my studies. On my commute up and down [to and from New York], I decided I might like to write again. Mornings and evenings I was reading how-to manuals, and I wrote my first novel in 1997; it still lives as bits and bytes on a floppy disk somewhere. It was a good cutting-my-teeth novel, set in Ireland during The Troubles. It was the kind of guy-meets-girl story that has been done to death. I had some people read it, and many of them said, "There is some talent here." That led me to A Son Called Gabriel.
Tell me about A Son Called Gabriel and The Moment of Truth. Both seem to be coming-of-age stories that also tackle some complex issues.
I try to write about subjects that interest me and in the process explore social issues and issues of inequality. With A Son Called Gabriel, it was about coming of age, coming up, coming out. The Moment of Truth was a good successor, because it explores the quest of a young woman who wants to prove she's the equal of any man, particularly in the bullfighting ring. Through that lens, the book explores the issues of feminism and male chauvinism.
Considering the controversy around bullfighting, why did you want to explore that world?Bullfighting is extremely touchy and not politically correct, but I knew I had to go to something like that because a profession like teaching wouldn't cut it. I came across an obituary for America's first female matador [Patricia McCormick], and that sparked an investigation into her backstory. I personally don't watch bullfights, and I never could have set the story in today's times, but I knew I could set it in the 1950s, when the concept of animal rights was in its infancy. … A writer must be called to write what he or she is called upon to write about, so there should be no restrictions.
So you'll be at the Bucks County Book Festival next month.
I'll be one of the featured authors, on a fiction panel on Oct. 14. I always recommend people go to a local book festival. It's an opportunity to get people, both adults and children, thinking about novels, about reading again. With computers, I think we sometimes forget about the importance of face-to-face contact and contact with a book. With a book festival like this one, we get to reconnect with new writers and the things those writers are writing about. Doylestown is a great venue for it, so I expect it will be a wonderful experience.
Photograph by Jody Robinson
Published (and copyrighted) in Suburban Life Magazine, September 2018.
.
.
.