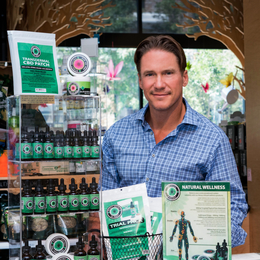 Holistic Healer
Through his line of plant-based CBD oil products, Mitchell Ebert, owner of Mitchell's Medicinals, seeks to heal, inform, and improve the lives of others.
From nutmeg to ginseng, turmeric to clove, tea to coffee, and lavender to cannabis, the healing properties of medicinal flora have been embraced for nearly the whole of human history.
With such a storied tradition, it is no wonder that droves of people today are turning away from harsh pharmaceuticals with an eye toward natural remedies.
Mitchell Ebert embraces holistic health and healing as an integral part of his life. As owner of Mitchell's Medicinals, a line of high-quality, organic, non-GMO (genetically modified organisms) wellness products, Mitchell has deep-rooted faith in the medicinal properties of herbal remedies. One plant and its derivative, cannabidiol (better known as CBD), has been a standout to him.
CBD is one of the more than 100 compounds called cannabinoids unique to the Cannabis genus of plants in the scientific family Cannabaceae. This family of plants also includes hemp.
"THC [tetrahydrocannabinol] is the best-known cousin of CBD," Mitchell explains. "But, where THC has been known for its psychoactive properties, CBD produces no 'high' or side effect of that high—that is, no impairment. CBD has only 'side benefits.'"
Mitchell's Medicinals products, he emphasizes, contain less than .03 percent of THC—the legal limit that designates hemp.
While the cannabis plant has for many decades been the subject of taboo, it is nonetheless engrained in vertebrate physiology. A National Institutes for Health report titled "The Endocannabinoid System as an Emerging Target of Pharmacotherapy" states that cannabinoid receptors have been identified in the human body, and that these are only a part of a larger endocannabinoid cell-signaling system.
The report's abstract shares that "modulating the activity of the endocannabinoid system turned out to hold therapeutic promise in a wide range of disparate diseases and pathological conditions, ranging from mood and anxiety disorders, movement disorders such as Parkinson's and Huntington's disease, neuropathic pain, multiple sclerosis, and spinal cord injury, to cancer, atherosclerosis, myocardial infarction, stroke, hypertension, glaucoma, obesity/metabolic syndrome, and osteoporosis." When considering the range of these afflictions, a person can't help but marvel that one plant may well have properties to address them all.
"CBD is remarkably safe and effective," Mitchell says. "It is a powerful anti-inflammatory, antidepressant, antioxidant, antipsychotic … a homeostatic regulator for the entire body. It helps modulate hormones, neurotransmission of serotonin. All systems in the body have endocannabinoid influences."
Mitchell says one of his great inspirations has been his father, a dedicated proponent of holistic wellness.
"My father would sit at the dinner table and talk about what he'd learned," he shares. "He had a deep love for natural health and eating the right foods and avoiding the wrong ones. From meeting with his holistic doctor back in the '80s, I've known about avoiding white fl our, sugar, and getting good fats now for over 30 years."
His father's passion lit a fire in Mitchell, too, inspiring him to pursue a career in health coaching. This desire to embrace beneficial foods and botanicals introduced Mitchell to CBD oil, and he quickly found it an effective means of managing his own stress.
"It really helped me," says Mitchell. "I began obsessing about the science and wondering why it wasn't available to everyone and I started my company."
Today, Mitchell's line of CBD oil products includes sublingual and topical patches designed to ease pain, depression, anxiety, and sleep issues.
To note, in addition to supporting natural health, Mitchell's products proudly support American farmers, as all the plants are grown, extracted, and formulated in the USA.
"I love what I do," Mitchell says. "When people call and say, 'This has helped me; thank you for making this,' that's amazing. It gets me up in the morning, and providing a service that helps people feel better— makes their lives better—makes me a happy person."
For more information on products or to locate a nearby distributor, visit www.MitchellsMedicinals.com or call (267) 261-3843.
Photography by Jody Robinson
Published (and copyrighted) in Suburban Life magazine, December 2018.
.
.
.