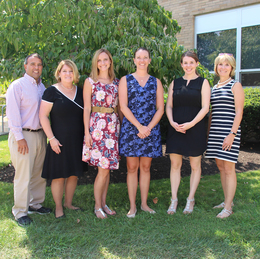 Learning to Stand Out
At Villa Maria Academy High School, students gain the skills needed to cultivate their uniqueness and communicate their "brand" to the world around them.
How do high school students differentiate themselves from their peers? What qualities cause one student to stand apart from another? What strategies do students need to rise above their peers in a sea of sameness?
At Villa Maria Academy, an all-girls, Catholic, college-preparatory high school in Malvern, that sort of applied strategy is defined as branding.
"Branding means being in charge of your own brand and feeling confident and empowered," says Kristin Cortese, director of college counseling at Villa Maria Academy. "It's our mission at the school, and is embedded in the curriculum, to teach girls the skills needed to know themselves, and then communicate who they are to the world."
Villa Maria Academy has been empowering and developing young women through spiritual growth, intellectual inquiry, and Christian service since the school's founding in 1872. By giving students the means to develop a personal brand, students have more tools than ever in their quest to unearth and shape their sense of self as they prepare for the future.
"What sometimes happens is, before we introduce a branding concept, students may think there's nothing unique about them," says Cortese. "They wonder how they will promote themselves. It comes back to learning who they are, what they have to offer, and then displaying that. It's also about making good choices, in person, on social media, everywhere.
"We help our students understand how to promote themselves in a college essay or an admissions report in ways that set themselves apart from other applicants," she continues. "Did they do their investigative work? Can they articulate why they are a good fit with a certain program? We also help them be consistent with the message."
Finding Confidence
At Villa Maria Academy, the branding strategy is embedded in each year's "I" curriculum. In Year 9, or freshman year, the focus is Identify, as in identifying a student's strengths, qualities, and talents, and helping her develop those interests that set the foundation of passions and help create her brand.
In Year 10, the focus is Investigate, with students being taught to do investigative work, to learn how others perceive them.
"This is where the girls get introduced to 'What's Your Brand,'" says Cortese. "They do peer exercises which show their personality qualities, and through peer interviews find out when they act a certain way how they're perceived. They ask themselves, 'Do I like that or, if not, how can I change that?'"
In Year 11, the focus is Implement, when girls implement learned skills and understand how they apply to further interests, such as what they may want to study in college and what's the best fit for their post-secondary education. It ties into a conversation crucial to the present generation, relating to how a student's brand is perceived in social media. For instance, if a college recruiter sees a student's Instagram account today, would the recruiter perceive the student in a positive light?
Year 12 is defined as Imagine. As in, imagine the sky's the limit, while staying true to oneself.
The students use that information to guide them through a thorough college search. Next they construct a balanced college application list of schools they may consider an ideal "fit" based on several criteria: academics; social or emotional environment; and finances.
"In high school, creating just a little more attention for themselves sets them up for things in college," says Cortese. "It's about understanding what they stand for."
The main purpose of developing a personal brand is to differentiate a student from her peers. With more students attending college, the competition for admission to colleges is getting increasingly tough. Case in point: More than 200,000 high school seniors graduated with a 4.0 GPA last year. Furthermore, Harvard University rejects in excess of 200 applicants a year who have a perfect 2400 SAT score.
These statistics illustrate the notion that without a personal brand, colleges and employers may see far too many similarities among students with matching test scores, no matter how good those test scores might be. In other words, a personal brand may give one individual an edge over her peers.
Branding begins early at Villa Maria Academy. When current sophomore Kaitlyn Porta was a
freshman, she participated in a school-coordinated mock trial at the Chester County Courthouse in February.
"We wrote both direct and cross examinations, and opening and closing statements, and did everything a lawyer would do and need in court," Porta recalls. "Once I got going in the courtroom, I became more and more confident because I knew I was so well prepared. The branding at VMA gave me that confidence.
"I'm not sure what I'm going to do with my life right now, but branding has shown me I can do anything," she continues. "Villa has put that into perspective for me and all the girls there."
As part of the branding curriculum, Porta was among a group of Villa Maria Academy freshmen who attended the Disney Youth Education Series, or YES, in Orlando, Fla., in June. Students learned to develop their own leadership legacy, to become confident in their ability to accomplish goals, and to be motivated to achieve great things.
Students also attended a seminar where a Disney historian discussed the moments of failure in Walt Disney's life, and how he persevered. They also learned from Disney cast members about developing one's own brand and strategies on strengthening and marketing those brands.
"We learned that even if you know what you want to do with your life, you have to learn how to get there," Porta says. "The message was how to pursue your dreams."
Where Girls 'Find' Themselves
Villa Maria Academy has five full-time counselors, and a full-time test prep coordinator, Grace B. Opdyke, who assists the college counseling office, hosts mock standardized tests and assists students with testing plans. The test prep coordinator also plays a large role in the school's junior seminar course by facilitating test prep within the class time and assisting with lessons on mastering the college essay.
"Lots of families end up paying hundreds and thousands of dollars for test prep outside of school," says Cortese. "But at VMA, we have embedded that inside the curriculum once every other day."
Emma Follman's days at Villa Maria Academy have ended. Now a freshman at prestigious Vanderbilt University where she studies mechanical engineering, she says her alma mater's branding curriculum has been an invaluable asset.
"The branding I learned about at VMA helps girls find themselves," she said. "When I was a 10th grader, I'm not sure I knew who I was. But the administration helped me get a sense of who I was. What branding stresses is the importance of being a young girl who is confident and proud—that you should be proud of your intelligence and character. They don't just emphasize academic success, but also how you treat others.
"High school is a critical time for development," she continues. "VMA's branding helped me recognize my own identity, gain confidence in myself as a woman, and go to college and attack the world."
Photography courtesy of Villa Maria Academy High School
Villa Maria Academy High School
370 Central Ave.
Malvern, Pa.
(610) 644-2551
VMAHS.org
Published (and copyrighted) in Suburban Life Magazine, September 2018.
.
.
.