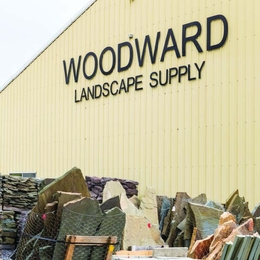 Rock Solid
For hardscaping projects both large and small, homeowners turn to Woodward Landscape Supply Inc. for high-quality options and invaluable expertise.
Few things can have a more dramatic impact on a home's outdoor living space than adding a beautiful patio, garden wall, driveway or new hardscaping feature. At Woodward Landscape Supply in Phoenixville, homeowners and contractors find the highest-quality materials and expert advice needed to ensure that the project not only adds character and beauty to the home at an affordable price, but that it also stands the test of time.
Woodward Landscape Supply offers a full range of materials needed to construct a wide range of hardscaping projects, from patios, sidewalks, walls and steps, to pool decks, driveways, fire features, and outdoor kitchens, among others. The company is an authorized dealer of leading brands such as Belgard, EP Henry, Keystone by CST, and Techo-Bloc, and also offers an array of natural stone, including distinctive Pennsylvania bluestone.
"Our customers generally fall into two categories: contractors who design and install hardscaping projects for homeowners; and the homeowners who prefer to do-it-yourself," says Barbara Babcock, vice president of Woodward Landscape Supply. "In both cases, the homeowner must make key decisions to ensure the project delivers on the vision they have for their new outdoor living environment."
The breadth of products available to deliver hardscaping projects has grown dramatically over the last decade, frequently making material decision quite difficult. The impact of color, texture, scale, and, of course price, can create a complex decision matrix.
"Our mission is to help our customers and their customers sort through the many options and make product selections that produce a wonderful, satisfying result," Babcock explains. "Our employees are trained for this role."
She says it's common for a Woodward Landscape Supply team member to spend hours with a customer, exploring the thousands of square feet of indoor and outdoor displays, to help sort through the options. Sometimes it's a matter of helping homeowners find the right material, in the right color, at the right price; sometimes it's making sure the product can safely meet the demands of the specific project; and sometimes it's being the impartial third party to help family members find an acceptable compromise to satisfy differing tastes and spending plans.
As lovely as a finished feature might look, it will fail if not properly installed or if the material used doesn't meet the physical demands of the project.
"You cannot use every paver for every surface or every block for every wall," Babcock adds. "Vehicular applications have different demands than pedestrian ones; retaining walls are very different from garden wall. And the base under every project—a base which you never see after the project is complete—is critical. Our job is to understand what the homeowner is doing, to get a sense of the product they have in mind, and to make sure their project is going to look and feel as they envision it—and that it's going to last."
Woodward Landscape Supply has available just about every accessory, accent, and tool a contractor or DIY homeowner might need to install the hardscaping or masonry project of their dreams, ranging from fire pits and fountains to statuary and lighting.
"About 95 percent of all the products we sell are made in the USA, and most come from Pennsylvania and New Jersey," Babcock says. "These products are not just made in the USA, but they're also supporting local manufacturers and the local job market."
In 2019, Woodward Landscape Supply will celebrate its 25-year anniversary. Babcock has been with the company for 20 of those years. She gave up her career as a top-level executive with a global technology company based in Montgomery County to join Woodward Landscape Supply, and she couldn't be happier.
"One of the wonderful things about this business is that we get to help people every day," she says. "We recently had a woman come in whose dog was getting older and having trouble managing a step. The step was too deep, so we helped her find a solution that essentially cut the depth of the step in half. That job might have been a very small sale, but it felt good to help someone solve a problem. Whether the job is simple or complex, we have the materials, the background, and the experience to help people get the job done the way they want."
Woodward Landscape Supply Inc.
661 Schuylkill Road
Phoenixville, Pa.
(610) 983-9810
WoodwardLandscapeSupply.com
Photography by Nina Lea Photography

Published (and copyrighted) in Suburban Life Magazine, September 2018.
.
.
.