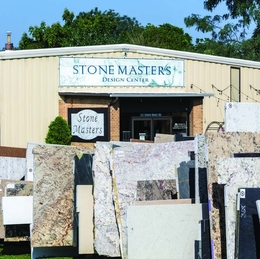 Masters of their Craft
The artisans of family-owned Stone Masters Inc. take a personal approach to helping clients beautify their homes with stunning kitchen and bath renovations.
"Stone Masters is a stone company, but we have evolved," says Dan DiTomaso, president and owner of Stone Masters Inc., based in Kennett Square. An evolution is putting it lightly.
Thirteen years ago, the company focused solely on granite. Since then, Stone Masters has significantly expanded its breadth of services to accommodate customer demand.
"We listen to our customers," he says. "We do about 100 kitchens a month, and we feel people's pain as they struggle to find solutions."
This determination to provide clients with the answers they seek inspired Stone Masters to expand its offerings to all manner of projects related to the kitchen and bath. As Dan explains, "From removing old countertops to plumbing to backsplashes, from fixing broken or inadequate cabinetry to general contracting, we offer 100 percent of clients' kitchen and bath remodeling needs."
"People are always surprised by how big our operation is," says Ashley DiTomaso, a stone and cabinetry design representative with the company, and also Dan's daughter. "I guess when they hear 'family owned' or 'local,' they don't expect hundreds of stone choices."
Yet this is exactly what clients find, along with a host of other details that let customers know from the start that Stone Masters is in a class of its own.
"Many customers notice off the bat that our process is different," she says. "We're cleaner, we're more organized, and more efficient than most. Customers are also always pleased with our low-pressure environment; they like that they can shop and understand their options."
Family Values
Dan takes a lot of pride in the fact that Stone Masters is a family-run enterprise.
"My daughter is here every day, I'm here, my wife Ann Marie is here, and my cousin Philip is here," he adds. "Our 26 employees are like family. Even our dog Jack has been here for all 13 years; he's a personality and our greeter. Every facet of this business is about family."
Given its roots, tenets such as respect, integrity, and customer appreciation inform every aspect of the DiTomasos' business.
"We have two facets to our company: our customers, and our employees," Dan says. "Creating a team environment, empowering our employees for success, is something every business owner says they do, but we practice it. We are OSHA certified, our fabrication facility is an air-conditioned shop, and we use the highest technology."
Dan knows that his team works hard. To exemplify, he shares some stats: The average countertop weighs approximately 500 to 600 pounds; the average stone slab from which the countertop is cut weighs 1,100 to 1,200 pounds.
"When our employees are in a home, there's no forklift—just muscle," Dan says. "We understand that moving around stone slabs is very fatiguing; they're heavy, and it's dangerous work. That's just one reason we really want to focus on the health and well-being of our employees."
For Stone Masters, "teamwork" isn't just a word on a motivational poster; it's a way of life.
"There's less stress, less friction, and more smiles, when things go smoothly," Ashley says. "The process and our people work in unison, so that customers get not just beautiful countertops, but also a seamless process from start to finish, which is essential in a business when mistakes could literally be set in stone. Everyone on our team understands their part, understands the larger system, and together works seamlessly to pull a project together. Just read our reviews; everyone comments on this."
As one client wrote in an online review: "Excellent job, from sales to installation." Another: "Stone Masters rocks! I visited five other places before going here and found Stone Masters to be the business that was most concerned that I received the look and quality that I wanted."
Looking Ahead
In line with its unwavering commitment to serving clients, Stone Masters keeps one eye on its current offerings and business practices, while the other is focused on the future. Trending now: "Manmade quartz that looks like marble," Dan says. "This trend has single-handedly taken the market by storm the last 24 to 36 months."
In fact, Dan says the advent of manmade quartz has driven some customers away from natural stone. Its benefits include resistance to scratching and staining, and it's also nonporous and never needs to be sealed.
"The product has evolved dramatically in both price and color and pattern to where marble-looking quartzes are difficult to discern from real marble," Dan says. "Today, they offer absolutely stunning natural veins and colors without a downside. They've taken over about 35 percent of the market in the past four years."
Maintaining one's status as an industry leader takes more than just staying ahead of fashions and trends. To thrive in a modern setting, a company needs to embrace the latest tools and technology, and utilize them to their fullest capabilities. To this end, Stone Masters uses 2020 Design, a program that affords customers the opportunity to watch their home renovation dreams come together in virtual form, right before their eyes.
"It allows customers to see finished cabinets in 3-D," Dan explains. "You can spin around the room—you can even open each cabinet."
This also serves to help address what Dan reports is the No. 1 concern among clients: maximizing usable areas. With customers always trying to achieve more usable and functional space, 2020 Design enables Stone Masters to incorporate an efficient workflow into each design. "That way," Dan says, "there's not a struggle with 'Where do I put things?'"
As time goes by, leading manufacturers such as DuPont, Cambria, and Caesarstone will continue to introduce new offerings, meaning the options Stone Masters offers its clients will only multiply. In other words, Stone Masters will continue its evolution.
"We work to be head and shoulders above the competition," Dan says. "We're not a 'big box' store, and it shows in our results. Our business is just more personal. We take a lot of pride in that."
Stone Masters Inc.
515 School House Road
Kennett Square Pa.
(610) 444-7200
StoneMastersInc.net
Published (and copyrighted) in Suburban Life Magazine, September 2018.
.
.
.