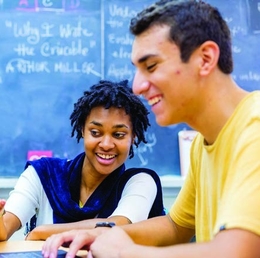 Ready for Anything
At The Crefeld School in Chestnut Hill, students develop the skills needed to become lifelong learners, self-advocates, and agents of change.
Mahdiya Trudeau-Williams started seventh grade at a delicate point in her life. Like all middle school students, she was struggling with issues of identity and purpose, but she had the additional burden of shouldering the grief and anger resulting from the recent death of her father.
At The Crefeld School, Trudeau-Williams discovered a diverse and welcoming community of students, teachers, and other faculty members. With their support, she found her strength and fed her desire to have a positive impact on the world around her.
"I went from being angry and not wanting to challenge myself to wanting to be the best that I could be," she says. "I was determined to take every art class I could, to get involved in social justice, and to focus my energies on my academic and artistic growth. That's what brought me to where I am today: mentally healthy, happy about where I am in my life, and focused on my future."
Trudeau-Williams recently graduated from Crefeld, a progressive secondary school for students in grades 7 through 12, located in Philadelphia's Chestnut Hill neighborhood. She gave one of two senior speeches at the commencement ceremony for her graduating class, in which she shared her perspective on what the Crefeld community meant to her and her fellow students.
"For me, Crefeld is such a remarkable school because it supports every person no matter who they are and what they need," she says. "You're not a nameless face in the crowd. That feeling gave me the confidence I have today."
Trudeau-Williams's experience underscores Crefeld's unique formula for preparing students to succeed in college and in life. The school is often regarded as something of a well-kept secret, but Head of School George Zeleznik, Ed.D., is committed to spreading the word about what he calls "the most exciting and rewarding place I've ever worked."
"There's a certain energy that lives in the building," he says. "There's a common understanding among students and teachers that school doesn't have to look a certain way. There's a level of student voice and student agency that feeds everything we do. So when a student finds that Crefeld is the place for them, they feel very comfortable being themselves. In fact, there's the expectation that you're going to be yourself and bring that to the community every day."
Trudeau-Williams points to two particular aspects of her time at Crefeld that she says prepared her for "what's next": Community Service Learning; and Graduation by Exhibition.
Through service learning, students use their academic knowledge and critical-thinking skills to address the needs of the surrounding community. Once a week throughout the school year, the entire Crefeld community—students from the middle and upper schools, as well as the faculty and staff—fulfill their responsibilities as citizens. Through these acts of service, the Crefeld community focuses on issues such as hunger, urban education, and environmental preservation, as well as elder care, climate change, and animal rights.
Then there's Graduation by Exhibition. Beginning in junior year, Crefeld students must complete and demonstrate mastery of 16 established "exhibitions," in addition to completing their regular coursework. The exhibitions, which are evaluated by at least two faculty members, include projects associated with everything from formal writing and mathematics, to technology and transition, to self-reflection and citizenship.
"If you talk to anyone who has gone through it, it's the hardest thing you've ever done up to that point in your life," says Trudeau-Williams. "What it teaches you, besides what each exhibition is meant to teach you, is self-advocacy. The exhibitions helped me in every area of learning: writing, public speaking, presentation—everywhere I needed support, but even in the areas I felt good about it. The experience helped me form the positive attitude I have towards learning."
Crefeld's approximately 100 students hail from more than 50 ZIP codes throughout the Greater Philadelphia Area. Zeleznik says Crefeld tends to attract students who want to "take ownership of their education," with an "intentionally different" approach to learning, in a small, community-minded environment. The school graduates an average of 20 seniors per year, and Zeleznik has a singular hope for every alumnus: that he or she becomes an agent of change.
"We want them to understand their inherent worth in this world, and to understand that they have an obligation to make the world a better place," he says. "And I do believe our students think along those lines."
Trudeau-Williams, now a Crefeld alumna, is continuing her education at Thomas Jefferson University's East Falls campus—a school she chose in part because of its commitment to social change and community service, much like her alma mater. Ultimately, she wants to be a full-time fashion designer, but she wants to do so in ways that reduce the industry's harm to the environment.
"Crefeld prepared me extremely well," she says. "Everyone at the school worked hard to get each student the education they wanted and needed. Crefeld was very different in a lot of good ways. I think it was the best choice for me."
The Crefeld School
8836 Crefeld Street
Philadelphia, Pa.
(215) 242-5545
Crefeld.org
Published (and copyrighted) in Suburban Life Magazine, September 2018.
.
.
.