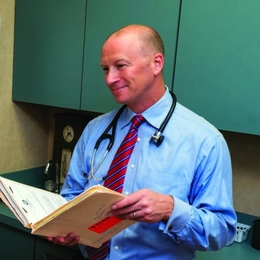 The Pinnacle of Care
Having recently opened a direct primary care practice in Bala Cynwyd, Dr. Roger Stumacher offers a high level of service designed to maximize patients' return on the investment in their health.
The term concierge evokes vivid images of people who go to great lengths to provide the acme of care, the zenith of service. This extraordinary level of time, treatment, and attention is exactly what Roger E. Stumacher, M.D., has in mind with his new medical practice.
Dr. Stumacher, who is board certified in internal medicine, built his medical career on the strong belief that a physician should educate and advocate for his patients. Now, after 12 years in practice, the 42-year-old physician is using his training, dedication, and commitment to patient care at his new private concierge practice in Bala Cynwyd, where he will provide direct primary care in partnership with Total Access Medical.
Direct primary care means having access to a personal physician during "off" hours, such as weekends and nights, no rushed office visits, and an end to the parade of doctors who do not know the patient or the patient's medical history. It also means having the flexibility to see a doctor when it best fits a patient's schedule, as opposed to the other way around. As of Sept. 4, the day his new practice opened its doors, Dr. Stumacher is providing this level of high-quality, personalized care to a limited number of patients.
"I love what I do, and I thoroughly enjoy all of my experiences with my patients," Dr. Stumacher explains. "But no matter how well trained or dedicated you are, under the current U.S. health system there is a feeling of serving the clock as much as you are serving your patients. A concierge service allows me to give my patients much more time and attention."
Dr. Stumacher suggests this innovative model of practice is reminiscent of the days when doctors made house calls. His primary motivation: to give each patient all of the time he or she needs, whether it is during a well visit or in providing the complex care required to treat a chronically ill patient. The practice will be limited to 400 to 600 patients, compared with the 2,100 in his previous practice. Basically, these patients are given unlimited access to their doctor—for physical, emotional, and psychological issues—in line with Total Access Medical's motto: "Modern medicine, old-fashioned care."
Seeking a Better Way
While leaving an established institution as prominent as Main Line Health to open a private practice for fewer patients would terrify some practitioners, Dr. Stumacher believes it has given him "the opportunity to practice the medicine that I am trained to practice." After 12 years in a health system, and having seen the limitations of insurance-driven medicine, he wanted to "find a better way."
There are many benefits to a concierge medical practice. For example, when patients are admitted to the hospital, their doctor will be there to figure out a diagnosis and follow up on the required tests and procedures.
"I want to do as much as I can for my patients," he says. "The benefit is that your doctor is knowledgeable about you, about medicine, and about the system. We want each patient to feel that the medical process goes not only in a way that they desire, but also in a way they understand."
Dr. Stumacher enjoys discussing the art and science of medicine. In respect to the science, all humans belong to the same species and share the same DNA, which is extraordinarily helpful in matters of diagnosis and treatment. When it comes to the art of medicine, one must understand an individual's innate uniqueness in order to treat the patient effectively.
"If you don't have a doctor who knows or listens to you, then he or she is just looking for patterns, which can lead to the wrong diagnosis," he explains. "I try to always heed the words of renowned 19th century physician William Osler: 'Listen to your patients; they will tell you what is wrong with them.'"
Dr. Stumacher is of the mind that a doctor who has time to think and care about patients will do just that: think and care. The problem: Time is a precious commodity in traditional Western medicine. Despite a practitioner's training, experience, desire, and expertise, even the most well-meaning and talented professional can get hampered by time constraints, not to mention overwhelming caseloads and external pressures of the healthcare system.
Making a Difference
A lifelong resident of the Greater Philadelphia Area and an alumnus of Lower Merion High School, Dr. Stumacher studied medicine at the University of Pennsylvania prior to entering the family business. As a young boy, Dr. Stumacher watched his father, an infectious disease specialist named Russell J. Stumacher, M.D., inspire his medical students at what was then known as Graduate Hospital in downtown Philadelphia. "It was fascinating to hear him explain a case to a patient or another physician, and awe-inspiring to watch him teach," Dr. Stumacher recalls.
Although the elder Dr. Stumacher died in 2003—at the same time his son was graduating from the University of Pennsylvania School of Medicine—he left an indelible impression on his son and his approach to patient treatment.
"I think about my dad all of the time, and I try to practice in a way that would make him proud," he says. "I think—I hope¬¬—that I have, and I think that my father would agree that this change will help me to continue to do so."
In keeping with the family tradition, Dr. Stumacher's wife, Molly, is a hematologist-oncologist, and they are the proud parents of a 9-year-old daughter, Sarah, and an 11-year-old son, Ryan. The family enjoys traveling, and playing sports, especially skiing and golf. They also love to watch football, although they have a split allegiance, with Dr. Stumacher firmly in the camp of his hometown team, the defending Super Bowl champions otherwise known as the Philadelphia Eagles, and his wife cheering for their cross-state rivals, the Pittsburgh Steelers.
Regardless of where Dr. Stumacher hangs his stethoscope and white coat at the end of the day, his philosophy remains rooted in trust and communication.
"It is all about making meaningful, productive, enduring relationships, and understanding people," he says. "It's about being there throughout their lives. One of the greatest things about being a doctor is that I can try to put a little good into my small area of the world. I can go to sleep at night knowing that I did my best that day to at least try to make a difference in somebody's life. The trust that my patients put in me to do that is my privilege and my reward."
Roger Stumacher, M.D.
Total Access Medical
191 Presidential Blvd., Suite C133
Bala Cynwyd, Pa.
(484) 270-1904
TotalAccessMedical.com
Published (and copyrighted) in Suburban Life magazine, July 2019.

.
.
.