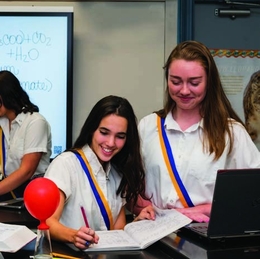 Tradition of Inspiration
As it reflects on its 90-year history, Northeast Philadelphia's Nazareth Academy High School adopts a culture of innovation designed to inspire students' hearts and minds.
This year, Nazareth Academy High School in Northeast Philadelphia, located along the Philadelphia-Bucks County border, is celebrating a landmark in its history: 90 years of preparing girls for college and beyond. At the same time, the all-girls college preparatory school is embracing a host of changes designed to enlighten, enrich, and inspire its students.
To begin with, Nazareth has brought on Jim Meredith as its first-ever lay principal. Meredith comes to the school with a 20-year history of work in the Archdiocese of Philadelphia. At the same time, the school is revamping its STEAM (science, technology, engineering, arts, and mathematics) initiative as STREAM, to include an emphasis on the religious traditions upon which the school was founded in 1928.
In line with this renewed commitment to feeding students' ever-evolving interests, the school has also begun the process of creating a Makerspace in which students can utilize advanced technology such as 3-D and laser printers.
"Our changing world demands empowered, faith-centered leaders," says Denise LePera, president of Nazareth. "Students find inspiration in a learning environment focused on the sciences, math, technology, and the arts. It provides the basis of joy and real sincere desire to learn and discover. This 21st-century teaching fosters a culture of innovation that is based on ethical behavior."
Nazareth has always offered academically rigorous courses of study in science and math, and the school's fine arts program is renowned for fostering creativity among students. The intersection of these disciplines is where the real magic happens, according to LePera.
"[STREAM] speaks to the individual talents in each student and nurtures other areas," she notes. "The world of technology is changing faster than we can teach. We are preparing our students for jobs that don't even exist yet. Our faculty understands the importance of the need to create a strong desire to learn, while at the same time creating a level of confidence that allows these young women to be motivated to pursue the education necessary to achieve STREAM-related careers."
Nazareth's reaffirmation of its dedication to cultivating a well-rounded student body comes on the eve of the school's mid-October evaluation by the Middle States Commission on Higher Education. Members of the Nazareth team have been collaborating for months in efforts to bring STREAM to life, science teacher Amy McDonald explains.
"We've had committee meetings related to how to keep our curriculum at an excellent level," she says. "There has been a lot of cross-talk between departments on what kinds of projects we can do that involve all these disciplines."
"What we are finding is that the intertwining gives us students who are creative, critical thinkers," LePera adds. "Students will develop very strong critical thinking skills while being able to strengthen their verbal and written communication abilities. At the same time, they are able to develop their creativity and learn effective methods of collaboration."
The goal of all this, LePera says, is to assist in the development of "talented students who will meet the demands of society."
McDonald emphasizes that none of these advancements would be possible without the unwavering support of Nazareth's administration.
"When we wanted to do STREAM for Middle States, they said, 'Go for it,'" she says. "When we wanted robotics, they funded it. They are very interested in empowering students and faculty. It's nice to work with people who are so interested in doing everything they can for the girls."
With a strong focus on service to God and to the community, Nazareth continues to find new ways to inspire its student to achieve academic excellence, to become lifelong learners, and to become active participants in a global society.
"As we strive to create a school environment that allows students to be themselves, STREAM across the curriculum encourages them to learn how to be comfortable with learning from their mistakes," says LePera. "The entire process enables them to communicate and voice their thoughts on solutions, learning to trust their own perspectives. They are given opportunities to think critically and take risks. They are learning and practicing leadership skills in the present tense."
Through interactive learning opportunities, students will be able to practice real-world skills in core academic areas. Or, as LePera puts it: "Our students will be changed for the better."
Nazareth Academy High School
4001 Grant Ave.
Philadelphia, Pa.
(215) 637-7676
NazarethAcademyHS.org
Published (and copyrighted) in Suburban Life Magazine, September 2018.
.
.
.