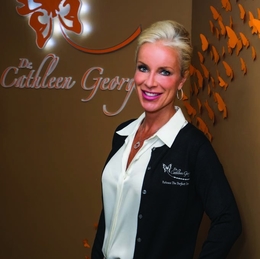 Aligning Interests
For renowned Bucks County orthodontist Dr. Cathleen George, success is a byproduct of putting patients first.
Some practitioners readily admit that they are doctors by choice and businesspeople by necessity. For these individuals, running a business doesn't come naturally, and they may lack the desire to develop their business acumen. Rather, they do what they do simply because they love it.
Then there's Cathleen George, D.M.D., a Bucks County orthodontic specialist who always wanted to be a doctor and is also passionate about the business of medicine. In fact, she says she loves cracking open a good business book in her spare time.
"I have always been fascinated by studying business models and looking at what works—and what doesn't," Dr. George says. "I strongly believe in having systems in place that empower staff members to be knowledgeable and develop leadership skills that help the office run smoothly. I love reading books about the inner workings of Disney World or Nordstrom, or other places that have been incredibly successful due to good business practices. And I love implementing some of those ideas into my own practice."
For example, Dr. George says thinks constantly about customer service and is always finding ways to improve upon existing approaches to keep patients happy. She first worked in an orthodontist's office while still in high school, near her home in Long Island, N.Y. It was then that she first recognized just how essential good customer service is to a successful practice. Working under John Capogna, D.M.D., Dr. George says she was impressed by the way he treated his patients: as if they were members of his family.
"That's what we're trying to do here," she says of her private practice in Richboro. "Above all else, we want patients to feel comfortable coming here. While under treatment, there can be a lot of visits, and we want patients to love coming to every one of them."
That may be a tall order, but it's why Dr. George chose to build a facility of her own design—a jaw-droppingly beautiful destination that opened its doors in 2009. With each room, she had her patients' comfort in mind.
"The kids absolutely love the game room with Wii and Xbox consoles and iPad stations," she says. "Parents feel comfortable having a private space to go watch television or read while their child is being seen."
With a coffee bar, complimentary Wi-Fi, and a wide selection of periodicals, Dr. George says it's a relaxing atmosphere for parents as much as it is for kids. Parents often tell her the office has a "spa-like" feel. With an abundance of natural light and an open and spacious waiting room, it feels like a space where those waiting can unwind for a few moments out of their hectic day.
While patients and their families love the welcoming office, a great space alone would not make Dr. George the "top orthodontist in Bucks County," as she has often been called. That billing comes from her experience and her treatment protocols, utilizing traditional wire-and-bracket braces, Invisalign, and other complementary therapies. Also, though it's not a requirement, all of the assistants in the practice are specially certified as orthodontic assistants through the Academy of Orthodontic Assisting.
Plus, like the office itself, Dr. George has embraced state-of-the-art equipment and technology. In this office, gone are the days of getting impressions made with "goop." Dr. George utilizes the latest in scanning technology to take digital impressions. Likewise, while some offices still utilize archaic methodologies and even outmoded orthodontic appliances, Dr. George is constantly making an effort to stay ahead of the curve in order to offer her patients the best. That also includes seeing patients early; in line with the American Association of Orthodontists advisory, Dr. George agrees that children should receive an orthodontic evaluation by no later than age 7. This early intervention can allow the doctor to take advantage of the fact that the jaw is still growing, and corrections can be made more easily.
In addition to Dr. George, the office also includes two associate doctors, Daniel Cassarella, D.M.D., and Jordan Cogan, D.M.D. Having three doctors enables the practice to accommodate patients with broader appointment availability.
Among the many reasons so many patients in the area choose Dr. George, her focus on putting patients first has perhaps been the biggest key to her success.
"It sounds simple, but always thanking patients and letting them know how much we appreciate them is important to us," Dr. George says. "At the end of the day, we're here to be of service to our patients—not ourselves—and we try to keep that philosophy in mind with everything we do."
Cathleen George, D.M.D., P.C.
51 Almshouse Road
Richboro, Pa.
(215) 355-5995
TeethStraight.com
Published (and copyrighted) in Suburban Life Magazine, September 2018.
.
.
.