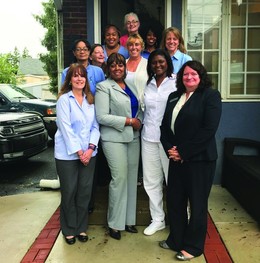 Welcome Home
The female leaders of Lindy Communities go above and beyond to help clients, as well as new team members, to "come home to Lindy."
Strong women have been a hallmark of Lindy Communities for four generations. Founded in 1939 by Freda Lindy and her husband Jacob, the Lindy Family continues to lead the business nearly 80 years later—and it's still growing. Today, this property-management organization includes 32 apartment homes and 180 employees, with a leadership team divided equally between male and female employees; currently, 23 of the company's 46 supervisors are female. The team members—women and men alike—pride themselves on delivering personalized customer service experience to each person they meet, and always reaching to exceed expectations.
Lindy oversees the daily operation of The Towers at Wyncote Apartment Homes and retail promenade; Meadowbrook Apartment Homes in Abington; Warrington Crossings and Park at Westminster Apartment Homes in Warrington; and the Piazza on the Square in Jenkintown, which includes a retail promenade with access to shopping, dining, and co-share business space.
Senior Chief Advisor Carolyn Hirsh Lindy met with members of the Lindy Female Leadership team and spoke with members candidly about success, points of pride, and more. She shared with us what she learned from those conversations.
What keeps the team members of Lindy Communities at the forefront of the industry?
We gain knowledge from continuing education offered by Lindy Communities and professional educational institutes, people skills, listening skills, and time-management skills. We enjoy wearing many hats. We also strive to be caring and compassionate, to help others, to solve problems, and to know when to seek guidance. We pride ourselves on being adaptable and flexible, willing to change with the times, as well as possessing a sense of humor and having humility.
What makes us uniquely qualified is our knowledge of the industry, as well as our hands-on and the real-life, pull-yourself-up-by-your-bootstraps, experience.
What is most gratifying about your work?
We love helping to make a home for others and solving problems. We also like to mentor co-workers. All of us are accomplishing multiple things each day and seeing the results of our work each day in the improvements we're able to make in the lifestyle of others.
What accomplishments are you most proud of and why?
One of our greatest accomplishments as women is the shared sense of pride in juggling multiple successful careers while raising children and tending to family responsibilities. At home, we enjoy creating a wonderful home environment and at work, we enjoy creating a wonderful environment for others to come home to. That's how we bring to life to the slogan of the firm, "Come Home to Lindy."
Hirsh Lindy notes that the company embraces diversity and welcomes people of all skill levels, whether a candidate is just starting to embark on a customer service career or is joining Lindy Communities with a lifetime of service already in place.
Also, Hirsh Lindy notes as well that the company has an employee philanthropy program that allows employees to become engaged in the communities where their apartment homes are located. Recently, team members assisted at a local homeless shelter helping make personalized picture frames with motivational words about what inspires the kids. Currently, the team serves more than 25 area charities and will have donated $150,000 and countless hours by year's end.
For more information on Lindy Communities, visit www.lindyproperty.com or call (215) 886-8030.
Published (and copyrighted) in Suburban Life Magazine, September 2018.
.
.
.