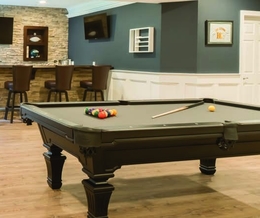 Cued Up
At Royal Billiard & Recreation, homeowners find everything they need to transform their homes into destinations built for entertaining friends and family.
Every home has a few popular gathering spots—namely, the kitchen, the living room, and the game room, especially one that has a well-made billiards table.
"Billiards is such a classic game, and it's very social," says Audra DelConte, owner of Royal Billiard & Recreation in Hatfield. "Whether you're buying a pool table for yourself or you're looking to entertain friends and family, it's a game that's familiar to everyone, and everyone can play it, so it brings people together, regardless of their age, background, or skill level."
Royal Billiard can suit any homeowner's preference or home décor. While some customers prefer to peruse the store's collection of gently used options, DelConte says most people approach the purchase of a billiards table as if it is a custom piece of furniture—one of a kind and designed to suit the room in which it will be housed.
"A pool table can be a real statement piece," says DelConte, who started her career in the investment industry before joining Royal Billiard in 1992, approximately 10 years after her parents founded the business. "Some are basic, with one or two finish options, but most of the options we have available are completely customizable, with all kinds of wood species, finishes, and designs to choose from."
In fact, individuals who have second homes at the Poconos or the Jersey Shore often opt to have billiards tables in those homes that are designed to mirror the specific location. Someone with a mountain home, for example, might choose a rustic finish and table legs that closely resemble tree branches.
Billed as "the Ultimate Game Room Store," Royal Billiard offers an expansive lineup of options so a homeowner can outfit an entire game room: custom bars and card tables; foosball tables and shuffleboards; outdoor pool tables and ping-pong tables; hot tubs and pellet grills—plus, virtually any related accessory a homeowner might need. In the last decade, shuffleboard tables have become a mainstay in the game room—once only thought of as a pub or private club game. Also, arcade-style Skee-Ball and Golden Tee golf are the newest items to be added to the showroom.
"Home entertainment is a huge and growing business, because having fun is an essential part of life," she adds. "Pool tables and other classic games have always been big, but the industry really picked up after Sept. 11, 2001, when the idea of the 'staycation' first came into prominence. People have turned their homes into places where they can entertain and be entertained."
In addition, Royal Billiard has a team of highly trained service technicians who specialize in the transport and relocation of pool tables, as well as felt replacement for tables' playing surfaces. The store also offers resources to help customers make the most of their investment, such as "Lessons with Larry" sessions, through which enthusiasts—novices and advanced players alike—can improve their billiard skills at the side of a true master.
"If someone has a home-recreation need, we can help," DelConte says. "We specialize in high-quality, American-made products from some of the industry's best-known names—Olhausen Billiards, Darafeev, California House, Nordic, Memphis Wood Fire Grills. It's a great business; we sell fun seven days a week. People are investing in something they're going to enjoy for a lifetime. We are lucky to be doing what we do!"
Royal Billiard & Recreation
2622 Bethlehem Pike
Hatfield, Pa.
(215) 997-7777
RoyalBilliard.com
Published (and copyrighted) in Suburban Life Magazine, September 2018.
.
.
.