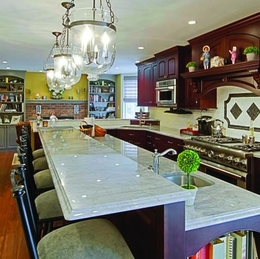 Opening Up About Open Floor Plans
Your Dream Home
Open floor plans allows easy traffic flow from one room to another. By opening up the walls between the kitchen and a dining room or family room, homeowners can make the most of their living space—talking with guests as homeowners prepare a meal, for example.
Few people are more familiar with the benefits of an open floor plan than Dennis Gehman. As the owner of Gehman Design Remodeling in Harleysville, Dennis specializes in making the most of the opportunities that come from opening up the home. He's also intimately familiar with the challenges and considerations associated with doing the job correctly.
We recently sat down with Dennis to learn more.
Q&A
Open floor plans are extremely popular at the moment. Are most of your remodeling clients requesting that kind of design if they don't already have it in their homes?
A vast majority of our clients are coming to us desiring an open floor plan. Sometimes our clients would like to have an open floor plan, but they don't want to spend the money required to knock down walls, especially if it happens to be a load-bearing wall. It takes planning and a lot of time to install a beam that will support the weight of the house, which raises the cost of the project.
What are some of the challenges to creating an open floor plan that an experienced company like yours can help with?
When we open up walls, the main thing that we encounter is load-bearing walls. Usually, there are utility items, such as plumbing and HVAC lines or electrical wiring, which need to be re-routed as well. In the case of a load bearing wall, we will need to consult with an architect or structural engineer to ensure that the beams that we place into the house will support the weight of the structure above.
Are there design tips you can recommend to your clients to help define certain areas in an open concept?
There is some concern that it will be difficult to create spaces that are unique and differentiated from each other. Depending on how open the space is, definition of spaces can be accomplished using a few different approaches.
One, the flooring can be used to define the spaces—for example, tile in the kitchen, hardwood in the dining areas and carpet in the family room or living spaces. A second approach that can be used is employing furniture to establish unique spaces. Thirdly, lighting is an option to distinguish areas one from another. Recessed lighting, cove lighting, floor and table lamps, as well as pendant lighting, can be designed to create spaces that are welcoming as well as functional.
What else can you advise homeowners to consider when making the design to open up their living areas?
It will take a team to make bring your vision to reality. You cannot and should not try to navigate this process alone. When starting a project of this nature, some of the most overlooked and under-utilized resources are the services of a design professional and/or a structural engineer.
First, the design professional has the ability to hear your desires and dreams for your home. He or she will also work at making a design and floor plan that works with your lifestyle, and access a host of resources that will enable them to bring your dream to life.
Second, however skilled and gifted the design professional is, the fact of the matter is, the scope of this type of project often expands beyond the professional abilities or skills of a design professional, especially in reference to maintaining the structural integrity of your home. Do not take for granted the peace of mind that comes from knowing that all of the parts and pieces that are going into putting your house back together have been professionally designed, specified, and installed. Remember: Some of the most important parts of a project of this nature are never seen. And, in a good design, it should stay that way.
The third member of the team that you will be putting together is the construction firm that will complete the construction and installation of the structural members of the project, as well as the pretty parts and pieces that you will be living with for a long time to come.
The team you choose will be spending a large amount of time in your home and around your family, so do your homework. Professional organizations in your area will be able to assist you in choosing a reputable firm that will be able to make you feel at ease as you welcome them into your life.
To learn more about what open floor plans can do for your home, contact Gehman Design Remodeling by calling (215) 513-0300, or visit them online at GehmanRemodeling.com. Contractor number: PA-297
Published (and copyrighted) in Suburban Life Magazine, September 2018.
.
.
.