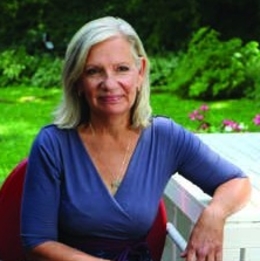 Fertile Ground
Sloane Six, owner of Quarry Hill Farm in Harleysville, wants people to change the way they look at food.
Sloane Six, owner of Quarry Hill Farm in Harleysville, lives in affirmation of a commitment to helping people answer this: "What has fundamentally gone so wrong in our food system?"
"February 2018 marked 10 years since I was diagnosed with breast cancer," Six explains. "My son Skylar was 5 at that time, and I was suddenly faced with my own mortality. Health and well-being became my passion as I embarked on an entirely new life of sharing my passion and knowledge about the health benefits of nutrient-dense, sustainable food with the community around me and beyond."
Six founded Quarry Hill Farm to uplift this mission by "growing and raising 100 percent organic, sustainable, humanely raised, heritage-breed livestock and heirloom fruits and vegetables," Six explains. "Like our Quarry Hill Farm ads say: 'Eating Healthy Quality Food is our Best Medicine.'"
"We provide a production system that sustains the health of soils, ecosystems, and people," she adds. "The system relies on ecological processes, biodiversity, and cycles adapted to local conditions rather than the use of foreign inputs that have adverse effects. Our farm benefits the environment and provides a better, healthier quality of life."
Membership in organizations such as PASA, the Pennsylvania Association for Sustainable Agriculture, is proof of her commitment to growing and providing sustainable, high-quality foods.
"I love helping people stay healthy and educating others about the importance of eating pastured, grass-fed meats, like organic lamb, poultry, rabbits, and turkeys," Six says. "My goal at Quarry Hill Farm is raising the highest-quality, most nutritionally dense food possible that naturally produces pure and good natural flavor—the way nature intended food should taste."
For more information on Quarry Hill Farm, go to QuarryHillFarm.net or call (215) 513-1514.
Published (and copyrighted) in Suburban Life Magazine, September 2018.
.
.
.