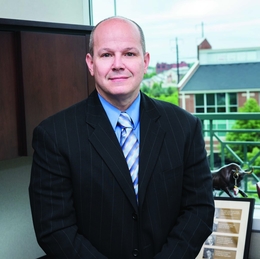 Stifel in Conshohocken
Your financial needs are my priority.
Managing your wealth takes a lot of time and effort, time you could be spending on the things that you truly care about—family, friends, career, and hobbies.

That's where I come in.
As an experienced financial advisor who values trust and transparency, I can help you build and manage a wealth management plan customized to your unique needs.
My Wealth Management Process
I will delve into your financial situation, including investable assets, savings, insurance needs, and estate planning issues. During my consultative process, I am committed to:
* Understanding your unique financial blueprint
* Developing unbiased and tax-efficient wealth management strategies
* Presenting my strategies in a clear and comprehensible manner
I understand the importance of your wealth, and am open and transparent about any fees associated with my services. I take full advantage of market research and money management analysis offered through Stifel and outside resources.
My Holistic and Transparent Approach
My focus isn't on stock picks and possible winners; rather, I am committed to understanding your overall financial picture.
While many brokers are transactional, we understand and set expectations with our clients that no one can consistently beat "the market." I am not in the "tournament" against the S&P 500. Rather, I believe in taking a long-term approach to your wealth planning strategy. I also work closely with your tax and legal professionals, integrating their advice, as appropriate, into my clients' strategies and my recommendations.
My goal is to objectively select managers and individual securities for your portfolio without regard to commissions. Rather than pressuring you to buy or sell investments, I will instead focus on customizing my investment guidance to reflect your goals.
Estate and Tax Planning Services
With the help of Stifel's experienced professionals, I can guide you through the complexities of the estate planning process. By providing you with an in-depth analysis of your existing estate plan, we can help you identify strategies to discuss with your personal estate planning attorney.
In addition, Stifel's tax professionals can help conduct a review of your income tax situation. By analyzing your tax returns from the last two years, we can identify proactive tax planning ideas for you to discuss with your tax advisor.
Stifel does not provide tax or legal advice. You should consult with your tax or legal advisors regarding your particular situation.
Using ETFs to Diversify Your Portfolio
One of the fastest-growing investment products in today's global marketplace, exchange traded funds (ETFs) were developed as a way to capture the performance of a basket of stocks combined with the flexibility of trading throughout the day, similar to a stock.
Combined with individual securities, I use ETFs because they offer:
* Liquidity. Like stocks, many ETFs are extremely liquid. Since they trade daily on major stock exchanges, investors can place market, limit, or stop orders at any time during the trading day.
* Transparency. ETFs publish their holdings daily so you can know what you own and make well-informed investment decisions.
* Diversification. Many ETFs represent an investment in a basket of securities, thus providing a convenient and single-trade approach to diversification. This level of diversification would be time consuming (and expensive) to replicate using individual stocks and bonds.
Exchange traded funds (ETFs) are subject to market risk, including the possible loss of principal, and may trade for less than their net asset value. ETFs trade like a stock, and there will be brokerage commissions associated with buying and selling exchange traded funds unless trading occurs in a fee-based account. Investors should consider an ETF's investment objective, risks, charges, and expenses carefully before investing. The prospectus, which contains this and other important information, is available from your investment professional and should be read carefully before investing. Diversification does not ensure a profit or protect against loss.
Contact Me
I understand how difficult it can be to select a financial advisor and how conscious you may be of proprietary products and self-dealing. However, I base my practice on serving you—not selling products.
Contact me by phone or email, or just stop by my convenient location in downtown Conshohocken. Let me show you how Stifel can serve your wealth management and investing needs.
Stephen E. Dolan
Stifel
20 Ash Street, Fourth Floor
Conshohocken, Pa.
(610) 567-1934
dolans@stifel.com
Article provided by Stephen E. Dolan, Associate Vice President/Investments, with Stifel, member SIPC and New York Stock Exchange, who can be contacted at Stifel's Conshohocken office at (610) 567-1934.
Photography by Jody Robinson
Published (and copyrighted) in Suburban Life Magazine, September 2018.
.
.
.