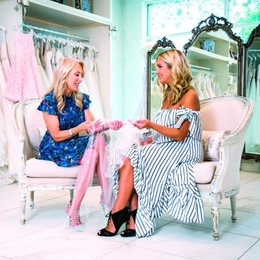 Your One and Only
At La Belle Mariée Bridal in Langhorne, a bride-to-be's search for the perfect dress becomes a luxurious and magical experience.
Gabrielle Frederico recently brought her first child into the world. Shortly after, as she let her imagination roam, Gabrielle envisioned a day in the not-too-distant future when she and her daughter, Savannah, along with her mother, Michele—three generations of women—were working side by side, making the dreams of brides-to-be come true.
Sharing in the joy of others is exactly what the mother-daughter duo of Gabrielle and Michele does on a daily basis. In fact, it was the main reason they opened their Bucks County bridal salon La Belle Mariée Bridal three and a half years ago. One day, when Savannah is older, they hope she will join them, and carry the family tradition into the future.
The story of La Belle Mariée Bridal is one of family, of love, and of hard work. When Gabrielle and Michele first opened La Belle Mariée Bridal in Langhorne, Michele hadn't worked in 40 years and was looking for a bold career move, while Gabrielle had been teaching mathematics. It felt like the perfect time for the two of them to pursue their lifelong dream of starting a business together.
Driven by a love for fashion and a desire to fill a void for brides-to-be in Bucks County and surrounding areas, the duo turned their dream into reality. With the help of a mentor, doors started to open and everything began to fall into place. Embarking on their "fun, crazy, and insane" retail adventure turned out to be one of their best decisions. It involved a major learning curve and a huge leap of faith. The story took on a bold new chapter the birth of Savannah; although she was just born in July, she has already visited her mother and grandmother at work.
"My daughter will grow up coming into the store and being a part of what we do here," Gabrielle explains. "Obviously, she can make up her own mind and pursue a different career path, but hopefully she will want to work with us in high school and after college. It would be very exciting for us to pass it down to one more generation of women in the family."
It's not just the retail aspect of owning a bridal shop that Gabrielle sees as the family legacy; it's also about values: "By having Savannah be part of the shop, I want to teach her the importance of customer service, a strong work ethic, and the joy of working with brides and making them happy on their special day."
Of course, Michele is thrilled about Savannah's arrival, too. "My granddaughter will know that her mother and grandmother started this business," she says. "If she wants to take it over one day, then she will be the third generation." Michele hopes to share some important life lessons with her granddaughter, including the fact that a woman can start a new career and business at any age and become successful. "Our dreams became a reality with the shop," she adds, "and now the baby is truly another dream come true."
Saying Yes
Walking into La Belle Mariée Bridal is like entering a magical world of tulle, lace, silk, and satin, along with everything else that evokes happy wedding memories.
The French-themed bridal salon is extremely inviting—bright, white, and luxurious. When a bride says "yes to the dress," for example, she is offered a glass of champagne to toast the occasion. Brides-to-be, as well as their bridal entourages, appreciate the lavishness, ambiance, and VIP treatment, as they seek the perfect gown for their wedding day.
"We offer a luxury experience," explains Michele. "A lot of our customers say that when they look around they feel like they are in a high-end Fifth Avenue bridal shop, with friendly, approachable staff and affordable dresses."
La Belle Mariée Bridal has made such a mark that the salon has already undergone its first expansion. For the first year of its existence, the salon occupied 1,600 square feet of space, and as demand started to outgrow capacity, the co-owners doubled the space by renting the shop next door. Now, there is more room for bridal gowns and dressing rooms so brides-to-be and their bridal parties can showcase their choices to family and friends, in complete comfort.
Some of the salon's most popular dresses come from designers such as Barcelona-based Pronovias, Israel-based Alon Livné, and all-American Hayley Paige, as well as Rosa Clará, Maggie Sottero, Kenneth Winston, Paloma Blanca, and Mikaella Bridal.
The no-pressure bridal salon aims to appeal to every bride, regardless of budget, age, or vision for her wedding day. The shop also has 100 sample dresses for sale at a significant discount, as well as plus-size dresses up to size 24. Gabrielle and Michele urge their designers to make dresses in sizes 14 to 16, whereas many bridal shops carry dresses only up to size 10.
'An Exquisite Experience'
After nearly four years in the business, having seen the delighted faces of brides and their parents, sisters, and friends, La Belle Mariée Bridal's co-owners have a cadre of bridal tips. One of Gabrielle's best suggestions: "Start your search earlier rather than later. As soon as you get engaged, begin looking online and in magazines; start thinking about your look."
"We are all about making the girls happy," Michele adds. "We never pressure a girl to buy a dress that day or to try on a dress that is over her budget. Most of our brides-to-be come to the salon because they hear from friends that we provide an exquisite experience, and they want that same incomparable feeling."
Also, knowing the particulars of a wedding day—the whens and wheres—is extremely helpful.
"Knowing your venue and what time of year will play some part in what you are going to wear," Gabrielle says. "If you are getting married on the beach, you are most likely not going to wear a long-sleeve satin ball gown." Also, when a bride-to-be is ready to shop for a dress, Gabrielle would advise her to bring "the three to five people whose opinions she values the most." The final decision, though, should be based on "what the bride feels best in."
Gabrielle remembers quite clearly the experience a bride goes through in preparation for her wedding. It was only a short time ago that she chose her own wedding gown, having walked down the aisle in October 2016.
"For us, the goal is to make our brides feel like the most beautiful and confident version of themselves on their wedding day," explains Gabrielle. "We want each bride to leave here so happy and so excited with her choice of what to wear on her wedding day by giving her a truly magical experience."
La Belle Mariée Bridal
14 Summit Square Center
Langhorne, Pa.
(215) 860-6400
LaBelleMarieeBridal.com
Photography by Jody Robinson
Published (and copyrighted) in Suburban Life Magazine, September 2018.
.
.
.