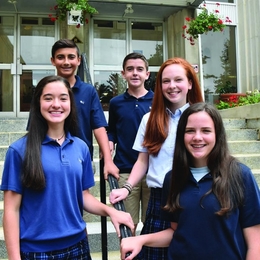 Mind, Body, and Spirit
At Notre Dame High School in Lawrenceville, students discover their individuality, a sense of family, and multiple pathways to personal growth.
Going to Notre Dame High School in Lawrenceville, N.J., was "an easy choice" for Chad Nelson, a member of the school's class of 2019. To begin with, his mother graduated from Notre Dame in 1982, so he had a good idea of the education he would receive.
"There's just a feeling of family here," Nelson says of his soon-to-be alma mater. "I've been at Notre Dame for four years, and through the excess of opportunities that Notre Dame offers, I've been able to pursue my individual needs. I feel like every student at Notre Dame does. To say that there are opportunities to suit all interests is an understatement."
Notre Dame prides itself on its ability to educate the whole student—mind, body, and spirit. Rose Stevenson can attest to this fact, based on her experience as one of six Notre Dame College and School Counselors, as well as her perspective as a Notre Dame alumna.
"We have 1,026 unique individuals here, and we create a four-year academic plan for each child," she says. "These are individual to each child and based on his or her interests and strengths. We revise these depending on how they change and new things they may want to explore."
Joining a Community
Nelson is a fine example. He became heavily involved in athletics, as well as in Campus Ministry, at Notre Dame. He has been a soccer player throughout his time at Notre Dame, having earned a spot on the varsity squad the last two years. He is also a member of the National Honor Society and Catholic Athletes for Christ.
"I'm not keeping my faith a secret anymore," he says. "Faith is a big part of who I am, and I want to continue taking part in retreats. Notre Dame definitely helped me find a new relationship with God."
As for having a deeper connection with God through Campus Ministry, Nelson says he has found deeper meaning and his "inner self." As a result, he is pursuing his personal goals—namely, his passion for music—with clear eyes.
"Thanks to the outreach and support from Notre Dame and from the teachers and faculty, I've been able to take my individual talents and run with them without restraints," Nelson says. "This is a community that is so for you growing as a person. People are supportive, they listen, and they've allowed me to be myself."
Like Nelson, Nate Duff is the child of a Notre Dame alum. As a result, he has spent his whole life hearing about the community-oriented nature of life at the school.
"My dad is an alumnus, and we feel like Notre Dame is a family," says Duff, class of 2022. "I want my Catholic faith to be a part of my life. When I came here, everyone was so friendly. … I am getting to try new things and get out of my comfort zone. Everyone is so nice here you don't feel awkward. Not everyone knows each other in public school. This is a community."
Cortaz Williams, class of 2020 and star running back and linebacker on the varsity football team, agrees that Notre Dame is a very special place. He left a public school to join Notre Dame and, in doing so, discovered "a totally different atmosphere."
"When I came here, I knew I was athletic and was good at football," he says. "But I also have a passion for drawing. My grandfather could draw. Art allows me to express myself and let out my emotions." Williams drew the logo for the SHADES Club (formerly the African American Club) as well as the logo for Hoops for Hope, an annual student-run fundraiser.
Fully Engaged
An emphasis on intellectual development and community is bolstered by great emotional support, both from fellow students and from the faculty and administration. The ultimate goal: to help students blossom into balanced, confident, and capable adults who are well equipped to take on the challenges ahead.
"We try to create an environment that will allow children to find their self-confidence in going out into the world," Stevenson says. "Self-esteem is so important to develop in high school for students to be able to be engaged in the world."
Options for personal growth and discovery abound. From academic clubs and career-oriented programs, to the creative arts and faith-based opportunities, students have the freedom to explore familiar interests as well as develop new ones.
Sara Haas, class of 2019 and president of the Student Government, says that Notre Dame has allowed her the freedom to soar to greater heights than she could have imagined.
"I am able to do things I never saw myself doing," she says. "Teachers and students here put their trust in me and gave me responsibilities. They have let me surprise myself and allowed me to realize all I am capable of. … At Notre Dame, you can be many things—an athlete, a performing arts student, a campus minister, a part of Model U.N. We become well-rounded students because of the opportunities to participate in so many different activities."
Haas observes that while piety and devotion are supported at Notre Dame, the student body is not comprised of just one belief system. She says, "Our faith base is so important and our Catholic mission so strong, but no matter what you believe, we have each other."
For Nelson, the sky is the limit in terms of what the future holds. He hopes to attend university at a school such as the University of Texas, New York University, the University of Miami, or the University of Michigan, where he hopes to study sports or music marketing. No matter where he goes after graduation, he says he will take the memories of Notre Dame with him.
"Notre Dame is a family atmosphere and environment," Nelson says. "You don't really understand it until you experience it. … People here care about you, and they want to see you succeed."
Notre Dame High School
601 Lawrence Road
Lawrenceville, N.J.
(609) 882-7900
NDNJ.org
'More than Just a School'
Here's what other current students say about their experience at Notre Dame High School.
"We're not sheltered from everything at Notre Dame, and we are supported by other students, coaches, and mentors. Thirty years from now I will look back and realize Notre Dame set me up not only to succeed on paper but emotionally as well. Notre Dame has prepared me to ascend the ranks and become a leader."
—Robbie Buecker, class of 2019, West Point class of 2023
"Everyone is so kind to one another and they help each other. There are many opportunities. It is not hard to find a group that is right for you."
—Gwenyth Lowery, class of 2022
"Notre Dame is more than just a school."
—Owen Barlow, class of 2022
Published (and copyrighted) in Suburban Life Magazine, October 2018.
.
.
.