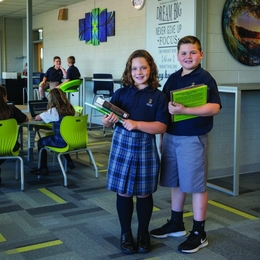 Leading the Way
After a change in leadership, Our Lady of Good Counsel Catholic School in Southampton has begun an exciting new chapter in its history.
Our Lady of Good Counsel Catholic School has a rich and storied history. Dating back to its founding in 1954, the school has been an integral part of Our Lady of Good Counsel Parish—now led by Father Robert Suskey—and the local community. As of last year, when a new administration led by Principal Barbara Riley took the helm, OLGC's future appears to be brighter than ever.
"When I first came here, the school knew they wanted to improve in certain areas," says Riley, now in her second year as principal of Southampton-based OLGC. "There was a lot of enthusiasm and a strong sense of community of people who cared, both within the building and outside of it, and those elements were essential as we went about rebranding the school and moving in a new direction."
This "new direction" included some bold changes—some subtle and some highly visible to the student body, which includes 255 students from preschool through eighth grade. OLGC adopted a new school logo and new school uniforms, for example, and it also created innovative educational spaces to cater to students' unique learning styles. In addition, the school enhanced its faculty, with a team of state-certified teachers who are passionate about helping students prepare for the next phase of their education.
"Change is difficult, whether it be a change in faculty or a change of teaching styles and methods," Riley says. "We knew we had to provide the faculty with professional development to meet the needs of today's learners. We had some of our teachers retire, and we've been able to bring on some enthusiastic, talented new teachers. I'm thrilled with the new team of professionals that make up our faculty and what they've been able to do in a short time. They have a good idea of where the school had been and they have embraced the direction we want to move."
Although the new leadership provided the spark for these changes, among others, Riley says getting buy-in from all stakeholders—the faculty, the parents of students, and the student body—added fuel to the revival of the 64-year-old school.
"We've had a lot of help in addressing some of the challenges we were facing," Riley adds. "With something like choosing the new logo or new uniforms for our students, we wanted to make sure everyone's voice was heard. When you have everyone moving in the same direction, it garners excitement—and it makes it easier to get to where you want to go."
Working Together
One of the things Riley appreciates most about OLGC's teachers is the fact that they embrace technology, which is now abundant in OLGC classrooms. Teachers use SMART Boards and Google Classroom to streamline workflow and facilitate paperless communication with students. Also, last year the school adopted a one-to-one initiative whereby each student in the seventh and eighth grade received a Chromebook laptop to enhance classroom learning. The initiative has since been expanded to include sixth graders as well.
The most dynamic addition, technologically speaking, is a new space called the Digital Learning Commons. Half library and half tech lab, the Digital Learning Commons is a bright, welcoming environment where OLGC students of all ages and skill levels come to build on their computer proficiency.
"The response to the Digital Learning Commons has been overwhelmingly positive," Riley says. "The space itself does not look like your average classroom. It has a welcoming feeling and is part of the reason our students love to go there. The room includes spaces where students can work collaboratively or creatively in groups or in pairs. It's a good example of how learning has become more student-directed, led by a skilled teacher who can guide them."
While the layout and design contribute to students' desire to spend time in the Digital Learning Commons, Kristen Gentile says the space is all about improving "digital literacy."
"Technology has been part of these kids' lives since the day they were born, so my job is to make sure they are advancing their knowledge," says Gentile, OLGC's media specialist. "It's a lot about differentiating instruction, catering to those who need more help while challenging those who have more competence. The visual and interactive components help to reinforce learning, because not all students learn best by reading from a textbook."
That having been said, Gentile says she is careful to make sure students do not become reliant on technology, instead helping them use it as a tool to deepen their understanding. Also, with every interaction, her chief priority is to teach students how to use technology safely and responsibly.
"We want our students to understand what the Internet consists of and what it can help them accomplish," she adds. "We also want them to have a firm understanding of the potential dangers and also to have an awareness of their digital footprint—the fact that whatever they're doing on the Internet will live on forever."
'An Exciting Time at OLGC'
Besides creating dynamic spaces designed to help students learn new skills, OLGC intends to make substantive changes to its existing classrooms. A newly remodeled Kindergarten, for example, features modernized colors, shapes, and other design elements that enable young students' ability to learn. That classroom features adaptable desks and tables designed to promote collaboration.
OLGC also helps students to form deeper relationships with the world around them. For starters, the school reshaped its Student Council to focus on collaboration, shared leadership, and a commitment to school-wide service. In addition, OLGC now has a chapter of the National Junior Honor Society, which includes a minimum of 10 service hours per year as a requirement.
Although members of the administration are proud of what they have accomplished so far, they also realize the journey has just begun. In other words, they foresee more progress on the horizon, specifically relating to students' academic preparedness. OLGC is already accredited by the Middle States Association, which is designed to help schools—and their students—continuously improve, but Riley's administration has an "ultimate goal" in mind: to achieve Blue Ribbon status, a designation awarded to schools in the Archdiocese of Philadelphia based on students' overall academic excellence.
"I'm thrilled with the direction we're going," says Marina McCann, OLGC's director of marketing and advancement. "We've hired a lot of new staff. We've changed our physical appearance and raised the bar academically, and we will continue to do so. It's an extremely exciting time to be at OLGC."
Others from outside of the OLGC inner circle seem to share in McCann's enthusiasm. Enrollment numbers are trending in a positive direction, for example, and the readers of Bucks Happening magazine recently voted OLGC "Best Elementary School in Bucks County."
"We're here because we want to make a difference in our students' lives," Riley says. "When a student graduates from OLGC, we want him or her to be dedicated to leading a life of faith and service, and to have the academic background and excellence he or she will need to compete in a global society. We want the school to realize its fullest potential, and we want the same for our students. We're confident we're moving in the right direction."
Our Lady of Good Counsel Catholic School
611 Knowles Ave.
Southampton, Pa.
(215) 357-1300
School.olgc.org
Photography by Jody Robinson
Published (and copyrighted) in Suburban Life Magazine, October 2018.
.
.
.