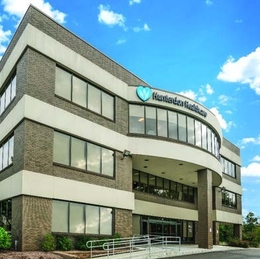 Providing the Full Circle of Care
Hunterdon Healthcare expands services into Bridgewater, with cutting-edge technology and top-notch professionals, to provide an exceptional healthcare experience.
When patients walk into Hunterdon Healthcare's new facility in Bridgewater, N.J., they will be immediately impressed by two things: the state-of-the-art facilities; and the high caliber of the medical professionals committed to providing the best care possible.
Hunterdon Healthcare's services have expanded into the Bridgewater Medical Office Building at 1121 Route 22 West, which features a state-of-the-art outpatient lab and imaging facilities, along with a multi-specialty ambulatory surgery center, which was the result of two years of planning and development. Additional services at this location include specialty care practices, breast surgery, plastic surgery, urology, cardiology, endocrinology, gastroenterology, physical and occupational therapy, and soon, podiatry. These services allow the healthcare system to provide comprehensive care to patients.

In other words, the Bridgewater location is an extension of the Hunterdon Healthcare motto, "Your Full Circle of Care."

"Technology has helped us by leaps and bounds in medicine," explains David Skillinge, D.O., the president of Hunterdon Medical Group. "Yet, it's important to remember that behind the technology stands real people. We believe that what really helps drive health care forward is the vital bond between physician and patient interaction.

"Our model has been to bring cutting-edge technology to our patients and to temper that with very caring physicians and staff who really make sure that the patients have all of their needs taken care of," he continues. "It's the perfect opportunity to merge great physicians with the tools and technology they need to provide each patient with the very best of care."

Hunterdon Medical Group, owned and operated by Hunterdon Healthcare, includes a collection of more than 100 primary care and multi-specialty providers including two urgent care centers—representing 37 offices throughout Hunterdon, Somerset, Warren, and Mercer Counties. Patients come to a Hunterdon Healthcare provider for everything from cancer care, cardiovascular health, health and wellness, emergency care, children's health, behavioral health, weight management, surgery, among other services.

Primary care focuses on preventative medicine, which may help to explain why Hunterdon County has been selected "healthiest county in New Jersey" for several years in a row and Somerset County voted number one last year.

Hunterdon Healthcare also includes many private specialists and primary care doctors, in addition to the medical group practices, thereby providing what Dr. Skillinge refers to as "our integrated care model." This model means that all of the medical professionals involved in a case "share a common chart," he adds. "In this way, the patient can move seamlessly through all of the levels of care and their medical information, test results, and procedures can follow them from one provider to another."

Deborah Clewell, executive director of the Bridgewater Ambulatory Surgery Center, is extremely proud of her team, which includes seasoned staff who have experience working in operating rooms, recovery rooms, and catheterization labs, among other areas of the facility. Dozens of procedures have been performed in the center since opening its doors in June.

"I am getting incredibly positive feedback; total patient satisfaction is 97 percent," explains Clewell, a Registered Nurse, Certified Administrator in Surgical Center Nursing, and a Certified Operating Room Nurse. "We are hearing that the patients like the one-on-one nursing experience, and appreciate the kind and attentive care. If people want to receive excellent services that are efficient and also cost-effective, with a great focus on safety, they should definitely come here."

In addition, there's Hunterdon Advanced Imaging at Bridgewater, a new outpatient facility that provides top-notch mammography care, what Manager and Patient Care Navigator Alice M. Quinn describes as "a spa-like atmosphere." The center provides 3-D mammography, bone density, ultrasound, MRI, CT scans, X-ray and cardiac testing.

Quinn, who is a Certified Navigator and skilled in mammography and sonography, says that patients enjoy the fact that the center offers a calm, private place to relax in their robes prior to their procedure. She says the facility "really paid attention to patient comfort, as well as providing the highest level of imaging quality that you can get on the market right now."

In the near future, each woman will go home with an added touch: a bouquet of carnations.

"We wanted this to go above and beyond the typical imaging and mammography experience," Quinn adds. "As a result, we use a Bella Blanket, a premium flannel-flocked protective coverlet that warms the surface and cuts down on the motion. No one enjoys coming in for a mammogram, but we made this a place where they won't dread it as much."
Hunterdon Healthcare also installed the latest state-of-the-art mammography system, Senography Pristina™, the only one in Central New Jersey. This system is the most advanced technology for detection and early diagnosis of breast cancer. It's safe, effective, and provides a layer-by-layer look through and around breast tissue.

The positive feedback received so far has been a morale boost for staff, all of whom Quinn describes as "passionate about the work that we do here."

"When we know that we have made a difference in diagnosing and helping a patient, it is truly music to our ears," she adds. "Women generally pick most of the healthcare providers for the entire family. So, if we can make them happy with their imaging, the more likely they are to come to Hunterdon Healthcare for their other medical needs. We are very proud of this."

Dr. Skillinge says this kind of professionalism, passion, and commitment to care is exactly what keeps patients coming back to use Hunterdon Healthcare services.

"The people who we have working here are clearly the strength of our medical system," he concludes. "We are known for going the extra yard while taking care of people and that helps us deliver consistently excellent health care."

For more information, visit HunterdonHealthcare.org.
Photography by Jody Robinson

Published (and copyrighted) in Suburban Life Magazine, October 2018.
.
.
.