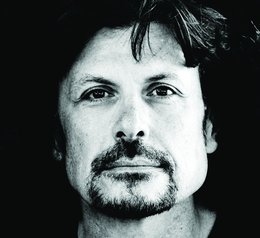 Mr. Versatility
Hooters co-founder Eric Bazilian has come a long way since 1985
Most people know Eric Bazilian as the vocalist, multi-instrumentalist and co-founder of The Hooters, whose most popular songs include "And We Danced," "All You Zombies" and "Day by Day," from their debut album—1985's "Nervous Night." But Bazilian is anything but a one-trick pony.
The Hooters, which as a group turned 30 this year, have recorded scores of original songs composed chiefly by Bazilian and founding member Rob Hyman. In addition, Bazilian has written or co-written songs for a diverse list of recording artists across various genres: from Ricky Martin to Jon Bon Jovi, Joan Osborne to Jonatha Brooke, Cyndi Lauper to German heavy-metal band Scorpions.
Born in Philadelphia, Bazilian is a product of Germantown Friends and the University of Pennsylvania, where he studied physics. He now lives in an "undisclosed location" in the Philly suburbs for most of the year but spends his summers in Sweden, which his wife calls home.
In what has become something of a post-Thanksgiving tradition, The Hooters will play at the Electric Factory in Philadelphia on Nov. 26. Fans planning to attend should expect not only the classics but also a lot of songs from the band's most recent records, according to Bazilian. "It's not a nostalgia show at all; the audience doesn't expect that," he says. "It will be a good survey of our career."
Whether it's an upcoming Hooters concert, his various collaborations (including an alliance with Swedish musician Mats Wester) or his own solo work, local music fans should expect to see—and hear—much more of Bazilian in the near future.
Q: The Hooters are celebrating their 30th birthday this year. Most bands don't last half as long. How and why have The Hooters endured? It's like a 30-year marriage. We've lasted because we had a common goal, and we have so much fun on stage. We all get along, even though we all have strong personalities. … We did have a break, so we had eight years away from each other. When we got back together we were like, "What were we thinking?"
I wonder if most people realize how many songs you've written that aren't Hooters songs. When did you realize you were good at writing songs for other people? Sometimes I'll hear something on the radio and say, "My God, I wrote that." [Joan Osborne's] "One of Us" was the start of that; before that, the thrust was writing Hooters songs. I went home one night and wrote ["One of Us"] in less than an hour. … We did one demo take, and the rest is history. Based on the success of that song, my phone started ringing off the hook. It was then that I got involved with [songwriter/producer] Desmond Child, and I've written a bunch of stuff with him since.
You've written songs for artists with very different styles, including the heavy-metal band Scorpions. Is it a matter of putting yourself in character, so to speak, for each new song? That's what Desmond does; he's a real chameleon. I just do my thing—I'll play my guitar and free associate lyrics and melodies. … Scorpions was a hand-in-glove fit, because I'm a closet hard-rock guy. I first met them in 2003, and they flew me to Germany. We immediately hit it off.
You studied physics in college. Do you think you would have made a good physicist if this whole music thing didn't work out? I would have been a lousy physicist. I didn't have the gift or the motivation, but I was in school with plenty of people who did. … I liked physics, but I knew I would play rock 'n' roll after school. I think I would have made a good M.D., though. I took the MCAT (Medical College Admission Test) because I wanted to explore that part of my brain and see if I was still interested in it. I keep saying I might go back to it eventually, but every year "eventually" becomes less and less likely.
You've played some huge shows since the 1980s, not only in Philly but also around the world. Any memory in particular that stands out? There are the obvious ones—Live Aid, The Wall in Berlin, Amnesty International—which were some really magical moments. We also played in a castle on top of a mountain in Germany. It was just exquisite; there were 3,000 people there, and it was a perfect night because the band just clicked and we transcended space and time. The audience was right there with us. In a way, those shows are more significant than the really big ones.
I understand The Hooters are very big in Europe. What do Europeans see or appreciate in your music, maybe even more so than American audiences? Germany has really been our most faithful audience. Germany just seems to have a culture of people going out to hear live music. They listen to all kinds of music there; it's not just people who listen to just metal or just singer-songwriters. The festivals there are really ecstatic. I love it, because it's a big world, and I don't want to limit myself to one culture.
A lot of bands will move to L.A. or Nashville or some other hotspot once they hit it big. You've seen the world multiple times, but you've also stayed local. When you're on the road for months at a time, the last thing you want to do is pick up your roots and move; I still have family here. Also, I don't think we could get all five of us to agree to move to somewhere like L.A. or New York. We've been able to make a go of it here. Besides that, we really thrive in our own world as opposed to being part of a big scene.
A case could have been made for moving when my career as a songwriter started taking off, and I thought about Nashville. But even as a songwriter, I'm not like the other kids. My thing is much more personal—quirky and unique—and I thrive when I'm working alone. Songwriting is therapy for me.
You played the "Last Call" show at the Spectrum last year. That must have been an incredible experience. I can't think of a more fitting act to do the curtain call. It was very emotional—more than I expected it to be, going back to the Spectrum and stepping off that stage for one last time. We played there a few times before that last show, and I've certainly seen a lot of shows there. It's one of those places you never forget, and it sort of becomes a part of you.
The Hooters will play at the Electric Factory in Philadelphia on Nov. 26.