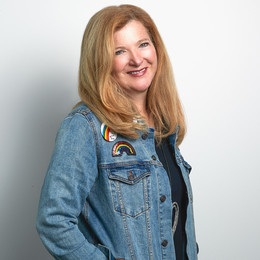 The Fight Never Stops
Inner toughness, community, and a sense of purpose prove invaluable weapons in one woman's battle with cancer.
Everyone has a story about Sept. 11, 2001. More than 17 years later, they still remember precisely where they were, who they were with, what they were doing.
Shelly Fisher has similar recollections of an otherwise unremarkable day that passed more than eight years ago. She remembers every vivid detail, every syllable of the phone conversation in which she learned that her life would be forever changed.
"I was standing in my office thinking: I don't feel sick," she recalls. "I was in shock."
The voice on the other end of the line told Fisher that she had breast cancer. Worse, she also carried a BRCA gene mutation that significantly increased her risk of a recurrence and also made her more susceptible to ovarian cancer. First, the doctor told her, she would have to have her ovaries removed. Then, she had some tough decisions to make.
"If I just had the lumpectomy, I had an 85 percent chance of the cancer coming back, but if I went with a mastectomy, that number dropped to 2 percent," says Fisher, who lives in Villanova. "So I thought: OK, I guess that's what I'm going to do."
Such jarring news aside, she found comfort in the idea that, once she "got over the mountain" of surgery and post-surgical recovery, she could move on.
"In my mind, I was thinking: I'm still here, the sun is shining, and I'm alive," she says. "To me, I was determined to make that a chapter in my life, not the whole book. That was then."
Never Alone
For the next seven years, Fisher went about her business. She filled her days with family, friends, and meaningful work, both as an entrepreneur and as a philanthropist, overseeing the foundation and educational scholarship program she started in honor of her father, the notable Philadelphia businessman Herb Lotman.
In 2017, she got another unexpected phone call, with another shocking diagnosis: a tumor on her bladder, unrelated to her breast cancer.
"I was like, 'Are you kidding me?'" she recalls. "When you get a call like that, especially after what I had already gone through, you think the sky is falling. … For a short period of time, you let yourself be scared and depressed, but I didn't want it to be all encompassing."
She dug in her heels. She devoted herself to her work. And she committed herself to overcoming her diagnosis.
"For so many women, the tough times come in times of quiet, when you're awake at night and all the fears and worries creep in and all you can think about are the question marks," she says. "Those question marks can overpower any of our brains. It's the not knowing that causes so much stress."
From Fisher's experience, the moments of darkness and doubt give rise to all kinds of questions: How difficult will the treatment be? How will I pay for the treatment? Where do I begin in the process of getting through this, mentally and physically? Will I get through this at all?
Local organizations such as Linda Creed Breast Cancer Org stand ready to help women and their families obtain such answers. Founded in memory of the Philadelphia singer-songwriter and lyricist who died at the age of 37 after a 10-year battle with breast cancer, the foundation provides support, advocacy, and educational services for those in need.
"One of the things we do is help women navigate the health system," says Donna Duncan, executive director of Linda Creed (LindaCreed.org). "Some women are not comfortable asking questions, and our goal is to help them ask the good questions to get the right answers for them. We do that kind of education for survivors as well."
Some women contact the organization seeking guidance in regard to the next steps of treatment. Others come because they lack the financial wherewithal to fund treatment or even preventive measures, such as mammograms. Others simply need an understanding ear.
"We get to talk about a lot of different issues, ranging from different treatment options and their side effects, as well as the outcomes of those treatments," she says. "Lumpectomy is a wonderful thing, but no one tells you that your breast changes afterward. We want women to understand the ramifications of the different types of treatment.
"As they go through the process," she continues, "we can also provide financial help, because health problems are the No. 1 cause of bankruptcy. For some women, co-pays are simply beyond what they can afford. In many cases, women who find themselves with financial difficulty are not poor; they're just not used to asking questions or don't know which questions to ask."
Organizations such as Duncan's can also help to manage the emotional and psychological burdens that mount after a cancer diagnosis.
"Some women just don't get through it; they're constantly traumatized," Duncan says. "When mammogram time comes due, there's no relaxation. They're always waiting for the other shoe to drop."
Some women need guidance in regard to sharing difficult news or seeking support from family members, including how to navigate delicate conversations with young children. Duncan says the family and friends of someone who has received a cancer diagnosis also need help navigating such unfamiliar terrain.
"It's a traumatic experience, and it doesn't affect just the individual who has the cancer," Duncan says. "As a result, the individual who has the cancer is often left with a reduced support system. Marriages break up because partners are not sure how to handle it. You also have people who were good friends who you thought were better friends than they turned out to be, especially if it turns out to be metastatic cancer. People don't know what to say, but it's OK to say, 'I know you're scared, and I would be, too, if I were in your shoes.'
"It's important for women to know there are folks out there who can help, so they don't have to go through treatment alone and afraid," she continues. "You need to share with people, and there are people that can help you."
'Through Hell and Back'
As it turns out, Shelly Fisher is one of those people. Her strength inadvertently spawned something of a movement—a rallying cry—for other women who have had to endure similar difficulties.
"Two weeks [after my second diagnosis]," she recalls, "I was struggling, and I heard these words in my head: You've done this before, you can do it again. Shelly, you are one tough b*tch. Just pull it together. It was just something I said to myself, something that clicked on my inner cheerleader. I never meant it to be a brand."
She had a piece of jewelry made featuring those three words—One Tough B*tch—to remind her of what she had already accomplished. She was sensitive to the power of that word, realizing some people might consider it crass or offensive, so she wore it backwards so one else could read it. Just having it around her neck gave her the reminder she needed to persevere.
On Mother's Day, Fisher was being interviewed on Modern Hero, a digital series that celebrates strong women. She shared her story, including the part about the necklace that helped her in her darkest times. More than 400,000 people viewed the piece.
"My phone went crazy after that," she says. "I had so many women calling me to tell me they have had their own challenges."
The necklace has since grown into a burgeoning empire based in Conshohocken. One Tough B*tch has become a lifestyle brand (OneToughB.com) producing jewelry, clothing, and accessories, for now, designed to help others get through their challenges, medical or otherwise: the loss of a job, the death of a loved one, a cancer diagnosis. It has also given rise to a rapidly growing online community of women eager to share stories and support.
"If I saw someone I didn't know wearing a [One Tough B*tch] necklace or jewelry, I would know that this woman has been through hell and back," Fisher says. "But whatever it is she's had to go through, I know she's tough because she's gone through it."
Although Fisher will always remember those two phone calls informing her of her diagnoses, it's another call that has had the greatest impact: "The second I found out that I carried the [BRCA] gene, the thing that haunted me most was the fear that it would go to my daughter. When I got the call, telling me she didn't have the gene, there was no better gift anyone could give me. I thought: OK, it stopped with me."
Photograph by RSC Visuals
Published (and copyrighted) in Suburban Life Magazine, October 2018.
.
.
.