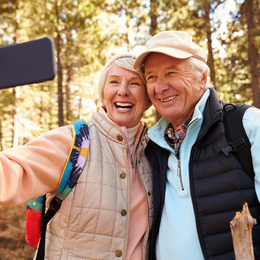 The Next Chapter
At the Greater Philadelphia Area's many fine continuing care retirement communities, residents discover fellowship, enrichment, and peace of mind.
For a senior, saying goodbye to the family home may be among the most difficult decisions he or she will ever have to make. Then again, the decision to do so tends to be much less onerous if the individual is moving into one of the many fine continuing care retirement communities (CCRCs) throughout the Greater Philadelphia Area. At these, residents discover an abundance of lifestyle and enrichment opportunities, as well as a built-in sense of security, and of knowing they will be cared for no matter where life takes them.
"With maintenance and housekeeping taken care of, you can focus on the things that you enjoy," says Wendy Patton of Acts Retirement-Life Communities, which has a family of CCRCs throughout the region. "Should you ever have a crisis or immediate need for care, you and your family will not have to scramble to find availability in a quality place. You are already in a community that offers top-rated assisted living, nursing care, and rehab services all on the same campus."
Moving into such a community may enrich one's life in more ways than one, according to Janet Thompson, vice president of marketing for Waverly Heights in Gladwyne. At communities such as hers, locally based seniors find plenty of opportunities to grow by developing new skills, expanding their minds, and embracing new experiences.
Residents of Waverly Heights enjoy frequent lectures, musical presentations, and access to college-level educational courses, as well as outlets for creative expression, fitness, and volunteerism. But Thompson considers opportunities to interact with fellow residents one of the most valuable aspects of life in a CCRC.
"A CCRC provides many opportunities for socialization, which studies suggest extend life," she says. "The programs, lifelong learning opportunities, dining, fitness, and healthcare services—all contribute to an enhanced quality of life for residents of a CCRC."
More than a Place to Live
CCRCs are more than just welcoming places for older individuals to call home; residents of these communities typically move in while active and independent so they enjoy a wealth of amenities and services, everything from art and music to gardening and woodworking to religious and cultural activities. CCRCs also provide the security of a having a care plan in place should one's health needs change down the road.
The communities of Presby's Inspired Life, for example, take a holistic approach to daily life. A resident's apartment or cottage may serve as his or her home, but the rest of the campus serves as a veritable playground, with 24-hour fitness centers, live theatrical performances, and high-end dining options and opportunities to widen one's social circle, if one so chooses.
Those who have an appreciation for natural beauty may be drawn to CCRCs such as White Horse Village in Newtown Square. The 96-acre campus abuts Ridley Creek State Park, offering expansive vistas of woodlands, meadows, and gardens, which can have a soothing effect on one's emotional health.
"It is not a high-rise apartment building community," says Dottie Mallon, vice president of marketing and public relations for White Horse Village. "Cottages, houses, villas, and apartments are nestled in a natural arboretum-like campus. People who enjoy the outdoors and nature will love it here. We even have a doggie park for our furry friends."
Exceeding Expectations
Likewise, today's CCRCs also offer a host of dining possibilities, including take-out and dine-in options, with menus designed to appeal to a wide variety of individual tastes and dietary needs. At Presby, which has multiple locations throughout the Greater Philadelphia Area, all of its campuses pride themselves on delivering exquisite dining experiences that focus on fresh ingredients and popular cuisine.
For example, Presby's Rosemont campus provides culinary inspiration "rarely seen anywhere else," according to a Presby representative. Ron Andrews, the community's award-winning executive, has led the kitchen at Rosemont since 2004, having mastered his craft in some of the country's most prestigious kitchens. Whether a resident has a taste for haute French cuisine, Asian-inspired dishes, or old-fashioned comfort food, Rosemont's dining team aims to exceed expectations with every dish.
After mealtime, residents of CCRCs can partake in a variety of activities to enliven the mind, body, and spirit. Depending on the campus, activities include everything from bocce and croquet to shuffleboard and golf to hiking and water-based activities. And many of these CCRCs provide easy access to attractions throughout the Greater Philadelphia Area, by way of museum visits, theater performances, and shopping excursions.
Perhaps the greatest appeal of living on such a campus comes from the security residents find—both in terms of everyday campus living as well as for the future. CCRCs employ highly trained healthcare staff members who are well equipped to deal with onsite emergencies. Also, those offering in-house rehabilitation services and personal care enable residents to maintain their independence for as long as possible. Partnerships with area physicians, health systems, and nursing providers enable residents to have a continuum of care.
"The best value of living in a CCRC is a carefree lifestyle with peace of mind, knowing that you will be taken care of should the need arise," says Mallon of White Horse Village, which offers three levels of care—skilled nursing, personal care, and memory care—in all of its private suites. "It is the greatest gift you can give to yourself and your family."
Staying Engaged
Highly rated CCRCs, independent living communities, and skilled nursing/rehabilitation facilities abound in the Greater Philadelphia Area. Each of the locations listed below is devoted to helping residents remain engaged with the world around them.
Acts Retirement-Life Communities
Multiple area locations
ActsRetirement.org
The Attleboro Community
Langhorne
AttleboroCommunity.com
Barclay Friends
West Chester
BF.Kendal.org
Chandler Hall
Newtown
CH.Kendal.org
Dunwoody Village
Newtown Square
Dunwoody.org
Friends Home & Village
Newtown
FHVpa.org
Masonic Village at Lafayette Hill
Lafayette Hill
MasonicVillages.org
Pickering Manor
Newtown
PickeringManor.org
Pine Run Retirement Community
Doylestown
PineRun.org
Presby's Inspired Life
Multiple area locations
PresbysInspiredLife.org
Waverly Heights
Gladwyne
WaverlyHeightsLtd.org
White Horse Village
Newtown Square
WhiteHorseVillage.org
Published (and copyrighted) in Suburban Life Magazine, October 2018.
.
.
.