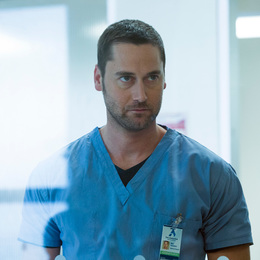 All Heart
Ryan Eggold, star of the hospital drama "New Amsterdam," opens up.
During a recent visit to Philadelphia's Comcast Center, Ryan Eggold had a lot to say about New Amsterdam, a new one-hour hospital drama on NBC. In preparing for his role on the show—a hospital medical director named Dr. Max Goodwin—the 34-year-old Eggold has had to learn medical jargon, and he's enjoyed interacting with patients on the set.
New Amsterdam got its inspiration from the book Twelve Patients: Life and Death at Bellevue Hospital by Eric Manheimer, M.D., the former medical director at the nation's oldest public hospital. The show follows Eggold's Dr. Goodwin as he sets out to dismantle the hospital's bureaucracy and focus more intently on each patient. The experience, he says, has given him insight into the nature of the human animal.
"I'm inspired by Eric and his story," Eggold says. "I think it's easy to forget to care. It's easy to become complacent. Certainly, speaking for myself, it's a wonderful sort of refreshing feeling that each of us can do this better in any aspect of life: in your career, with your family, with your relationship with health care, with being a doctor, with being an actor."
Eggold's career has followed an upward trajectory since he graduated from the University of Southern California's School of Dramatic Arts. After landing his first role on The Young and the Restless, he has since made his mark on shows such as Entourage, Veronica Mars, and Blacklist. He has also earned fame on the big screen, with a pivotal role in Spike Lee's latest film, BlacKkKlansman.
In the following Q&A, Eggold talks about what he's learned on the set, words of wisdom for fledgling actors, and how his ambitions have evolved over the years.
Q&A
How did you approach Dr. Max Goodwin, your character on New Amsterdam? I take my cues from Eric Manheimer, who wrote the book that the series is based on. What I like about Eric's bedside manner, his heart, and his pathos is that he is also very honest and pragmatic. Eric is full of empathy and humanity, and he wants doctors to approach medicine as human beings helping other human beings. At the same time, he's not overly idealistic or overly sentimental.
Do you think we can all make a difference like Dr. Manheimer did? The easiest and most common answer, I think, is no, in the sense that we get so comfortable thinking: Well, the system is larger than me. The government is larger than me. This hospital is larger than me. This institution is larger than me. So, what can I possibly do that's going to be of any consequence?
Did you want to take this role from the very beginning? No, not at all. When I first heard about it, I honestly said, "Hospital show, no thanks. We've seen it before; I'm not interested." But once I read it I could see right away that it was something different. … It's particularly relevant right now, because not only is it about health care, but there's a larger message about how we get past the part where we disagree to get something done and something moving. It's a reminder for us to care, too.
How do you pick your projects? The most exciting thing to me is shedding light on somebody's real story. I have the privilege of being on a screen looking like a hero and sort of receiving credit for that, which is all well and good, but here's Eric, who's a real guy, really doing and saying these things, not on a screen for millions of viewers and not getting that credit.
In the case of Ron Stallworth in BlacKkKlansman, he's the first black cop in an all-white precinct in the late '60s. He eventually went undercover in the [Ku Klux Klan], and he had enormous courage and determination. So, for me getting to tell those stories of real people is inspiring.
What advice do you have for someone who wants to follow in your footsteps? Primarily, don't waste too much time trying to guess or figure out what you're supposed to be or what anyone else wants you to be. Spend time figuring out who you really are, what you really want, what you're really passionate about, what kinds of stories you really want to tell, what kind of characters you want to inhabit, and then just go after that passionately.
If we had talked 10 or 15 years ago, what would have been your dream career versus the reality of what you're doing right now? Gosh, if we talked 10 years ago, I would have had my head so much in the clouds I wouldn't know what to say or think. I love all those giant popcorn movies; they are fantastic. But more than that, what's really fun for me is telling true stories just because I think they need telling. The fact that I get to tell those stories is extremely satisfying. I am in a great place right now.
Published (and copyrighted) in Suburban Life Magazine, October 2018.
.
.
.