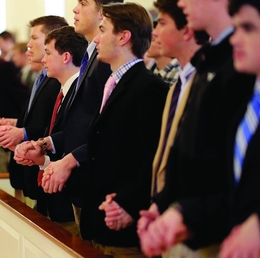 Learning to Lead
At Malvern Prep, young men obtain all the tools they need to know themselves and make an impact on the world, both in and out of the classroom.
Malvern Preparatory School has long been known as a transformative place. By this time next year, however, the school itself will be a campus transformed. Its beating heart will be the Center for Social Impact, a gleaming 50,000-square-foot, three-story building that signifies the permanence of the school's role as an incubator, of sorts, where academic excellence and student leadership intersect.
"We see the Center for Social Impact as a program and a venue that will be at the center of our campus, marrying two of our existing buildings," says Fr. Donald F. Reilly, O.S.A., Head of School at Malvern Prep. "The building will have an all-glass exterior, and it will be transparent for a reason. We want to look out onto the world, and we also want the world to see us."

It's a fitting metaphor for the kind of well-rounded, meaningful education each student receives at Malvern Prep. With every young man who walks through its storied doors, Malvern Prep aims to help him know himself, know others, and find meaningful ways to make a lasting impact on the world around him.

Learning and Teaching
Founded in 1842, Malvern Prep is an Augustinian School, as well as a Catholic and Independent school, for young men in grades six through twelve. Malvern Prep is actively influenced and guided by the values of its patron saint, Saint Augustine of Hippo.

"What that means to me is that our approach places the student at the center of learning," says Fr. Reilly. "Our major project here is self-knowledge, because the understanding of self leads to the understanding of God. Our goal is to have students know themselves and others, to have them know the world, and to embrace the presence of God as a way to live a life of humility, open-mindedness, and service."

The school has long been regarded for its rigorous academic program, which is designed to make students both knowledgeable and highly adaptable. Through a combination of content sharing and skills development, Malvern Prep strives to provide opportunities for deep reflection and cultivate the desire for lifelong learning.

"We want students to develop into men who are aware of their strengths and the areas of growth they need to nurture," says Patrick Sillup, Assistant Head of School for Academics. "We also want him to be someone who has this internal compass, guided by the Augustinian values of Truth, Unity, and Love, and a deep sense of social responsibility. We want him to go out into the world and make a positive impact. If we do that, we think we're doing a good job."

Besides strong academics, students grow through opportunities beyond the walls of the classroom. By engaging in public demonstrations through athletics, the performing arts, and Christian service, students become learners and teachers. These interactions help students learn more about themselves and also deepen their relationship with the world around them, according to Ron Algeo, Assistant Head of School for Student Leadership and a Malvern Prep alumnus.

"If you think back to the moments in high school that provide the most vibrant memories, where you were learning a lot about yourself, you were probably working with other people, in service or on a stage or in a game or competition," he says. "It's in these activities where we tend to be most engaged in what we're doing, and when we're engaged, it accelerates the learning process."

Malvern Prep students must fulfill six activity requirements by the time they graduate, but Algeo says most students do so by the time they finish sophomore year.

"Students who come here want to make the experience worthwhile, so they tend to be engaged," he says. "We reinforce the question, 'What kind of impact can you make now?' Our students take that to heart. Whether it's something they're doing on an athletic field, on a stage, or through service, we like students to think about what it means beyond Warren Avenue, meaning: What impact does it have to other people?"

In the process of getting involved, students learn an important lesson: Leadership does not come from having a title or a position; rather, it's a mental discipline.

Participating in service is an essential part of learning to lead. It's common for upper school students to help the homeless at shelters in Philadelphia and Camden, N.J., for example, and 11th graders travel to countries such as Costa Rica, Dominican Republic, and South Africa, or New Orleans and other impoverished parts of the United States, to make a positive difference in the lives of those in need.

"We're often working in communities that have no electricity or running water, engaging with people who have dirt floors in their homes," Algeo adds. "Our students are blown away by the joy they see in other people who simply appreciate being together. These are the kinds of experiences that provide a lot of opportunity for reflection. Whether they're in Camden or Philadelphia or Coatesville, or even around the world, our students get to see the way they can impact others and, in turn, be impacted by others."

Malvern Prep is working to add even more value to leadership experiences. For everything from athletics and student council to creative pursuits, the school will be providing formal assessments of students' performance by way of peer feedback. These feedback sessions will be based on four "pillars," as Algeo calls them: Accountability, Empathy, Integrity, and Communication.

"There's also a fifth pillar, which is blank, and that's up to the student to determine," he says. "When students have these kinds of public demonstrations, they're going to get feedback that is raw and authentic, and that can lead to some very special moments. And those moments really help to make the learning stick."

Coming Together
When it opens its doors next year, Malvern Prep's Center for Social Impact will enable the school to "double down" on its commitment to Augustinian values. As Fr. Reilly suggests, the space will serve as a venue for presentations and public demonstrations, as well as provide a versatile place for students to collaborate and deepen their own learning. Sillup believes it will also prepare students for the next phase of their education.

"If a student walks into a Wharton or an Elon, it will be a familiar environment because they will have already seen something similar on our campus," he adds. "We see the Center as our signature academic building that can support the types of projects and teaching that are the fabric of Malvern Prep. It will be a place where students can get their hands dirty, build prototypes, and find new ways to make an impact."

At its heart, the Center for Social Impact will enable Malvern Prep to further its mission: to deepen each student's understanding of himself and his place in the world.

"Having a Hall of Fame for Athletics is a great thing for our school, but I can see a day where we also have a Hall of Fame for Leadership in the Center for Social Impact so our students can see these great role models that have come before them," Algeo says. "We could have put up another gym or science center or theater, but this building will house a space where all the things we're doing, both academically and outside the classroom, come together."

Malvern Preparatory School
418 S. Warren Ave.
Malvern, Pa.
(484) 595-1100
MalvernPrep.org
Published (and copyrighted) in Suburban Life Magazine, October 2018.
.
.
.