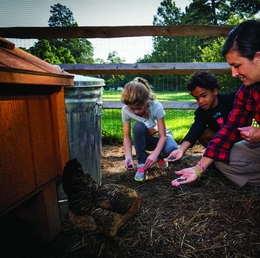 'Anything Is Possible'
Through hands-on experiences in the Light Lab and throughout the entire Lower School campus at Friends' Central School, students solve problems, collaborate with peers, and find joy in learning.
Cheryl Davis had never heard of an anemometer until last year. Now she not only has a firm understanding of its use as a tool for measuring wind speed, but she also knows how to make one. More importantly, so do her 7-year-old students.
Davis teaches second grade at Friends' Central School in Wynnewood. Teaching students about things such as anemometers, and learning about them herself, grew out of a hands-on, multisensory experience in a cutting-edge facility known as the Ulmer Family Light Lab. Since the Light Lab opened its doors in the Lower School two years ago, students have strengthened their connection to the world around them—and they've had a lot of fun doing so.
"Because of the things I've seen in the Light Lab, I have a belief that anything is possible," Davis adds. "It has me imagining more so we can keep bringing students' ideas to life."
A Path to Deeper Understanding
The Light Lab consists of four themed Maker studios: Natural Sciences, featuring the likes of a teaching kitchen, a solarium, and year-round gardening; Fabrication, where students learn skills such as woodworking, 3-D printing, laser cutting, and sewing; Media and Computing, featuring a robotics lab, a film studio, and a green screen, among other tools; and Design, where students have the opportunity to sketch, paint murals, and build an array of models and prototypes.
"We've always been known for our hands-on experiential learning—learning through doing—but the Light Lab has helped us move that work to the next level," says Kelly Bird, principal of the Lower School. "The lab gives us the space and the tools to help students identify problems and then create solutions to those problems. It also gives them more ownership of their understanding, and when they have ownership, they have a higher level of focus and engagement."
Although teachers and students are not "required" to use the Light Lab, nearly every Lower School classroom, from nursery school through fifth grade, is using the lab in some capacity, according to Bird. That's because the Light Lab is integrated into all aspects of education at Friends' Central. It's common to have teachers from different disciplines and their students working together in the Light Lab as a way to provide greater context and a deeper understanding of a particular subject or project.
With Davis, the road to building anemometers in the Light Lab began in social studies class.
Last year, as part of a project about individuals who have changed the world, one of Davis' students chose to do an in-depth study of a man named William Kamkwamba. Now considered an icon of innovation, Kamkwamba taught himself how to build a windmill to power his family's home, irrigate crops, and otherwise breathe life into his depressed Malawian village. He later tackled more ambitious projects involving clean water, malaria prevention, and solar power, and in 2009 he authored The Boy Who Harnessed the Wind.
"This student was so enamored of William Kamkwamba that we did a lot of research and wound up taking the students to the Light Lab on several occasions," says Davis. "We built anemometers to measure the speed of wind, and then we took them outside to put them to use. Later on we built a miniature wind turbine through a lot of trial and error. This was something that grew out of social studies and became very scientific, which is the kind of thing that happens often at Friends' Central. Nothing here is taught in isolation."
Likewise, the Light Lab has helped students broaden their understanding through an annual schoolwide tradition known as the Fall Project. Every year, from September through January, each grade in the Lower School explores a different facet of the same theme. This year's theme: water. In fifth grade, for example, students are focusing on society and the right to clean water.
"A big part of their learning will come when these societies are tested through a crisis—maybe there's a shortage of water or energy—and the students need to problem solve to overcome the crisis," says Brie Daley, director of the Light Lab. As part of the crisis, students may explore sources of clean energy, and then brainstorm to generate ideas for harnessing power as a way to solve the crisis. That's where Daley comes in.
"Students will spend a couple of weeks building and testing out different ideas, and then come up with a very individual solution to the problem that uses a green energy source," Daley adds. "The learning behind it is very deep, because the students will look at the issue and how it affects people, and then have to become nimble problem solvers. It's not just a hypothetical; you're giving students the chance to take the hypothetical and solve some serious problems."
'An Amazing Place of Progress'
Students and faculty alike have benefited from the Light Lab, according to Daley. Directing the lab has challenged her to become increasingly resourceful, to remain flexible, and to collaborate with students and other faculty members.
"The teachers I work with are brilliant, creative people," she says. "They bring their seedling idea here and together we water it. It's amazing that I get to do some of these things here, but I couldn't do anything without the teachers. This resource has made that kind of collaboration possible."
In other words, the Light Lab is a place where students get to make interesting things, explore new subjects in a deeply personal way, and engage in joyful play. It's a lot of fun, Daley assures, but the lessons learned in the Light Lab build students' confidence and challenge them to find innovative ways to peacefully transform the world.
"It's in the moments when students make mistakes that I see the biggest difference," she says. "How they handle setbacks tells me whether they're growing and learning. Might there be moments of wanting to give up? Do they group and reflect? Do they adjust their plans and proceed? It's about the process, not the product, but the products they come up with are often really, really cool. The process makes them confident they will be able to handle the next project, and that confidence is going to follow them."
With the Light Lab now in its third year, Daley says the space is "poised in this amazing place of progress." In fact, Friends' Central has begun sharing its expertise with the world around it. The school has offered professional development in Makerspace education to teachers outside the Friends' Central circle, and it has also shared its "Maker magic" with public school students by way of in-person demonstrations and a portable Maker cart.
"One of the things I like most about Friends' Central is that the learning that transpires here is rich and in depth, and there's a beautiful balance of intellectual growth, academic rigor, and social and moral learning," Davis adds. "There's also an incredibly strong sense of community and the willingness to collaborate. To me, the Light Lab has only enriched the experience for everyone involved."
Friends' Central School
FriendsCentral.org
Lower School Campus
228 Old Gulph Road
Wynnewood, Pa.
(610) 642-7575
Middle and Upper School Campus
1101 City Avenue
Wynnewood, Pa.
(610) 649-7440
Photography by Jody Robinson
Published (and copyrighted) in Suburban Life Magazine, October 2018.
.
.
.