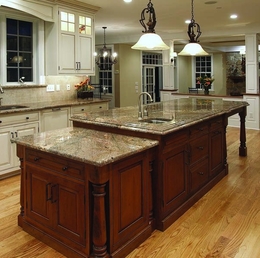 The Hard Truth about Kitchen and Bathroom Remodels
Ask the Pro with James Freeman, Colonial Marble & Granite
Kitchens and bathrooms tend to be the most cherished spaces of any home. The kitchen is a communal space, where family and friends gather to break bread and share conversation, whereas the bathroom is perhaps the home's most intimate space, serving as both a place to prepare for the day ahead and to relax after a hard day's work.
Although both spaces are unique, they share a commonality: Homeowners want to make these rooms the best they can be. That's where Colonial Marble & Granite comes in. James Freeman, the chief operating officer of Colonial Marble & Granite in King of Prussia, knows exactly what factors homeowners should consider when choosing the countertop that will serve as the centerpiece of a kitchen or bathroom remodel. We recently sat down with James to learn more.
Ask the Pro with James Freeman, Colonial Marble & Granite
What kinds of factors should people consider before investing in a new kitchen or bathroom? Ultimately, you want to keep an open mind. When you're preparing to take on a project like a new kitchen or bathroom, you're looking at a lot of different options to set a baseline. We have so much to look at that the baseline shifts. With any renovation project like this, the countertop will invariably be the focal point. It's OK to have an idea what you like and what you're looking for, but it's important to be willing to adapt to what you haven't seen, which for many customers is a lot. We have over 6,000 slabs in 600 different colors, and that kind of selection opens up a lot of possibilities. You also have to consider budget, so you're going to want to choose a partner that enables you to maximize the value of your investment.
How long should a homeowner expect a bathroom or kitchen remodel to take?

It will depend on scope of the project, including whether the cabinets and all the other supplemental pieces have already been installed. If a customer is simply looking to do a countertop replacement, it could be done in as little as seven to 10 days.
In regard to countertops, what new styles or trends are popular right now?

There's almost a crossover between what is the "classic" look and feel and what is considered more contemporary. Whites and grays are really popular right now. We're seeing a lot of people looking at countertops to be those more muted colors. We're also seeing more people interested in things like engineered quartz, which provides the marble look and décor but not the day-to-day maintenance. Still, a large percentage of people are still going with natural stone. We're selling more marble and quartzites than we ever have.
Why is going to a showroom like yours important?
Selection, plain and simple. You also want to have as many options as possible, so if you're not coming to a showroom like ours, you're missing out on the largest selection out there, bar none. The showroom experience also gives people the opportunity to get a good idea as to how something will look in their home. We have a full line of Blanco and Kohler sinks that people can see and touch, and we continue to add new product options all the time, so coming into our showroom can serve as an inspiration point for people.
We also want to make sure people are enjoying the experience. We'll have cookouts at the showroom to make people feel welcome, but we certainly recognize the fact that we're in a luxury business and we want people to have a luxurious experience. Having them in a showroom setting like ours, where they can look at a slab, get a vision, and then build on that vision, you're not going to find that in too many places.
Do you have any other advice for a homeowner who is about to redo their kitchen or bath?
I'd say three things: Keep an open mind; allow yourself to be inspired; and come to Colonial.
To learn more how to maximize your investment in a remodeled kitchen or bathroom, or to learn more about Colonial Marble & Granite's four area showrooms, visit ColonialMarble.net.

Photography courtesy of Colonial Marble & Granite

Published (and copyrighted) in Suburban Life Magazine, October 2018.
.
.
.