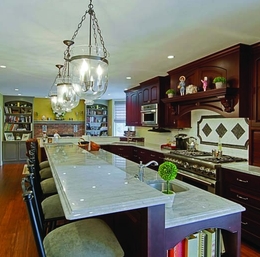 Dare to Dream
When it comes to reimagining kitchens and bathrooms, no challenge is too great for Gehman Design Remodeling.
Dennis Gehman, MCR (Master Certified Remodeler), has yet to meet a home-remodeling challenge he doesn't like. The more daring and daunting the project, the more his interest grows.
"I don't like to say no," says Gehman, president and co-founder of Gehman Design Remodeling, a full-service design-build firm based in Harleysville. "Our signature is the challenging design-build project, from the artistic aspects of the design to the nuts-and-bolts technical aspects of the building process. We feel very comfortable taking on the kinds of projects most people would consider difficult."
While Gehman Design Remodeling handles everything from whole-house remodels and additions to special projects of every sort, the firm specializes in kitchens and bathrooms. In fact, a number of the Gehman team are CKBR (Certified Kitchen and Bath Remodelers) through the National Association of the Remodeling Industry, also known as NARI, and won multiple local, regional, and national awards for its jaw-dropping work.
"In regard to kitchen trends, we've been seeing a lot of interest in open floor plans so people can improve the flow between the kitchen and other aspects of the home," he says. "We've seen a renewed interest in the color white in kitchens and bathrooms. There has also been a trend away from tile floors in kitchens, with an uptick in wood floors and LVT, or Luxury Vinyl Tile, which passes the visual test and also ties in with open floor plans.
"In the bathroom, freestanding tubs have been an ongoing trend, but we're also seeing a lot of master bath remodels—as much as three quarters of them—that do not have a tub going back in, just a larger shower," he continues. "In the shower, we're seeing larger tiles to minimize grout joints, and even some solid-surface showers. Other trends include frameless glass, interactive medicine cabinets and mirrors, and, when space allows, a separate room for the toilet. People have so many options, and that's where the fun comes in."
Typically, a remodeling project begins with a homeowner placing a phone call or stopping into the firm's showroom on Harleysville's Main Street. From there, Gehman or one of the other Remodeling Consultants will embark on a fact-finding mission by sitting down with the homeowner and asking questions: What do you want to accomplish? What do you like? What don't you like?
"We listen closely, and by doing so we can understand what their dream is," he says. "It's also really helpful to get into their home. Once we get in there and see what they like, that's when we get a very good sense of where the project should go. Sometimes it begins with an idea they have, and sometimes they come to us looking for ideas. It always ends up being a collaborative effort."
Gehman Design Remodeling's website abounds with glowing reviews attesting to the quality of the firm's work and the professionalism of its staff. And clients aren't the only ones who rave about the firm's craftsmanship, quality, and attention to detail. NARI has graced the firm with multiple "CotY" (Contractor of the Year) Awards for its stunning kitchen and bath remodels.
"Most contractors don't take the time to enter those kinds of competitions because it takes some time and effort," Gehman says. "The exposure and marketing potential that follow are both nice, but that's not why we do it. When your peers say that your work is worthy of being recognized, it's an 'at a boy' for everyone in our company."
After more than 40 years of working in the industry, beginning with his early days as a carpentry laborer, Gehman still loves his work. He enjoys meeting with new people. And he still appreciates the challenge that each new project presents.
"We want to feel good about the projects we do, but ultimately it's about creating something that's going to make the homeowner happy," he adds. "And that's what we strive to do with every project."
Gehman Design Remodeling
355 Main Street
Harleysville, Pa.
(215) 513-0300
GehmanRemodeling.com
PA Contractor Registration: PA0297
Published (and copyrighted) in Suburban Life Magazine, October 2018.
.
.
.