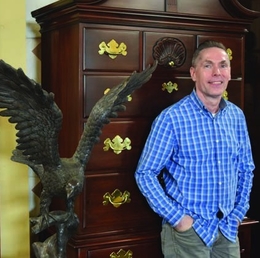 One of a Kind
Already well known for its vast inventory of fine American-made furniture, Stenella Interiors adds interior design expertise and other complementary services to its repertoire.
"Tell me about your space."
It's one of Charles Dobbs' favorite lines. He often uses the phrase as a conversation starter, so he can begin to understand how he can best serve the individuals who walk through the doors of Stenella Interiors in Lansdale. As the showroom's head of visual merchandising, Dobbs uses his keen eye and more than 20 years of experience in interior design to assist clients in their quest to find the perfect piece—or pieces—of high-quality furniture for their home.
"You have to be able to listen to people and understand what it is they have in their home, and then understand what it is they hope to accomplish," says Dobbs, who splits his time between assisting clients and dressing the showroom. "I don't like to ask people about specific pieces of furniture they're looking for, because that feels too much like high-pressure sales. But if I can put people at ease by having them tell me about their space, what is working and what isn't, I can guide them through the different styles, designs, and budgetary considerations."
Having someone with Dobbs' background and experience on the showroom floor is of great value to prospective clients. His presence "really changes the game for us," according to Jim Stenella, owner of Stenella Interiors and its sister store in Perkasie, Stenella Antiques.
"People now have the opportunity to come in and benefit from the expertise of an interior-design professional who has been in the field for more than 20 years, and that expertise comes as no cost to the customer," Stenella says. "Whether it's walking them through a project or simply steering them in the right direction, Charles adds a whole new dimension to our business."
After all, Dobbs can help homeowners peruse each of the two showrooms, spanning a total of 50,000 square feet, to peruse the exhaustive inventory of fine, handcrafted furniture from American and international manufacturers. The showroom specializes in exquisitely made furniture in the 18th century traditional styles through midcentury and modern design. Key brands include Baker, Councill, D.R. Dimes, Eldred Wheeler, Henkel Harris, Henredon, Karges, Kindle, Kittinger, Stickley, and many more top-quality brands.
"We're not just a store selling product," Stenella adds. "This is a destination, where interior designers come to source items for their clients. In other words, homeowners can shop where their designers shop."
Who else shops here? Stenella says East Coast-based production studios in need of distinctive pieces for shows such as House of Cards and Madam Secretary, as well as several Netflix originals and current projects from several other production studios, use Stenella's two showrooms as regular stops to purchase furniture. Likewise, he says Realtors often come in to buy or rent furniture for home-staging purposes.
Stenella Interiors often works with key manufacturers to custom order pieces for clients. In addition, the showroom provides a host of complementary services, such as custom upholstery and custom painting/gilding. For those in need of in-home delivery, either in the Greater Philadelphia Area or across the country, Stenella Interiors provides that level of service, too.
The entire inventory can be viewed online, so most customers spend ample time scrolling through the lineup before they ever step through the door. Even so, Dobbs says they're usually quite surprised by the things they find once they start walking around the showroom.
"People come to us because they have a love of quality, and they often come to us for those manufacturers that are harder to find," he says. "Some people are buying whole rooms full of furniture, and some are building a collection over time. No matter what they've come to us for—a single piece of furniture or a whole room—I like to jump right in and help out so they can find exactly what they're looking for."
Stenella Interiors
800 W. 2nd Street
Lansdale, Pa.
(267) 222-8926
StenellaInteriors.com
Stenella Antiques
104 S. 2nd Street
Perkasie, Pa.
(215) 453-8490
StenellaAntiques.com
Published (and copyrighted) in Suburban Life Magazine, October 2018.
.
.
.