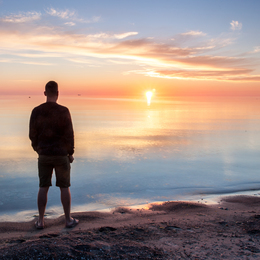 As One Story Ends, Another Begins
Not every marriage lasts forever. If and when divorce becomes necessary, having the right attorney can help to improve one's hopes for a fulfilling future.
The persistent forces of time and pressure can cause even the grandest structures, built on the strongest foundations, to crumble. The same can be said of relationships.
When the seams of a relationship have come undone and a couple arrives at a crossroads, it can be an incredibly challenging time. People often cannot look past the pain, the confusion, and the animosity, fretting over their finances and their hopes for a fulfilling future. They worry the divorce might hurt their relationships with their friends, their family members, and, particularly, their children. These are some of the many reasons many people describe divorce as even more difficult to work through than the death of a loved one.
Life does go on, but getting to that point on the far shore requires some skilled assistance. Luckily, the Greater Philadelphia Area is blessed with many excellent attorneys who have devoted their careers to family law. Whether a particular situation involves divorce and associated matters, such as child custody and support, these individuals can provide the support, guidance, and resources needed to help clients begin anew.

We asked readers to share their opinions regarding who they consider the finest family law attorneys in our area. In addition, we included a number of attorneys we've featured in recent issues of Suburban Life who are known for their ability to help clients get through the gauntlet of divorce and onto the next chapter of their lives.
Without any further ado, we present our 2018 Top Family Law Attorneys.
2018 Top Family Law Attorneys


Robert E. Angst
Valerie Rosenbluth Angst
ANGST & ANGST P.C.
Doylestown, Harleysville
(215) 513-1517
Michael E. Bertin
Cara A. Boyanowski
Julie R. Colton
Samantha J. Evian
W. Frank Johnson Jr.
David L. Ladov
Hillary J. Moonay
Michelle L. Ringel
Thomas A. Roberto
Lanique A. Roberts
Amy L. Rokuson
Leslie B. Spoltore
Adam H. Tanker
Shari B. Veisblatt
Maris J. Weiner
Robert I. Whitelaw
Stephanie H. Winegrad
OBERMAYER REBMANN MAXWELL & HIPPEL LLP
Multiple local offices
ObermayerFamilyLaw.com
Supti Bhattacharya
Barbara M. Kirk
Megha R. Thakkar
HILL WALLACK LLP
Yardley, Princeton, N.J.
(215) 579-7700
(609) 924-0808
Jennifer A. Brandt
Bernard E. Zbrzeznj
COZEN O'CONNOR
Philadelphia, West Conshohocken
(215) 665-2000 | (610) 941-5400
Catherine Cardozo
THE LAW OFFICES OF CATHERINE CARDOZO LLC
Abington
(610) 298-1081

Christina J. Corr
Michelle A. Winter
WINTER CORR P.C.
Colmar
(215) 822-5266
Jennifer Courtney
THE LAW OFFICES OF JENNIFER COURTNEY
Yardley
(215) 493-3360
Marie I. Crossley
William J. Gallagher
Lance J. Nelson
Ashley B. Stitzer
MACELREE HARVEY
West Chester, Kennett Square, Doylestown
(610) 436-0100
(610) 444-3180
(215) 309-4020
Amy P. De Shong
WISLER PEARLSTINE LLP
Blue Bell
(610) 825-8400
Susan Levy Eisenberg
SUSAN LEVY EISENBERG ATTORNEY AT LAW P.C.
Newtown
Elizabeth J. Fineman
Lisa J. Gaier
Jamie M. Jamison
Jessica A. Pritchard
ANTHEIL MASLOW & MACMINN LLP
Doylestown
(215) 230-7500
Kevin L. Hand
Marisa M. Perini
Marc I. Rickles
Abigail F. Tuttle
KARDOS, RICKLES & HAND
Lydia F. Keephart
PelletTieri, Rabstein & Altman Attorneys at Law
Newtown and Princeton, N.J.
Kimberly J. Krzyzaniak
KJK Law
Wayne
(610) 975-4468
Christin Kubacke
Kim Denise Morton

MORTON & KUBACKE FAMILY LAW LLC
West Chester
(610) 692-3999
Gregory P. LaMonaca
LAMONACA LAW
Media
Erin C. Lentz-McMahon
MCMAHON, MCMAHON & LENTZ
Villanova, Norristown, Jenkintown
(610) 272-9502
Jeffrey A. Liebmann
Mindy J. Snyder
David J. Sowerbutts
LIEBMANN FAMILY LAW
Newtown
(215) 860-8200
Scott A. Lisgar
KELLER, LISGAR & WILLIAMS LLP
Havertown
(610) 449-1400
Donna M. Marcus
Carolyn R. Mirabile
John Zurzola
WEBER GALLAGHER SIMPSON STAPLETON FIRES & NEWBY LLP
Norristown
(610) 272-5555
Carla Marino
Lawrence J. Persick
LAMB MCERLANE PC
West Chester
(610) 430-8000
Charles J. Meyer
HOFSTEIN WEINER & MEYER P.C.
Philadelphia
(215) 561-1100
Claire L. Milliner
BRUTSCHER, FOLEY, MILLINER & LAND
Kennett Square
(610) 444-4848
Sheryl R. Rentz
LAW OFFICES OF SHERYL R. RENTZ
Ardmore
(610) 645-0100
Robert T. Repko
Shannon Kanavy
María Judith Rodríguez-Martyak
Jill M. Vogenberg-Richter
REPKO LAW LLC
Doylestown
(215) 348-9500
Lori K. Shemtob
SHEMTOB LAW P.C.
Blue Bell
(215) 542-2105
Tiffany Thomas-Smith
THE THOMAS SMITH FIRM P.C.
Newtown
(215) 860-3747
Jill E. Trayer
TRAYER LAW
Doylestown
(215) 489-3868
Karen Ulmer Pendergast
Russell J. Manning
April M. Townsend
KAREN ANN ULMER P.C.
Langhorne
(215) 752-6200
Joseph D. Visco
LAW OFFICES OF JOSEPH D. VISCO
Doylestown
(215) 348-3755
Randi J. Vladimer
RANDI J. VLADIMER P.C.
Radnor
(610) 975-9898
Jeffrey M. Williams
Lynelle A. Gleason
Shauna L. Quigley
Robert J. Salzer
Susan J. Smith
Melanie J. Wender
WILLIAMS FAMILY LAW P.C.
Doylestown
(215) 340-2207
Douglas I. Zeiders
HAMBURG, RUBIN, MULLIN, MAXWELL & LUPIN P.C.
Lansdale
(215) 661-0400
The Path Forward
Veteran family law attorney Susan Levy Eisenberg shares her perspective on navigating the turbulent waters of divorce.
By Bill Donahue
People who have gone through divorce often describe the process as one of the most painful and tumultuous periods of their lives. Much of this difficulty stems from the fact that individuals find themselves in uncharted territory, largely unsure of what kind of shape they will be in once the divorce decree has been issued. As fears creep in, the questions mount: "Will I be financially stable afterward? Will my emotional scars linger? How will the divorce affect my relationship with my children?"
Susan Levy Eisenberg, a family law attorney based in Newtown, has been helping clients navigate the turbulent waters of divorce—and helping them find peace of mind in the process—for more than 30 years. She recently sat down with Suburban Life to answer five questions that may help to provide some clarity for anyone wondering if ending a marriage is the best path forward.
Q&A
When is divorce the best option for someone who is unhappy in a marriage?
Divorce is the best option when all other options fail. If someone is in a truly unhappy marriage, they should not wait. Some people stay married solely because of the kids, but I think that's a mistake. Divorces don't mess up children; parents who mistreat each other and put their children in the middle—that's what messes up children. Above anything else, children need to see two people in a healthy marriage.
Films such as War of the Roses and Kramer vs. Kramer paint divorce as a punishing process for both sides. What are some strategies for ratcheting down the tension so people can see the issues clearly and plan for a better future? After 30 years of practicing family law, I've found that the cases in which people who do best—and the ones in which children do best—are the ones where the adults try to stay civil and get along throughout the process. You have to be strong enough to put all the other stuff aside and treat each other with respect and civility. The law is the same in every case, but every case isn't the same because of how people treat each other. People bring their own issues and their own devils to the table, and things can get ugly when they give in to their lesser instincts. Lawyers can spoil things, too, which is why it's so important to choose the right lawyer.
Are there certain aspects of divorce, child custody, or the division of assets that clients find particularly unexpected or confounding? I'd say people don't expect most things associated with the process, unless they have been through it before. As a lawyer, you have to understand that people are overwhelmed and don't have a clue of what to expect. That's why the attorney has to take the lead. But an attorney can't fill every need for the client, so they have the play the role of quarterback and pull in other people—a forensic attorney or a therapist, for example—so the individual who is going through the divorce has all the resources they need so they can walk down that road more easily.
What steps or actions can someone take before or while they are going through a divorce to help them land on their feet once the proverbial dust has settled? Get advice early in the process. Read self-help books, do your own research, and don't listen to what everyone else says, because one person's circumstances are likely to be different than your own. Preparedness starts by having a strong support system in place, and that includes a good attorney. Even if it's early into the process and you're not sure if you're ready to give up on a marriage, you can accomplish a lot in an initial consultation with an attorney. I always remind people that you don't make major decisions in the midst of a crisis.
What's your advice for determining whether an attorney is "a good fit" for them? There has to be a level of trust, a level of comfort, and a level of honest dialogue. An attorney should be someone who gives validation to your concerns and puts you at ease. You need to be able to put the strategy in their hands; otherwise, it's like me going in for open-heart surgery and questioning every stitch, every cut the surgeon is going to make.
You also want someone who is not going to put fuel on the fire, because the goal should be to stay amicable with your soon-to-be-former spouse as best you can. People may have been hurt, wronged, mistreated, or disrespected, but you can't make important life decisions based on raw emotion. That's why you come to someone like me; I don't have the baggage associated with what you're going through. As your attorney, I should provide my best advice and give you a realistic view of what's going to happen next. Your job is to trust that you've hired the right person and then follow my lead.
Susan Levy Eisenberg is the founder of Susan Levy Eisenberg Attorney at Law P.C., which is based in Newtown, Bucks County.
In Memoriam: Lynne Z. Gold-Bikin
Lynne Z. Gold-Bikin, chair of the Family Law Group at Weber Gallagher Simpson Stapleton Fires & Newby LLP, passed away on Oct. 10. Gold-Bikin was an internationally known attorney who specialized in family law, particularly in matters related to custody and divorce. She earned numerous honors and awards throughout her decades-long career—50 Best Business Women in Pennsylvania, KYW Women of Achievement, and the Eric Turner Memorial Award from the Family Law Section of the Pennsylvania Bar Association, among them—and, in 1994, she published the book Divorce Practice Handbook.
Gold-Bikin was beloved by her colleagues. Andrew L. Indeck, chairman of Weber Gallagher, characterized her as "a force of energy throughout the entirety of her practice," "a true mentor and active teacher," and "a pioneer who always lifted up other female attorneys along the way." Carolyn R. Mirabile, managing partner of Weber Gallagher's Norristown office, described Gold-Bikin as someone who had a passion for helping others, adding that anyone who ever worked with her "learned how to be a better attorney and to be a zealous advocate for our clients." John A. Zurzola, a partner in Weber Gallagher's Family Law Group, said Gold-Bikin shared many lessons with him and his fellow attorneys, including the art of being tough for clients, the importance of fostering relationships with peers, and the many benefits of community involvement.
In a 2017 interview with Suburban Life, Gold-Bikin said this: "When you leave the circle of life, and it's not a better place, you've wasted your place in the circle." Throughout her more than 40 years practicing law, Gold-Bikin was a tireless and tenacious advocate for others, particularly her clients and other women. In other words, the world is a better place because of her. —Bill Donahue
Published (and copyrighted) in Suburban Life Magazine, November 2018.
.
.
.