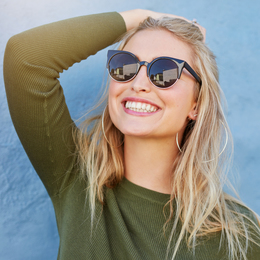 2018 Top Dentists
Meet the dental health professionals devoted to creating bright, beautiful smiles in the Greater Philadelphia Area.
"We shall never know all the good that a simple smile can do."
Mother Teresa once uttered these words—and she was right, because a smile can cause a chain reaction of positive thoughts, feelings, and actions that take on a life of their own. Yet some people don't like to share their smile, either because they're not happy with the alignment or color of their teeth, or maybe because they're missing teeth. As a result, they hide their smile, with hand over mouth, missing out on so much as a result.
For those who in need of treatment to solve a dental issue of any sort, or for those who simply want to make their smile as bright and spectacular as possible, the Greater Philadelphia Area has an abundance of dentists, orthodontists, and oral surgeons, among other dental professionals, who are ready and willing to serve.
For those who don't have a dentist they trust, where do you begin? Thanks to our readers, you now have a head start. We guided our readers to our website and asked them to answer a simple question: "Which men and women in the Greater Philadelphia Area deserve the title 'Top Dentist'?" Our readers did not disappoint, and we supplemented their suggestions with some of our own, based on stories about some truly remarkable individuals we've featured in recent issues.
On the following pages you'll find the results—our 2018 Top Dentists—arranged by area of specialty.
2018 Top Dentists
General and Cosmetic Dentistry
The evaluation, diagnosis, prevention and/or treatment (nonsurgical, surgical or related procedures) of diseases, disorders and/or conditions of the oral cavity, maxillofacial area and/or the adjacent and associated structures and their impact on the human body
Dr. Jeffrey A. Bellisario
The Office of Dr. Bellisario
Westtown Dental Associates
Michael E. Docktor, D.D.S.
Advanced Dental Esthetics
The Art of Dentistry by Dr. Stephen J. Gershberg
Joseph R. Greenberg, D.M.D., FAGD
Heine & Associates Family Dentistry
West Avenue Family Dentistry
Jennifer J. Kalochie, D.M.D., FAGD
Ericka Klein, D.M.D., P.C.
Robert A. Lantzy, D.M.D., LLC
Marc A. Levin, D.M.D., FAGD
Dr. Jonathan C. Limberakis
Limberakis Family Dentistry
Nicholas Cosmetic Dental Center
Matarazzo and Milici Group
Newtown, Levittown, Monroe, N.J.
The Kennett Center for Advanced Dentistry
Franco Pico-Fazzi, D.D.S., FADSA, P.C./MEDE Aesthetic Institute
Dental Health Associates Ltd.
A Family Dental Care Center
Dental Excellence of Blue Bell
Advanced Dentistry of Collegeville
Michael Sophocles, D.M.D., and Associates
Pennsylvania Center for Dental Excellence
Artistic Expressions Dentistry
Endodontics
The branch of dentistry concerned with the morphology, physiology and pathology of the human dental pulp and periradicular tissues
Lower Gwynedd Endodontists P.C.
Oral and Maxillofacial Surgery
A specialty of dentistry that includes the diagnosis, surgical and adjunctive treatment of diseases, injuries and defects involving both the functional and aesthetic aspects of the hard and soft tissues of the oral and maxillofacial region
Russel S. Bleiler, D.M.D.
Innovative Implant and Oral Surgery
Oral and Maxillofacial Surgery Centers
Oral Surgery Associates of Chester County
West Chester, Kennett Square
(610) 431-2161, (610) 444-2818
E. Steven Moriconi, D.M.D.
Orthodontics
A dental specialty that includes the diagnosis, prevention, interception and correction of malocclusion, as well as neuromuscular and skeletal abnormalities of the developing or mature orofacial structures
Advanced Orthodontic Care of Ambler/Advanced Orthodontic Care of Abington
(215) 646-9514, (215) 576-6414
Benjamin A. Cassalia, D.M.D.
Steven M. Cohen, D.M.D., M.S.D.
Roberts & de Marsche Orthodontics
Philadelphia, Lawrenceville, N.J.
Infinity Dental Specialists
Newtown Square, Glen Mills
Cathleen George, D.M.D., P.C.
Heine & Associates Family Dentistry
Newtown Dentistry for Kids/Newtown Orthodontics
Bucks County Orthodontics
Pediatric Dentistry
An age-defined specialty that provides both primary and comprehensive preventive and therapeutic oral health care for infants and children through adolescence, including those with special healthcare needs
Doc Bresler's Cavity Busters
Children's Dental & Orthodontic Associates
Philadelphia, Elkins Park
Kidsteeth Pediatric Dentistry
Heine & Associates Family Dentistry
Newtown Dentistry for Kids
Pediatric Dental Associates of Glen Mills
Periodontics
A specialty of dentistry that encompasses the prevention, diagnosis and treatment of diseases of the supporting and surrounding tissues of the teeth or their substitutes and the maintenance of the health, function and aesthetics of these structures and tissues
Bryn Mawr Periodontal Associates
Joseph R. Greenberg, D.M.D., FAGD
Dental Implant & Periodontal Surgeons P.C.
Matarazzo and Milici Group
Devon Periodontal and Dental Implant Center
Main Line Periodontics and Dental Implants, P.C.
Prosthodontics
The dental specialty pertaining to the diagnosis, treatment planning, rehabilitation and maintenance of the oral function, comfort, appearance and health of patients with clinical conditions associated with missing or deficient teeth and/or oral and maxillofacial tissues using biocompatible substitutes
DiGiallorenzo DMD & Associates
Advanced Esthetic & Implant Dentistry
Matarazzo and Milici Group
Published (and copyrighted) in Suburban Life Magazine, November 2018.
For more info on Suburban Life Magazine, click
here
.
To subscribe to Suburban Life Magazine, click
here
.
To advertise in Suburban Life Magazine, click
here
.