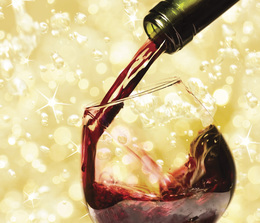 Toast of the Town
Local wineries roll out the red (and white) carpet for the holidays
William Penn was onto something big besides democracy and religious freedom. History books suggest our state's founder was among the first Americans to plant grapevines in U.S. soil—in his case, along the Schuylkill River. Lucky for us, many others have since followed in his footsteps.
"Good wine is now coming from places people don't expect, and Pennsylvania is one of those places," says Christine Carroll, director of marketing for Crossing Vineyards and Winery in Washington Crossing. "People now realize that wine doesn't have to come from [just] three or four magical places in the world."
As Carroll suggests, the southeastern corner of Pennsylvania has become a legitimate wine-producing region in the wake of the 1968 passage of the Pennsylvania Limited Winery Act, which gave area grape-growers the right to make and sell wine. The region's favorable climate and soil conditions help cultivate grapes to seed rich and great-tasting wines capable of rivaling those from certain valleys in California.
"It's not that Pennsylvania wasn't capable," she says. "Our climate is not dissimilar to regions that are renowned for grape-growing—places like Burgundy [in France] and northern Spain. … Pennsylvania has been a prominent agricultural area since the 1600s, and grapes are not the fussiest crop to grow. Now it's just a matter of time and of changing people's perception of where good wine can come from."
It's understandable if local winemakers think they have something to prove. Wineries along the so-called Bucks County Wine Trail and elsewhere suggest a bountiful 2010 grape harvest will soon produce an exceptional crop of Keystone State reds and whites.
"Because of the heat and dryness, this was our best year ever for growing grapes," says Lisa Ullman, tasting room manager for Rushland Ridge Vineyard and Winery in Jamison. "The grapes need a little moisture, which they got this year, but we're one of the fortunate farmers that don't need rain. … So next year—watch out, Napa Valley!"
Considering the quantity and quality of the events our area's wineries have planned for this holiday season, locals have no reason to wait till next year to try some truly fantastic wine crafted just down the road.
Buckingham Valley Vineyards
1521 Route 413, Buckingham
PAWine.com
Jerry Forest, co-owner of 45-acre Buckingham Valley Vineyards, gets animated talking about his winery's upcoming release of its nouveau Beaujolais, scheduled for just before Thanksgiving. He's also excited about the robust number of custom-labeled bottles the winery does every holiday season.
"The minimum order is one bottle, with any custom label or illustration—and we do a lot," he says. "We are Bucks County's oldest winery [planting its first grapes in 1966], and we're among the largest in the area, so there's got to be something good happening here."
Buckingham Valley Vineyards also offers free tastings. Forest believes complimentary tastes are important to "let the wine speak for itself." In addition, the grounds are sprinkled with outsized works of art, left in place after an outdoor sculpture show. "I think some of them are here permanently," he says, "and they're pretty spectacular."
Chaddsford Winery
632 Baltimore Pike, Chadds Ford
Chaddsford.com
For the first two weekends of December, Saturdays and Sundays from 12 noon to 6 p.m., Chaddsford will host holiday "open house" events, with free tastings in the wine cellar, carolers and samples of its "spiced" wines.
One of Chaddsford's signature items for the holiday season is its Holiday Spirit wine, which can be served warm with, say, cinnamon sticks, cloves and oranges. It's very popular for holiday parties, according to Denise McMillan, communications director for Chaddsford Winery.
"What we're hoping to include this December is our outdoor firepit and outdoor bar area," says McMillan. "After you're done walking around and you've done some of your holiday shopping for wine for dinner and friends and family, you can sit around the firepit and enjoy a glass of wine and relax."
The winery will also host "Turkey Tastings" for the first three Saturdays in November, whereby Chaddsford's wine educators will teach attendees how to pair traditional Thanksgiving foods with Chaddsford wines.
Crossing Vineyards and Winery
1853 Wrightstown Road, Washington Crossing
CrossingVineyards.com
There's a lot going on at Crossing Vineyards this holiday season. The historic property "looks different from weekend to weekend," according to director of marketing Christine Carroll. The list includes three yuletide concerts (Christmas brass on Dec. 3, Christmas jazz on Dec. 10, and "The Great Christmas Songbook" on Dec. 17), notable pairing events that match wines with cheeses and chocolates, and a candlelit "holiday winemaker's dinner," featuring a five-course dinner of gourmet fare from the bygone Colonial era (Dec. 28).
"Even if venison isn't your thing, we can supplement it with something else and pair it with our wines, while we talk about Colonial Christmas traditions," says Carroll. "Once a month we'll host our 'Dummies Guide to Wine Tasting' classes. We also have classes on Spanish wine, the basics of wine tasting and a number of pairing events. We'll also have special events for three nights this winter where you come in and drink wine and listen to jazz."
New Hope Winery
6123 Lower York Road, New Hope
NewHopeWinery.com
"It's a really busy, festive time of year," says Mike Ehler, co-manager of New Hope Winery. "We have a wide variety of quality Pennsylvania wines in a relaxing atmosphere, where people can come in and taste a full selection of reds and whites. … The wine is made just a few miles away, and you can't get it anywhere else."
The winery, which boasts a wide range of reds, whites and seasonal offerings, has several special events planned for the holidays, including the release of its Beaujolais-style nouveau (Nov. 20 and 21) and an upcoming Simon and Garfunkel Tribute concert (Dec. 4).
Rushland Ridge Vineyard and Winery
2665 Rushland Road, Jamison
RushlandRidge.com
Rushland Ridge produces a fixed amount of wine per season—18 varieties in total—and the winery typically sells out of its inventory just after the holiday season, according to tasting room manager Lisa Ullman. On Nov. 21, the winery will celebrate the release of its nouveau Beaujolais with a holiday festival.
"The [nouveau release] is an extremely big day," says Ullman, whose family started growing wine grapes at Rushland in 1968. "We usually have live music, and we'll have some prepackaged foods and lots of great wine. … We have 22 acres here, with four acres currently in production, and we'll get 2,000 gallons out of that."
Ullman's husband, Edwin, also gives walking tours of the vineyard, even though the vines are currently without grapes. She staffs the tasting room, which she describes as "very homey," complete with a wood-burning stove and the Ullmans' black Labrador.