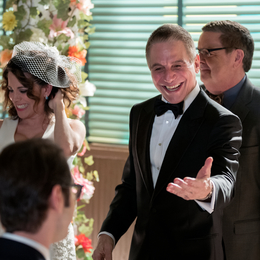 Second Act
Tony Danza, the Brooklyn-born star of The Good Cop, finds a second home—and a strong sense of purpose—in Philly.
Each time Tony Danza gets off the train at 30th Street Station in Center City, he feels the rush of excitement of coming back to his second home. The 67-year-old Brooklyn native has been coming to Philly for nearly a decade, each visit focused on improving the lives of the students and faculty at Northeast High School.
Philadelphia will always hold a special place in Danza's heart. Several years ago, when he sent proposals to nearly a dozen school districts nationwide, inquiring about becoming a teacher, Philadelphia School District brought Danza on to teach English. Part of the time he was being followed around by a camera crew, and the resulting experiment became Teach: Tony Danza, a reality TV show on A&E.
"I spent an incredible year at this school trying to see what it's like to be a teacher," Danza explains. "When I am here, I see the thousands of miracles going on every day, done with very little resources. I also see so many dedicated people doing things that go above and beyond the call of duty."
He met Joe Connelly, another first-year teacher who had been a self-employed flooring contractor. They quickly became friends. In fact, this day, Danza often stays at Connelly's home when he returns to Philly—for the "Teachers vs. Students Talent Show," for example, a springtime fundraiser designed to helps the school pay for necessities that the school district can't always afford.
Danza took a few minutes out of his schedule to discuss his teaching experience, which spawned his 2012 New York Times best-selling book, I'd Like to Apologize to Every Teacher I Ever Had, as well as his unlikely friendship with Connelly, and The Good Cop, his new crime series on Netflix.
Q&A
Why do you keep coming back to Philadelphia and Northeast High School?
I owe a tremendous debt to this school and a debt to the city, because they let me teach here and they accepted me into the community. I just feel like that had such a tremendous effect on me. … Also, acting and youth development through performance is something I truly believe in. It's important that we show kids that we value education. We need to send a message to them that it really is important, that somebody really cares, not just giving it lip service, but showing them through our actions. When the parents and community show up [to the talent show] and take part in the 50/50 and applaud the acts, it sends the right kind of message that each of us can make a difference.
I understand that you and Joe Connelly have remained close friends.
Absolutely. He was a first-year teacher when I was here. We met the first day during orientation. After the first talent show he went back to his classroom, and his students gave him a standing ovation when he walked in the door. When a teacher gets a standing ovation, that is a big, big thing.
Do you think people will look at you and Joe, or read the book and say, "I can go to a school or community center and share my skills and expertise"?
Yes, I sure hope so. I talk about it in the book about how I did this because I was turning 60, and it was driving me crazy. I just was in this self-reflective mood and I wanted to see and feel more in my life. I really just wanted to volunteer. This gave me a chance to do something I had been yearning to do for many years.
I have often said that if everybody who was making decisions about education spent a year teaching school in a big, inner-city school like this, with all of the pluses and minuses that come with it, they'd get a very different look at what's going on and how important it is. Our children are the most valuable and precious resource we have, and we are operating schools on shoestring budgets.
Tell me about your role in the new Netflix show, The Good Cop.
It's an extremely incredible role written by Andy Breckman, who also wrote the show Monk. We shot 10 episodes on the streets of New York, with these incredible dialogue plot lines. It is a great deal of fun working with Josh Groban, who turns out to be a really good comic actor. … I play the father, Big Tony, a guy who never follows the rules, and as a condition of his parole because I'm a disgraced ex-con ex-cop, I have to live with my son T.J. [Groban], who is the good cop, a NYPD detective. It's sort of an Odd Couple with a murder mystery every week, and [it has] a great villain. … I think we made 10 great shows, and I hope that everyone agrees.
The Good Cop photograph courtesy of Netflix
Published (and copyrighted) in Suburban Life Magazine, November 2018.
.
.
.