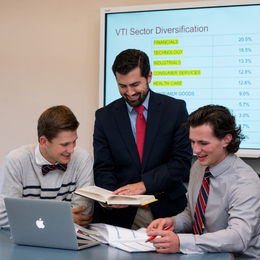 Strong Returns
At Holy Ghost Prep, students with an interest in economics invest in their future through an immersive program that provides hands-on experience in the world of high finance.
In the summer before his senior year at Holy Ghost Preparatory School, Eric D'Angelo '18 was working to envision the near future: how to prepare for his first year of college; what to study at the university level; the kind of career he might wish to pursue after earning his degree.
His future gained clarity when he enrolled in a summer course in finance. Taught by Tom Murtaugh, chair of the social studies department, the course included lectures and class trips that provided hands-on opportunities to learn the inner workings of the financial world from leaders in the field, including Holy Ghost Prep alumni working on Wall Street.
"I wasn't even thinking about economics at the time—I wanted to take psychology—but Mr. Murtaugh persuaded me," says D'Angelo. "We got to spend time with financial advisors, stockbrokers, and even the CFO of Holy Ghost. I wound up falling in love with finance and economics. That led me to the idea of a career in business."
Some of the most impactful lessons he learned came through a key aspect of the class: the Frank Frederico '00 Student Investment Fund. He and his classmates continued into AP economics in senior year and oversaw the fund as fiduciaries, meaning they did the investing and managed the money. While some students may learn about the financial markets and investment strategies, this level of granular experience helped D'Angelo and his classmates develop a deeper level of understanding, according to Gregory J. Geruson, president of Holy Ghost Prep.
"This [fund] gives them an inside look at financial markets and buying and selling various securities," he says. "It happens at the exact time that they are making decisions about colleges and even careers. … It also provides them with an opportunity to begin to build their own network. The people they meet, the folks they work with—they could become part of their own personal network and future business relationships, especially if they are with alumni."
Now in its third year, the fund was established through a $25,000 donation from Dominic Frederico, the president and CEO of Assured Guaranty Ltd., and the father of a Holy Ghost Prep alumnus. Led by D'Angelo, the Class of 2018 students who managed the fund earned a greater than 10 percent return on investment in a 10-month period, outpacing the S&P 500 prior to October's market downturn.
"There has been a natural learning curve," Murtaugh says. "The first year, we were all learning, so we probably tried to invest in too many different kinds of vehicles. We had been investing in things like REITs (real estate investment trusts) and bonds, but as time has gone on, we've chosen to invest in more and more equities, which tend to give a higher return."
The students watch their investment choices carefully, helping them to compare the performance rates of different investment vehicles. Likewise, they get to learn how world events can affect the financial markets, according to Jack Rittenmeyer '19, current president of the investment group that manages the fund.
"We've decided that international stocks are not a good investment right now because of the ongoing trade issues [between the United States and other nations]," he says. "We've also talked a lot about cryptocurrency, which might be a factor. We're in the process of deciding how to break up the assets, and the students in our group will be voting on our plan shortly."
Rittenmeyer and Alex D'Angelo '19, vice president of the investment fund (also Eric's younger brother), recently presented the group's proposed investment plan to Geruson. The results of that meeting, in Geruson's words: "I think our financial future is in good hands with guys like Jack and Alex."
The Frank Frederico '00 Student Investment Fund is one example of the kinds of immersive experiences that Holy Ghost Prep sees as foundational to its mission. Other opportunities include an externship program known as LEAP, whereby juniors meet face to face with Holy Ghost Prep alumni who are considered leaders in their field; an international immersion program for sophomores with Blackrock College in Dublin, Ireland; and a service immersion experience in the Dominican Republic. Such real-world experiences stoke students' interests, Geruson says, but also provide lessons in "responsibility, accountability, and consequence."
As for Eric D'Angelo, he's now a freshman at the University of Pennsylvania in Philadelphia. His passion for finance and economics has only intensified since graduating from Holy Ghost Prep last spring.
"The investment fund [at Holy Ghost Prep] gave me the opportunity to do something most high school students will never have the chance to do," he says. "I can see myself majoring in economics and getting involved with the student investment groups here [at the University of Pennsylvania]. One day I see myself going into a career in finance. That probably wouldn't have happened without my experience at Holy Ghost Prep."
Holy Ghost Preparatory School
2429 Bristol Pike
Bensalem, Pa.
(215) 639-2102
HolyGhostPrep.org
Photography by Jody Robinson
Published (and copyrighted) in Suburban Life Magazine, November 2018.
.
.
.