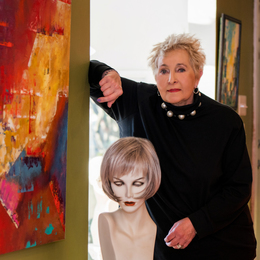 An Artist's Touch
In her work as the owner of Images Hair Replacement Studio, as well as in her career as a renowned contemporary artist, Gloria Harrelson has found her bliss.
Everyone is an artist these days, with restaurateurs, home remodelers, and even business owners having ascribed the term to their respective lines of work. Gloria Harrelson, owner of Images Hair Replacement Studio in Jenkintown, refers to herself as an artist, too, but when she does so, she uses the term in a purely literal sense—meaning someone blessed with the talent to turn a blank canvas into a masterwork that draws the eye.
"I've had some formal training, but I've been an artist since childhood," says Harrelson, who studied at the Samuel S. Fleisher Art Memorial and the Pennsylvania Academy of the Fine Arts, both of Philadelphia. "I never wanted to be a starving artist, though, and that's why I went into the hair business. I needed an outlet for my creativity, so the hair business suited me. Between my two careers, I'm working seven days a week; I typically spend three and a half days in the salon, and three and a half days working in my [art] studio."
Harrelson works in both abstract art and realism. Likewise, she paints in both oil and acrylic—"mostly acrylic, because I'm impatient," she says—and she also uses wood and metal to create three-dimensional contemporary works of art.
"When I sit and create, I love to take a straight line and bend it," she says. "Sometimes I have a preconceived idea, and sometimes I sit there and begin to paint and something just develops. I have ADD, so my studio is organized confusion; I usually have three easels going at once, and I'll go back and forth between the three."
Her work has graced the walls of galleries throughout Pennsylvania and New Jersey, including the Cellini Studios and Gallery in Ambler, the Cathy Begg Gallery in New Hope, and the Main Avenue Galleria in Ocean Grove. She also sells her art through her website, GloriaHarrelson.com.
Harrelson's salon clients appreciate the fact that she has such a strong artistic bent. Far from a typical hair salon, Images Hair Replacement Studio offers a range of customized restoration services devoted to treating hair loss for men and women, including laser hair restoration, bonded hair systems, and microlink extensions. The salon has twice won Philadelphia magazine's "Best of Philly" honors in the category of hair loss solutions.
"This work has been wonderfully gratifying," Harrelson says. "It started years ago with a wig business, helping people get through chemotherapy, and that's still a portion of my business.
When someone comes in for a free consultation, I learn about their lifestyle and what they want to gain, and then we come up with the best solution for them based on their needs. People don't want to lose their hair; it changes their life when they do. Once we start applying hair, you can see the confidence it gives them.
"We try to be as sensitive as we can," she continues. "We usually start small, with gradual transitions, so it's not a dramatic difference all at once. Nobody has to know about it unless you decide to tell them."
Harrelson has earned her reputation as one of the country's leading specialists in seamless hair restoration, with clients coming from near and far to benefit from her expertise. More than a year ago, she developed a multiday training program, known as Harrelson Hair Replacement Training, designed to help entrepreneurial stylists start their own hair replacement centers with all the tools they need to succeed. Individuals from across the country have participated in the program, through which Harrelson teaches them "everything I know."
Balancing two careers has not always been easy for Harrelson, but she wouldn't change anything. Her two passions are interconnected, with one feeding the other. In fact, her salon serves as a gallery of sorts, with many of her paintings adorning the walls.
"Most of my hair clients are thrilled that I'm an artist," she says. "I've sold a fair amount of paintings right off the walls of the salon. The way I see it, you have to have something on the walls, so it might as well be my art."
Images Hair Replacement Studio
122 Old York Rd
Jenkintown, Pa.
(215) 887-2284
ImagesHairStudio.com
GloriaHarrelson.com
Photography by Jody Robinson
Published (and copyrighted) in Suburban Life Magazine, November 2018.
.
.
.