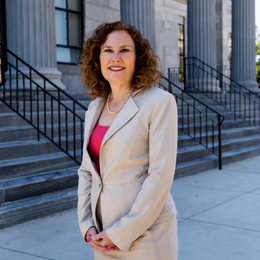 Future Focused
Whether guiding a client through a divorce or mentoring a young attorney, Carolyn R. Mirabile of Weber Gallagher's Family Law Group is devoted to helping others find a path forward.
As a high school student, Carolyn R. Mirabile developed an intense interest in civics, politics, and, particularly, the U.S. Constitution. She also had a strong desire to help others and to lend a voice to those who did not have one. When it came time to determine an area of study, she chose something that would enable her to marry her two interests: the law.
Mirabile attended Villanova University School of Law and earned her Juris Doctor in 1991—the same year she was admitted to legal practice. Early on, she found herself drawn to family law cases, in part because "nobody else wanted to do family law," she says. She has since become a partner with Weber Gallagher Simpson Stapleton Fires & Newby LLP, as a key member of the firm's Family Law Group, which is based in Norristown.
"Family law has become a passion of mine," she says. "I didn't always think about a career in family law, but once I saw the impact it had on families, I fell in love with it. Early on I dedicated myself to learning as much as I could about family law, and I was committed to meeting people who could help me expand my knowledge base and enhance my ability to help as many people as possible."
Mirabile concentrates her practice in all areas of complex and high-net-worth divorce, support, and custody cases, as well as property distribution and the drafting of marital settlement agreements and prenuptial agreements. In addition, she is a skilled mediator, with experience as a court-appointed custody mediator and a presenter of several mediation-training programs.
"Mediation can be a great option to help two people stay on firm footing and maintain mutual respect," she says. "This is especially important when there are children involved, because that person is still going to be in your life in some way, and children need to see their parents treating each other respectfully. In every custody case, except maybe cases that involve addiction or abuse issues, every parent should try to mediate the issues. By doing so, you as the parent are making the decisions, not allowing someone who knows little about your family to make decisions for you."
Mirabile works closely with her colleagues in Weber Gallagher's Family Law Group, including fellow attorneys John Zurzola and Donna Marcus. Mirabile and her two colleagues are still mourning the loss of Lynne Z. Gold-Bikin, who had been chair of the Family Law Group until October, when she passed away unexpectedly.
"We work as a team," says Mirabile, who has successfully argued cases on appeal before both the Supreme Court and Superior Court of Pennsylvania. "Every family law case is unique, and many of them are complex and high conflict. Having other attorneys in our firm to provide their perspective is incredibly valuable. We have meetings weekly, if not daily, to talk about cases, provide ideas, and discuss different legal matters. Also, even though one attorney may be assigned to an individual case, any one of us can pick up the file if one of the attorneys is unavailable, so the client can have a seamless experience."
'A Substantial Impact'
Mirabile has received an AV Preeminent Rating Martindale-Hubbell, while several respected publications—including Suburban Life—have bestowed her with "Top Attorney" honors. Specifically, Super Lawyers has named her a top-rated family law attorney every year from 2011 to 2018, based on peer recognition and professional achievement in legal practice.
In addition to her work with Weber Gallagher's Family Law Group, Mirabile has long been devoted to helping her fellow attorneys and the individuals they represent. In 2016, she became President of the Montgomery Bar Association (MBA), the state's third-largest Bar behind its contemporaries in Philadelphia and Allegheny County. She was the fourth female president in the Bar's more than 130-year history and the first family law attorney to hold the association's top office in more than a decade.
Although her tenure as President has since concluded, Mirabile remains heavily involved in the MBA, including serving as co-chair of the association's Diversity Committee. The Committee's initiatives include the Robert E. Slota, Jr. Summer 1L Diversity Program, which for more than 10 years has been matching students of diverse backgrounds with opportunities to work with and learn from attorneys in Montgomery County.
"Diversity is so vital to what we do," Mirabile says. "The world is an incredibly diverse place, with people of all backgrounds, races, religions, and orientations. We all have to be able to understand each other, and by connecting with people who are different from us, we're able to find a level of understanding. How will you engage with clients of diverse backgrounds if you don't have exposure to diversity?"
Likewise, Mirabile chairs the Diversity Committee for Weber Gallagher. Composed of members who represent differences in ethnicity, race, gender, sexual orientation, backgrounds, and viewpoints, the firm's Diversity Committee focuses its efforts in areas such as hiring and recruiting, retention and promotion, marketing and community outreach, and diversity awareness and training.
Throughout her career, Mirabile has enjoyed the many leadership roles she has filled, including serving as a member of the Pennsylvania Bar Association's House of Delegates. She remains committed to guiding the next generation of family law attorneys, both within her firm and beyond the walls of its offices.
"The members of my generation need to make sure they are mentoring the younger generation to respect the Court, their peers, and their clients," she adds. "I've always tried to help students who aspire to work in this field, whether it's helping them to improve their résumé, working with them to do mock interviews, or getting them to think about the next phase of their education or career. It's very rewarding.
"Working as a family law attorney is nothing like I thought it would be when I first got involved in it, but I still love it and enjoy it," she continues. "People in my position have the opportunity to have a substantial impact on others, whether it's a client or a new law student. We can help these individuals find a positive path forward and be engaged and excited about the future—and that's going to benefit everyone."
The Family Law Group of Weber Gallagher Simpson Stapleton Fires & Newby LLP
One Montgomery Plaza
425 Swede Street, Suite 1001
Norristown, PA 19401
(610) 272-5555
WeberGallagherFamilyLaw.com
WGLaw.com
Photography by Jody Robinson
Published (and copyrighted) in Suburban Life Magazine, November 2018.
.
.
.